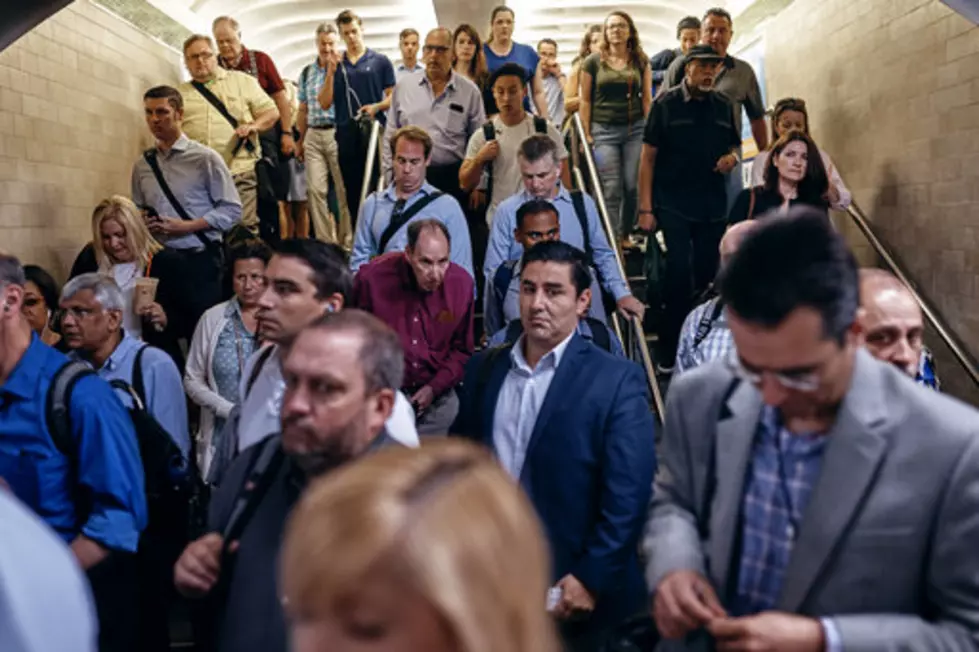 NJ Transit's 'Summer from Hell' —1 week down, 7 to go
People enter the PATH station in Hoboken Terminal (AP Photo/Andres Kudacki)
WASHINGTON — Amtrak's CEO is pleased with how well the first week of infrastructure work at New York Penn Station went, but commuters are cautiously optimistic.
"Due to a lot of hard work by the Long Island Railroad, NJ Transit and Amtrak, the scheduled reduction, while unfortunate, has worked very, very well," Amtrak Chief Operating Officer Scot Naparstek said at a news conference Friday. He said there had been an appropriate number of trains in and out with the proper spacing. "The station has run over 90 percent on time."
"A lot of people are putting a lot of time in at the station level answering questions and helping people get where they need to go," Naparstak said.
He admitted that the project lucked out because there were no other major issues on other parts the infrastructure, but said Amtrak is prepared to handle any problems that may arise. He said that additional crews have been standing by.
He said passengers are being impacted by the work and he feels a pressure to impact the three railroads as little as possible.
"We're slightly ahead (of schedule), we're happy with the progress [...] I'm happy and very proud of how people have gotten to the start they have."
He said he's committed to returning Penn Station to normal by Labor Day weekend.
He said riders can keep the commute smooth by staying aware and anticipating problems with backup routes.
New Jersey 101.5's commuter panel had mostly good experiences on the first week.
When asked to rate his experience with NJ Transit this week, commuter Michael Kasdan gave his commute a 5 out of 10, which was better than he expected. "My commute is longer, sweatier, more stressful, and has more moving parts. But I was expecting worse."
North Jersey Coast Line commuter Carl Schellenberger graded his week at a 7.
"They were on time in and out from Monday through Thursday. (Friday) the inbound was 25 minutes late and have yet to see what lays ahead tonight."
Barry Grossman gave the highest score of a 10. "Ferry option rocks," he said.
Gabriel Gall gave a nine. "Very smooth sailing and one of the better experiences on NJT. This is from my experience of leaving Trenton at 6:47 a.m. this week and traveling up to Newark. Then taking the 5:19 train out of Newark to Trenton. It was on time and there was not much crowding. I believe since they are under the microscope now, they have upped their game to where the quality needs to be at all times."
"NJT staff were helpful & organized. Most trains ran on time. However, points off for ever having to deal with this situation in the first place," Jeffrey K. Rohrs said of his grade of a 7. "A failure of elected officials, governments, and agencies across the board. New York, New Jersey, Amtrak, and the Federal government need to get their act together and solve the problems of their own making."
Caitlin Wade, of Springfield, calls the diversion an overall annoyance and gave a grade of 5 for the first week. Monday did not go well for her with the combining of trains and overcrowding. But she also found a positive side. "There are plenty of NJT workers around for questions or to check tickets for the PATH."
NJ Transit spokeswoman Nancy Sndyer said "the first week's experience has been good . New Jersey Transit's not allowing that to make us complacent. We're treating everyday as if it's Day 1. That means we're not putting our feet up and not letting our guard down."
She credited customers for doing their homework and being prepared ahead of the summer schedule. There are no changes planned for next week, she said.
 More from New Jersey 101.5: