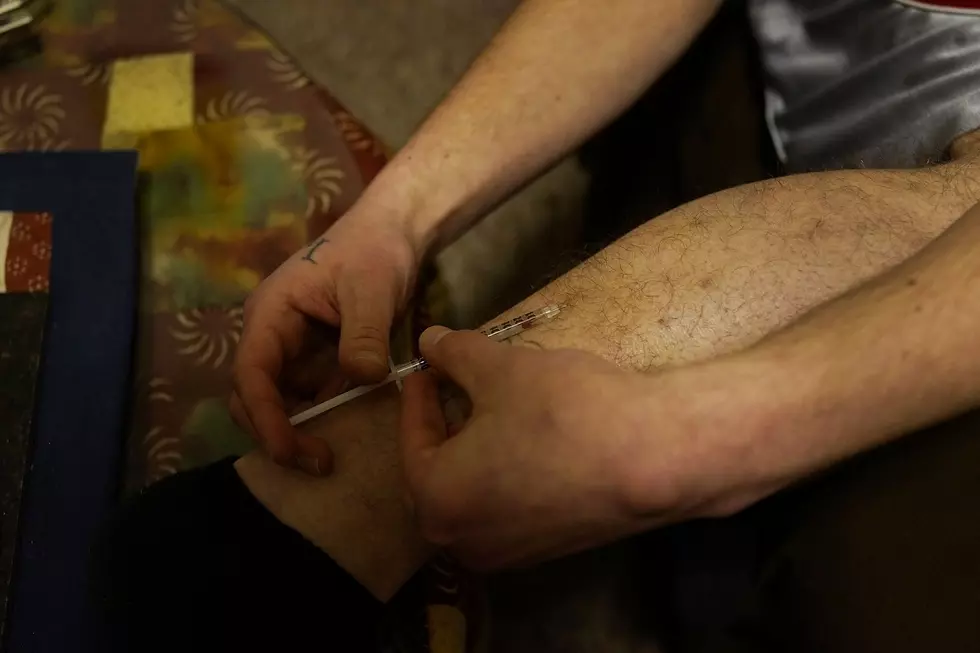 Heroin in New Jersey: By the terrifying numbers
(Spencer Platt/Getty Images)
Related video from New Jersey 101.5:
This week, we're taking a special look at heroin's increasing grip on the Garden State.
On Thursday, we'll conduct a special town hall — including a live chat where you can get your questions about addiction and treatment answered by New Jersey experts. It starts at 7 p.m. on NJ1015.com.
The numbers back them up. Heroin use is spiking throughout the state — and it's making its way into the suburbs, as once-sleepy towns find themselves hotbeds of drug activity.
Here's a look at the statistics :
It's a troubling number that just keeps on rising. In 2014, there were 781 heroin-related overdose deaths in New Jersey, according to data by the state Department of Criminal Justice. That's more than twice as many as in 2010.
A report last year by New Jersey Advance Media notes that the per-capita rate of 8.3 heroin-related deaths per 100,000 people is more than triple the national rate reported by the Centers for Disease Control. In addition, heroin "now eclipses homicide, suicide, car accidents and AIDS as a cause of death in the state," according to the report.
For years, New Jersey's heroin death toll stayed comparatively stable, hovering in the mid-300s to mid-400s, and even getting as low as 306 in 2010. But it's been steadily increasing ever since then.
Both figures are down from 2013, when 72,864 entered substance treatment, 32,607 for heroin or other opiates.
Of those seeking treatment for heroin or opiates, the most were in Ocean County. The 3,688 admitted for treatment in Ocean accounted for 13 percent of all those admitted through the state, even though Ocean only accounts for about 6.5 percent of the total state population.
But when the figures are broken down per 100,000 people, Cape May County leads the state for those entering treatment — at 1,138 (because of a statistical quirk, the per-capita number is greater than the raw number in Cape May; there are slightly less than 100,000 people in the county). Click on your county in the interactive map below to see how your county fares. Darker shades mean higher incidences of heroin and opiate treatment.
1,176
In 2014, 1,176 people in Newark sought treatment for heroin addiction — more than in any other municipality — according to a breakdown of the state treatment report by Patch.com. While the top cities for heroin use were urban centers — Paterson, Jersey City, Atlantic City and Camden round out the top 5 — there are several suburban communities among the top 20. Toms River was in sixth place, with 436 reported admissions, and Brick in seventh with 426.
Central Jersey communities of Middletown and Lacey are on the list, as are Millville and Lower Township in South Jersey. Patch notes Bloomfield, "long considered one of the safest neighborhood communities in Essex County," made its yearly analysis of the data for the first time, in 20th place
That wasn't always the case — in 2000, more blacks died of drugs per capita (14.5 per 100,000 than whites (10). But drug deaths among whites have been steadily increasing, and blacks steadily decreasing — 2007 was the last time black deaths from drug-related causes outpaced white deaths.
Ocean County Prosecutor Joe Coronato told New Jersey 101.5 that it's been a help in his county — in 2013 there were 112 heroin deaths in Ocean County, and that number dropped to 101 in 2014. But he stressed it's a "temporary save," saying "there's been several individuals that we've sprayed two or three times already," he said. But sometimes by the third time they've not survived, they've died. That's not truly addressing the problem. The problem is the addiction."
The 2013 New Jersey Student Health Survey (the most recent available) found that 2 percent of high school students had used heroin at some point in their lifetimes. That's about half as many as in 2001, though the figure's held steady for several years.
Also according to the survey:
• 7 percent had used Ecstasy;
• 6 percent had used hallucinogens;
• 5 percent had used cocaine;
• 3 percent had used methamphetamines;
• 2 percent had used a needle to inject an illegal drug.
The 2013 New Jersey Student Health Survey also found 15 of students had attended school under the influence of drugs or alcohol during the previous 12 months.
— Note: This is an update of a report first run in the summer of 2015.
Related video from New Jersey 101.5:
More From New Jersey 101.5 FM