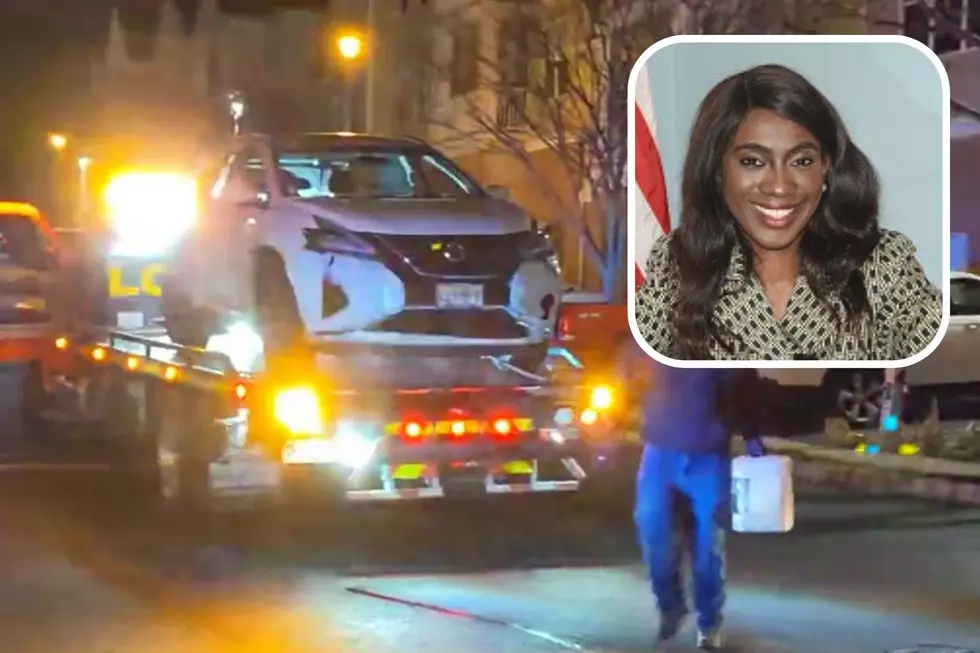 As NJ councilwoman is laid to rest, many questions about her execution-style slaying
SUV that was shot being removed from Samuel Circle in Sayreville (Charles Kratovil), Sayreville Councilwoman Eunice Dwumfour (Borough of Sayreville)
🔴 Eunice Dwumfour will be laid to rest Saturday, March 4 at the Bethany Baptist Church in Newark
🔴 The Middlesex County Prosecutor's Office continues to remain silent about the investigation into the Feb 1  shooting.
🔴 The Sayreville Borough Council is expected to name her replacement Monday
---
SAYREVILLE —The funeral for a borough councilwoman shot as she sat in her SUV parked in front of her home is Saturday as the investigation into her death remains shrouded in silence.
Eunice Dwumfour will be laid to rest Saturday, March 4 at the Bethany Baptist Church in Newark followed by burial at Hollywood Memorial Park in Union. According to her obituary, Dwumfour was born in East Orange and had four siblings. Her husband, Ezechukwu Peter Akwue, lives in Nigeria.
On his Facebook page Monday, he posted an image of a T-shirt that read "We love you" and the name she used at the Champions Royal Assembly USA Campus Ministry, Pastor Eunice Eze Kings.
The Middlesex County Prosecutor's Office continues to remain silent about the investigation into the Feb 1  shooting. A spokeswoman on Wednesday morning said there are no updates.
"As a rule, I do not do press conferences. I felt that it is more respectful to the people involved to do a press release, which we did do," Prosecutor Yolanda Ciccone told reporters earlier.
She promised that the case would be solved and said there is no threat to the community.
Ciccione called the case her office's "number one priority."
The Sayreville Borough Council is expected to name another Republican to fill Dwumfour's seat at Monday's meeting, according to a report by MyCentralJersey.com.
A special meeting is scheduled prior to the regularly scheduled meeting Monday night although it is not mentioned on the posted agenda. The regular meeting agenda was not posted as of Thursday morning.
What is known about the shooting?
⚫ Dwumfour was shot multiple times but the exact number isn't clear. At least 8 shots can be heard in a release of 911 calls by the prosecutor's office.  An unnamed law enforcement source told NBC 4 New York 14 shots were fired.
⚫ News 12 New Jersey released two videos it had obtained from the night of the shooting. One shows a person running at 7:31 p.m., nine minutes after Dwumfour was shot.
⚫ Sayreville police has requested the public to provide security and dashcam footage from the night of the shooting. It did not disclose if any video was submitted.
⚫ Dwumfour is mother to a 12-year-old daughter named Nicole whose father Nicolas Teliano lives in Sayreville. The history of their relationship has not been disclosed. He created a GoFundMe account to establish a trust for their daughter and attended Dwumfour's memorial service in Sayreville.
What is not known about the shooting
⚫ A motive for the shooting has not been disclosed by Ciccone. Dwumfour, a church leader, was a well-liked Republican member of the Sayreville Borough Council and a close friend of Mayor Victoria Kilpatrick. Gov. Phil Murphy has said that evidence suggests the shooting was targeted and not political.
⚫ Dwumfour's Linkedin account indicated she was looking for a "new role" and changed her profile photo to include #OpenToWork." Her most recent job was listed as a professional scrum master & business analyst professional for Fire Congress Fellowship.
⚫ It's not clear why her husband lives in Nigeria and if there were plans for either one to relocate.
Ciccone asked anyone with information about the shooting or video to call her office at 732-745-3477 or Sayreville police at 732-727-4444.
Dan Alexander is a reporter for New Jersey 101.5. You can reach him at dan.alexander@townsquaremedia.com
Click here to contact an editor about feedback or a correction for this story.
NFL pros from New Jersey
There are more than 60 active pros with NJ roots.
More than 10 players who made it to the NFL conference championship games this year have NJ ties — and four active NFL quarterbacks were born in the Garden State.
Some of them may even be on your fantasy football team.
50 Most Popular Chain Restaurants in America
YouGov investigated the most popular dining brands in the country, and Stacker compiled the list to give readers context on the findings. Read on to look through America's vast and divergent variety of restaurants—maybe you'll even find a favorite or two.
The 99 top paying jobs in New Jersey
How much do you make? These are the occupations in New Jersey with the highest median annual compensation. Source: Federal Bureau of Labor Statistics, 2022
More From New Jersey 101.5 FM