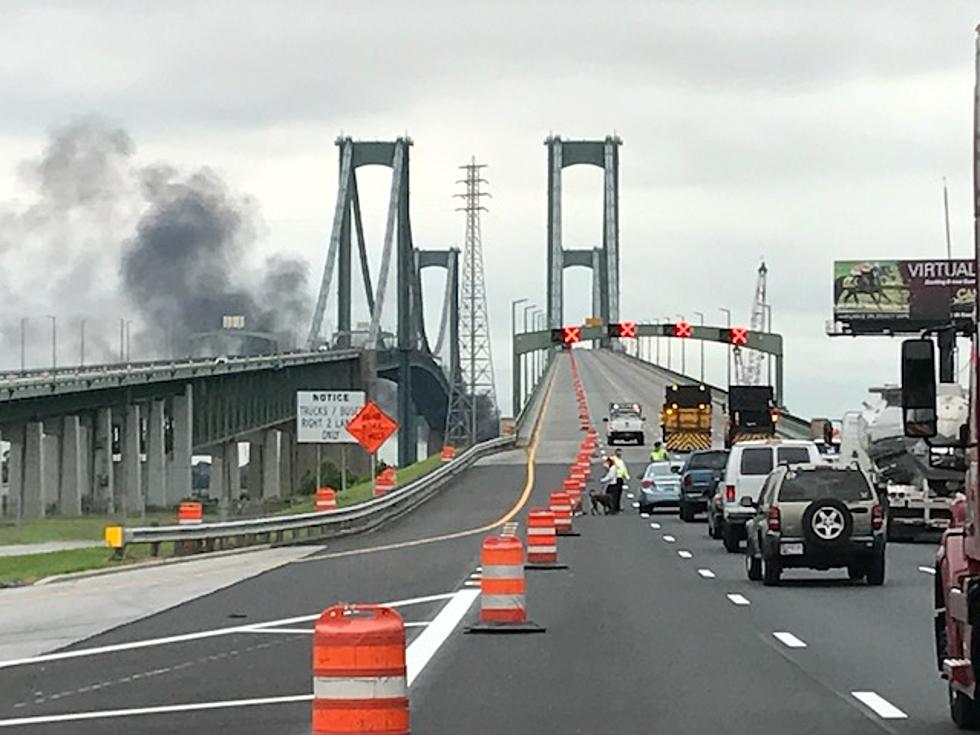 Trouble all over the Turnpike: Jackknifed truck, bridge fire causes closures on both sides
(Michael Lynn)
TRENTON — A jacknifed tractor trailer in North Jersey and a fire under the Delaware Memorial Bridge caused problems at both ends of the New Jersey Turnpike Wednesday morning.
State Police spokesman Trooper Alejandro Goez said a truck pulling a trailer on the southbound western spur jackknifed near the Vince Lombardi Service area closing both lanes just after 9 a.m. Those lanes reopened shortly before 11 a.m.
No other vehicles were involved in the crash, according to Goez. He said the cause of the crash remains under investigation.
Sparks from a welder landed on construction material under the southbound span of the Delaware Memorial Bridge causing a fire, according to Delaware River and Bay Authority spokesman James Salmon. The fire was brought under control by 10:45 a.m.
Both the northbound and southbound spans were closed by the fire, which sent black columns of smoke into the air. The smoke could be seen by drivers approaching the bridge on Route 295 and the New Jersey Turnpike.
Two lanes on the southbound side were reopened just before 3 p.m. following an inspection of the bridge.  The northbound span of the bridge was opened around 11 a.m.
Traffic caught in the delay was taken off the road via an emergency "X" ramp which sent drivers back north.
Delaware-bound drivers were causing delays on the Commodore Barry Bridge to cross the Delaware River to taken Route 95 south.
The New Jersey Turnpike forced southbound drivers off at Exit 4 for Route 73 in Mt. Laurel to take Route 73 to Route 90 and the Betsy Ross Bridge to pick up Route 95 south to continue southbound.
More from New Jersey 101.5:
More From New Jersey 101.5 FM