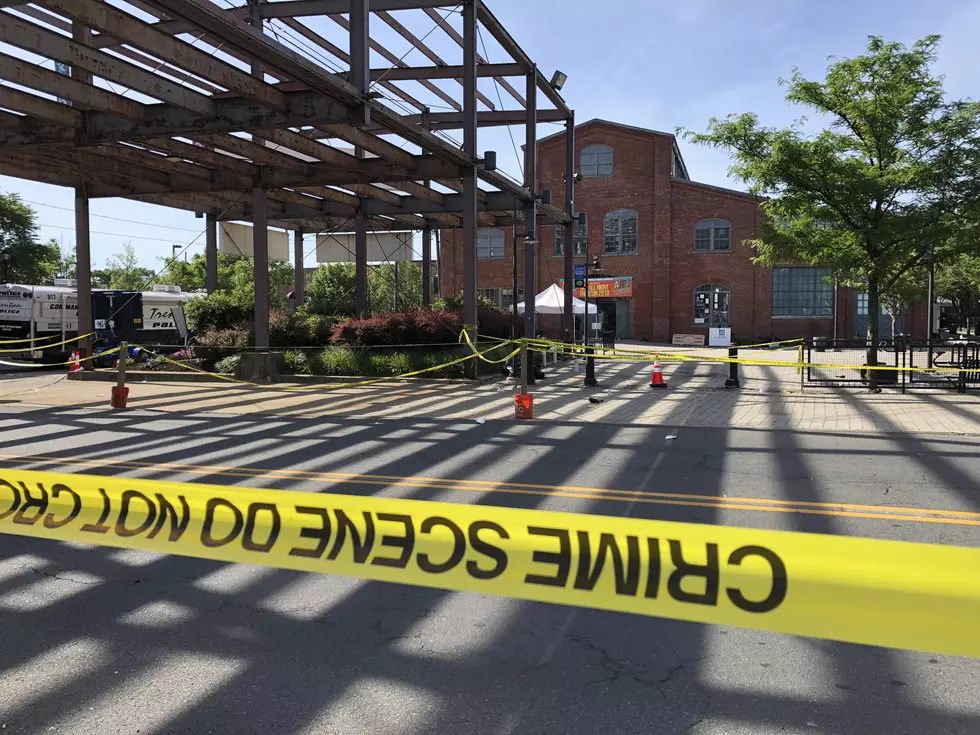 Murphy says more fed gun control needed after art show shooting
(AP Photo/Mike Catalini)
TRENTON — Reaction to the shooting at an all night arts festival in Trenton has touched on the ongoing problem of gun violence.
22 people were injured, including 17 from gun shots, when several men opened fire at the Art All Night Trenton 2018 festival at the Roebling Wire Works Building on South Clinton Avenue just before 3 a.m., according to Mercer County Prosecutor Angelo Onofri.
A motive and the circumstances for the shooting remain under investigation by Onofri's office.
The shooting took place at an event that was supposed to go for 24 hours, and was in its 12th year. The rest of the festival was cancelled after the shooting.
Gov. Phil Murphy spoke about the shooting at the Galilee Baptist Church in Trenton on Sunday morning and said in a video clip he "and many others around this state are committed to ending this scourge of gun violence."
Murphy signed six bills on Wednesday that create smaller ammunition magazine limits and new "red flag" laws designed to take guns from people deemed dangerous.
"As good as job as we do in Trenton and New Jersey we need Congress to act as a national matter," Murphy said.
The governor quoted 2 Timothy Chapter 1, Verse 7 to a cheering congregation.
"God did not give us the spirit of fear but of love, and of power, and of a sound mind."
In a message posted to his Twitter account, Murphy said "these are not inappropriate times to talk about gun policy. These are the most important times to talk about gun policy."
He was scheduled to visit with some of the injured afterwards. The governor was not the only politician in New Jersey to use social media to respond to the Trenton shooting:
Mayor-elect Reed Gusciora said in a statement that he was "heartbroken that violence has made its way into the Capital City and at such a positive event for Trenton," and sent prayers to the victims of the shooting and their families.
"I hope that Art All Night does continue but we are going to have to reevaluate security measures in the future. It will be a top priority of my administration to make Trenton a safer city," the Democrat said.
Story continues below the video
Gusciora said he has been in touch with Mayor Eric Jackson and Police Director Ernest Perry, and requested regular updates into the investigation.
Outgoing Trenton Mayor Eric Jackson told New Jersey 101.5 he has been in touch Gusciora and Murphy about the shooting, which he called part of a "public health issue."
He said there would be comprehensive effort at all levels of government to work together to prevent future incidents.
"We're a strong and resiliant city and we have great people. Like most cities and suburbs we have a couple who don't want to see great events happen. We're going to enhance our security, we're going to make sure we keep having great and awesome events to make sure that every resident and Every visitor here, not matter whether they come from the state or beyond, will have an opportunity to have a great and outstanding time in the capital city."
"We're not going to let the bad guys for one event disrupt the great things that we have in our capital city," Jackson said.
Bishop David M. O'Connell of the Diocese of Trenton said in a statement that whatever is discovered to be behind the shooting, "there is no motive that can justify these ongoing, seemingly relentless acts of gun violence plaguing our cities. How many times can our hearts break?"
Rep. Bonnie Watson Coleman, who has been outspoken on the issue of gun safety, was "saddened and angered" at gun violence in her own district and said in a statement she is praying for the families involved. However, the Democrat said prayers are not enough.
"After every shooting, we talk about motive, mental illness and every other distraction from the real problem — guns. New Jersey has some of the strongest gun safety legislation in the country. That should make it very clear that this is a problem we can only solve at the national level, with Congress leading the way," she said. "Despite all of our state's efforts, New Jersey is not an island — we can't make our neighborhoods safe as long as guns can come in across a bridge or state line, from Pennsylvania or North Carolina. There has to be federal action."
"I am deeply concerned for the victims of today's senseless gun violence at Trenton's Art All Night event and pray for the survivors' quick recovery," Rep. Chris Smith said.
The Republican called the incident "another tragedy that compels policy makers at all levels, including Congress, to do more to end the escalating violence including universal background checks to keep guns away from dangerous people."
"Special thanks to the Trenton police for courageously acting to protect as many people as possible from harm," Smith wrote.
Outside of politics Carole Stiller, president of the state chapters of the Brady Campaign and the Million Mom March and a Mercer County resident called the incident "simply devastating."
"We are so thankful that our friends and family members who were at ART ALL NIGHT are safe, but we grieve for the injured," she said. "The Trenton community is strong, and we will continue our efforts to end gun violence here, across New Jersey, and all throughout the country - but this tragic event is proof that we simply must do more."
Forchion, who was released from jail after more than a year when a jury acquitted him of a witness tampering charge, said he had been to several prior to this year
The Mercer County Prosecutor's Office has not yet commented on Forchion's allegations.
More From New Jersey 101.5
More From New Jersey 101.5 FM