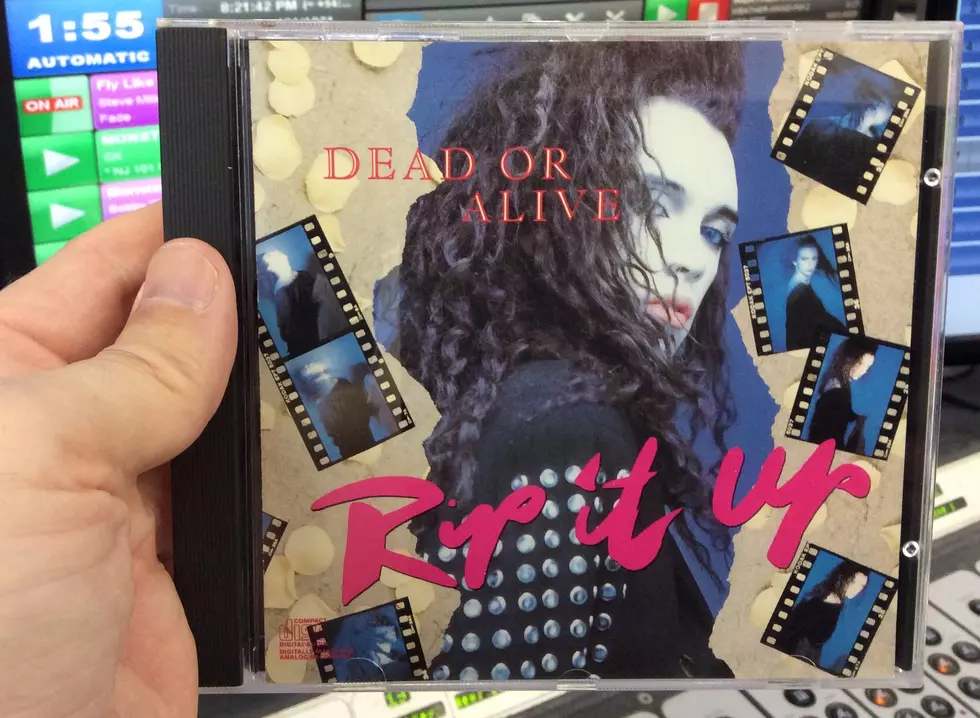 Craig Allen's Fun Facts: "You Spin Me Round" by Dead Or Alive
"Rip It Up" is the first "Best Of" CD, and the name of their 1987 World Tour! (Craig Allen photo).
Every decade has them...unapologetic, mass-appeal "pop" records!
"You Spin Me Round (Like A Record)" is a prime example from the 1980's!
Dead Or Alive formed in Liverpool, England, in 1979.
At the height of their 1980's success, the band was made up of (founder) Pete Burns on vocals, Mike Percy on bass, Steve Coy on drums, and Tim Lever on keyboards.
While the band is a "two hit wonder" in New Jersey (more on that later), Dead Or Alive would release seven studio albums, and have five compilation albums, released in their native England. They would also be quite popular in Japan...
Between 1979 and 1982, the band's lineup would fluctuate, and Dead Or Alive would record several independent singles. Epic Records signed the band in 1983.
The band's debut album would produce the British hit single "That's The Way (I Like It)"
If the title sounds familiar...it's a remake of the 1975 "KC & The Sunshine Band" song...another of "Jersey's Favorite Hits!"
Dead Or Alive certainly put their own..."spin" on the song.
And, by now (as you can see in the above video), Pete Burns' "androgynous" appearance is attracting attention...leading to comparisons with Boy George of "Culture Club."
"Youthquake," the band's second album brings us to our spotlight song...
After hearing a song by by the British band "Hazell Dean," Pete Burns decided that he wanted to work with the same production team: Stock, Aitkin and Waterman Productions.
Does the name sound familiar?
This writing/producing team would, by the late 80's, score a string of international hits for Kylie Minogue, and the guy who "Rick Rolls" us: Rick Astley!
"You Spin Me Round (Like A Record)" would be one of Stock, Aitkin and Waterman's first productions...their first #1 hit in England...and first international hit.
It was released on the Epic label in the UK in November 1984, and would go to #1 in England early in March 1985.
International chart fans will find it interesting to know that "You Spin Me Round" didn't hit #1 til its 14th week in the British "Top 75." Thus, it established a new record for the slowest climb to the top of the charts!
Dead Or Alive's hit record would also top the charts in Canada, Ireland and Switzerland!
It would halt its chart climb just outside of the Top 10 in New Jersey, at #11 in the summer of 1985.
The song, one of "Jersey's Favorite Hits," was written by Peter Burns, and his band mates, Steve Coy, Tim Lever, and Mike Percy.
The song's strings were modeled on inspired by classical music...Richard Wagner's "The Ride Of The Valkyries." (maybe, like me, you know the classical arrangement from "Bugs Bunny" cartoons...).
In 2012, producer Peter Waterman revealed that this hit song was completed in a 36 hour recording session. And, he admits that he had some...help...in the form of cocaine. The only time in his life, adding: "Well, you know, how do you stay up for 36 hours?"
Coffee? (I say). And, LOTS of it!
There have been a number of re-releases, and remixes, of "You Spin Me Round (Like A Record)" over the years...
A re-mix of "You Spin Me Round (Like A Record)" would land on the British Pop Chart in 2003.
The original was released (again) in 2006 in England, when Peter Burns took part in "Celebrity Big Brother" on British TV.
The band "Dope" did an "industrial" version of the song...
...for the "American Psycho" soundtrack in 2000.
Jessica Simpson recorded a pop version in 2006 (which I played on our sister-station SoJO 104.9).
In "pop culture," Adam Sandler sings it...
...in the opening of 1998's "The Wedding Singer."
It was sampled by Flo Rida in his 2009 hit "Right Round" (which I also played on SoJO 104.9, back then...). Love it!
What would happen after Dead Or Alive's first international hit?
They would enter the Hot 100 in New Jersey one more time...
...with their next single, "Brand New Lover,' landing at #15 in 1986.
New albums and singles (and remix singles and compilation albums) would follow over the years.
Band members would come and go, and Dead Or Alive would stay active in England. But, with years in between studio recording sessions, through the 1990's, and early 2000's.
In 2004, Burns enjoyed some British solo success with a "Pet Shop Boys"-produced song: "Jack And Jill Party."
Reaching #75, it was only available on the Pet Shop Boys website...
Burns released "Never Marry An Icon" in 2010.
In 2011, there was some confusion about the state of Dead Or Alive...with Steve Coy then saying that the moniker was "still active" and "the band was not over."
Sadly, Pete Burns would die of cardiac arrest just over a year ago, on October 23, 2016. He was 57.
THIS...ended Dead Or Alive.
But...their music lives on...
5 days after Burns' death, "Sophisticated Boom Box MMXVI," a 19-disc box set was released by Edsel Records.
It features ALL records, singles and rarities, produced by Dead Or Alive from 1983-2010. The box set also includes all of Pete Burns' solo releases.
Steve Coy says that there could be another box set released at some point in the future...plus previously unreleased Dead Or Alive albums, as well.
In December of last year, "Billboard" Magazine ranked Dead Or Alive as the 96th most successful Dance Artist of All Time.
As of this year, has sold over 30 million albums, and 28 million singles worldwide.
Thats a good...record! "Right Round, Round, Round!"
More From New Jersey 101.5 FM