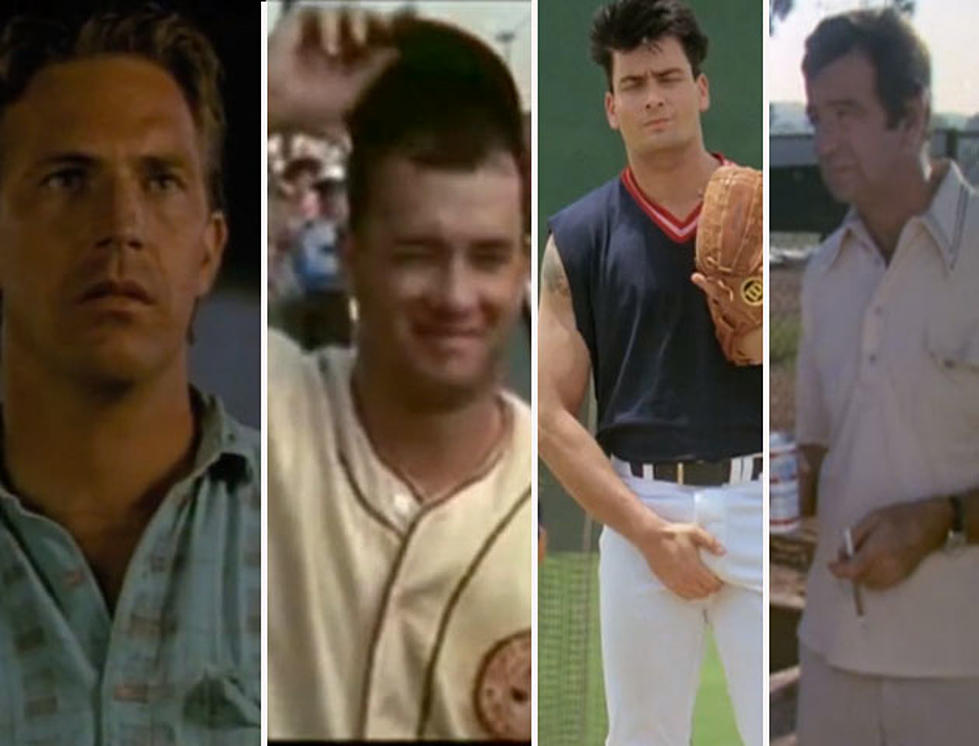 Top 10 baseball movies for MLB's Opening Day
YouTube
The grass is just a little bit greener, the hot dogs and pretzels smell just a little bit tastier and, despite what your thermometer may be telling you the temperature is outside, it always feels just a bit warmer. Welcome to Major League Baseball's Opening Day for the 2016 season!
America's favorite pastime starts up again this week. After a long, cold winter, there's nothing better then hearing the crack of the bat and the ball hitting the leather of the glove. To get you excited for the 2016 baseball season, here are 10 of the greatest baseball movies of all time.
10

'Bang the Drum Slowly' - 1973

Robert De Niro and Michael Moriarty star in this amazingly crafted film about the unlikely friendship between two baseball players. It's a touching movie without being overly-gushy and keeps the everyday sports fan interested throughout the film.

9

A fantastic film that features the Black Sox scandal of the 1919 World Series. Several players were paid off by gambers to throw the World Series and lose to the Cincinnati Reds.

8

'A League of Their Own' - 1992

Tom Hanks and Geena Davis do a great job telling the story of the first female pro ballplayers during Word War II. With the war threatening to shut down Major League Baseball, a new league is created by Cubs owner Walter Harvey to make money. Rosie O'Donnell and Madonna also have supporting roles in this film.

7

Jackie Robinson was the first black player in Major League Baseball. '42' highlights the journey that Robinson took to get there. Chadwick Boseman does a phenomenal job taking on Robinson's character

6

Veteran catcher Crash Davis is brought to the minor league Durham Bulls to help up-and-coming pitching prospect "Nuke" Laloosh. Their relationship gets off to a rocky start and is further complicated when baseball groupie Annie Savoy sets her sights on the two men.

5

'The Bad News Bears' - 1976

Walter Matthau is at his absolute best as the grumbling beer-guzzling former minor league pitcher who gets roped into coaching a band of half-pint misfits loosely called a team.

4

The film is told from the perspective of Scott 'Scotty' Smalls, as he looks back on the summer of 1962. Smalls moves with his mother and stepfather Bill, to a new neighborhood outside Los Angeles. One afternoon, he decides to follow a group of neighborhood boys, and he watches them play a game at a small field, which they call the 'Sandlot.' It's a great movie about of young boys bonding over baseball.

3

The film, like the book it's based on, recounts the experiences of Roy Hobbs, portrayed by Robert Redford, an individual with great natural baseball talent. It spans decades of his success -- and his suffering. The film was nominated for four Academy Awards, including Best Supporting Actress (Glenn Close). It also earned a Best Supporting Actress nomination for Kim Basinger at the Golden Globes.

2

This is a hysterical comedy about the Cleveland Indians putting a team of 'has-beens' and 'never-will-bes' together in hopes of being bad enough to move the team to a  warmer climate.

1

Kevin Costner stars as Ray Kinsella, who, while working through an Iowa cornfield, here's a voice whisper, "If you build it, they will come." Ray decides that he is going to build a baseball field over his corn. The film reminds all of us the importance of just how much a game of catch between father and son can really mean.
More From New Jersey 101.5 FM