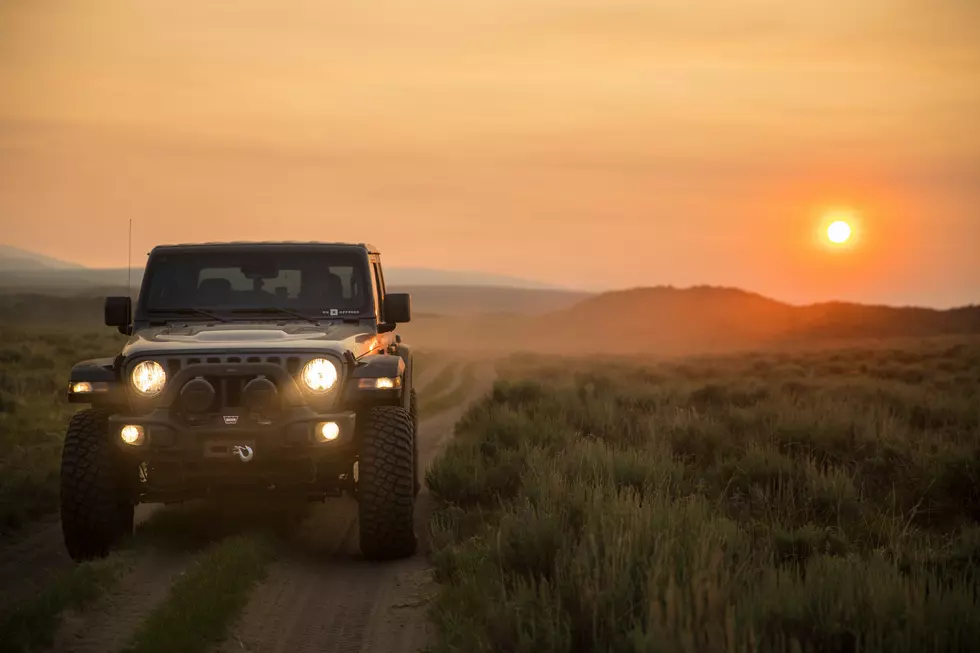 Spadea is taking a road trip — You pick his route
onX Offroad via Unsplash
I'm headed back to California. This time in my son's Jeep.
He and my wife Jodi are flying out and I'm personally delivering the truck.
I know, it would be easier to ship and given the cost of gas, maybe even a comparable price. That said. I am competitive, as you know.
I made it door-to-door from Princeton to San Diego last summer with gas stops, a few hours of sleep, AND a flat tire incident, in 52 hours.
I think I can beat the time. My concern is the route.
I can hit Columbus, Ohio in 8 hours and Indianapolis in 11 hours.
I could go south and hit Knoxville in 12 hours.
The driving time is between 41 and 43 hours depending on the route.
I'm doing it over a weekend, so the traffic will be a major issue other than the Friday I leave.
The question is whether I should front-load the driving and try to go through the night on Friday or stop after 8-10 hours, get some sleep and push through over the weekend.
The second question is whether I take the direct route across the country or take the more (and to some safer) route across the south.
Let me know your thoughts through the free NJ 101.5 app and let your opinion be heard here:
The post above reflects the thoughts and observations of New Jersey 101.5 talk show host Bill Spadea. Any opinions expressed are Bill's own. Bill Spadea is on the air weekdays from 6 to 10 a.m., talkin' Jersey, taking your calls at 1-800-283-1015.
Click here to contact an editor about feedback or a correction for this story.
LOOK: The states with the most UFO sightings
For each state, we've also included details of famous UFO sightings in that state. Of note is that almost three-quarters of all UFO sighting reports in the United States
occur between 4 p.m. and midnight
, and tend to peak between 9 and 10 p.m. Food for thought next time you're out scoping for alien life. Keep reading to see which states have had the most UFO sightings.
These are the best hiking spots in New Jersey
A trip to New Jersey doesn't have to be all about the beach. Our state has some incredible trails, waterfalls, and lakes to enjoy.
From the Pine Barrens to the Appalachian Trail to the hidden gems of New Jersey, you have plenty of options for a great hike. Hiking is such a great way to spend time outdoors and enjoy nature, plus it's a great workout.
Before you go out on the trails and explore some of our listeners' suggestions, I have some tips on hiking etiquette from the
American Hiking Society.
If you are going downhill and run into an uphill hiker, step to the side and give the uphill hiker space. A hiker going uphill has the right of way unless they stop to catch their breath.
Always stay on the trail, you may see side paths, unless they are marked as an official trail, steer clear of them. By going off-trail you may cause damage to the ecosystems around the trail, the plants, and wildlife that live there.
You also do not want to disturb the wildlife you encounter, just keep your distance from the wildlife and continue hiking.
Bicyclists should yield to hikers and horses. Hikers should also yield to horses, but I'm not sure how many horses you will encounter on the trails in New Jersey.
If you are thinking of bringing your dog on your hike, they should be leashed, and make sure to clean up all pet waste.
Lastly, be mindful of the weather, if the trail is too muddy, it's probably best to save your hike for another day.
I asked our listeners for their suggestions of the best hiking spots in New Jersey, check out their suggestions:
More From New Jersey 101.5 FM