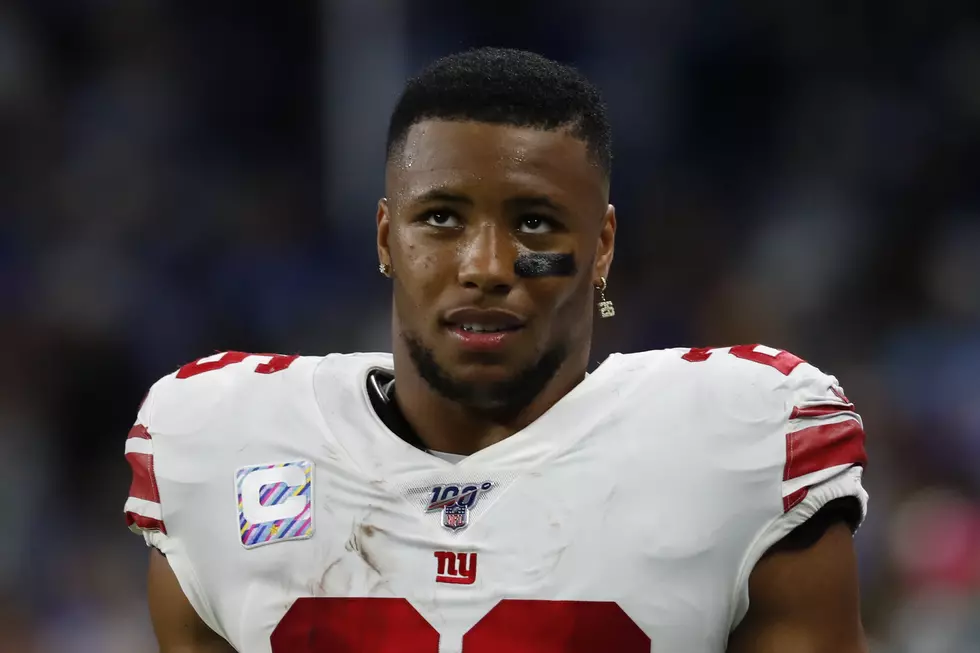 Saquon's dad right to root for Jets, wrong to wear Namath jersey
New York Giants running back Saquon Barkley watches against the Detroit Lions during an NFL football game in Detroit, Sunday, Oct. 27, 2019. (AP Photo/Paul Sancya)
Imagine dreaming of your son playing pro football and it comes true.
Imagine the nightmare of him getting picked by your team's cross-town rival.
This is the story of Giants running back Saquon Barkley's father, Alibay, who's a lifelong Jets fan. Dad will wear a Joe Namath jersey to this week's Giants-Jets game. The jersey was given to him by his son Saquon long before he turned pro.
Personally, I can understand and totally relate to not changing your team no matter what. I'm a lifelong Giants fan who spent 17 years talking sports on the Eagles radio station. But if my son were playing for the team and I was at the game, I'd proudly wear his jersey.
I may wear my team's t-shirt underneath.
In Alibay's case he already has a Jets tattoo, but how can you not wear your son's jersey while watching him play?
"Is he going to root for the Jets? Yes," Barkley said. "But he's going to root for the Giants and his son."
Good luck with that. When you're a true fan, you can't root against your team, especially when you've lived through the old Giants-Jets rivalry, which was much stronger than it is now. But that's neither here nor there.
What's here is Saquon Barkley's father will be wearing a Joe Namath jersey while watching his son play against his favorite team. To paraphase "A Bronx Tale,"Joe Namath don't care about you so why should you care about him?
I'm sure no matter what Saquon is saying, when he dreamed of his father watching him play, Dad wasn't wearing a Joe Namath jersey.