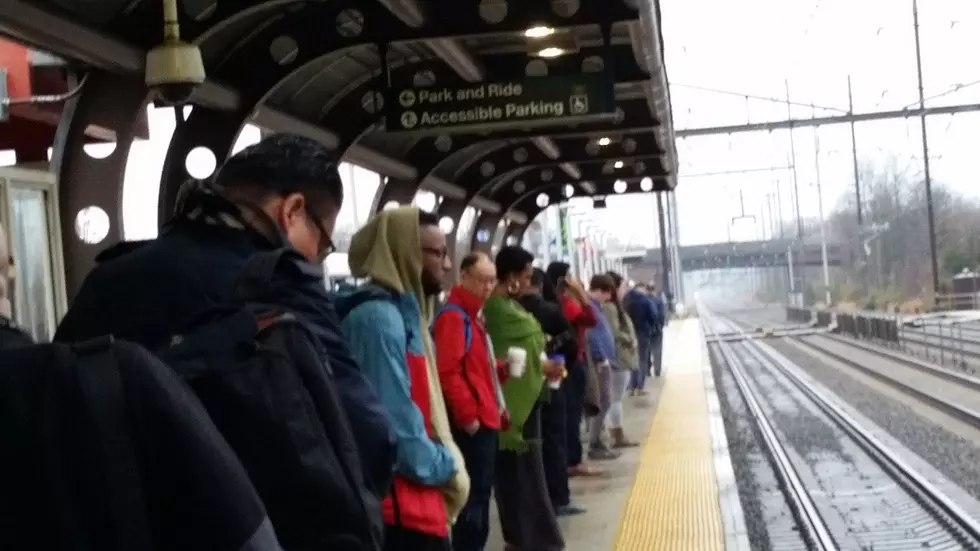 No telling how long until NJ Transit regular service resumes
Passengers await the train at Hamilton station (Dan Alexander, Townsquare Media NJ)
NEW YORK — NJ Transit rail riders have several more days of difficult commutes following Monday's derailment at New York Penn Station.
Amtrak Chief Operating Officer Scot Naparstek said during a press conference at the station on Tuesday that 13 out of 21 tracks are available for NJ Transit, the Long Island  Railroad and Amtrak trains following Monday morning's derailment of an NJ Transit that left a switch machine damaged. Amtrak maintains the system.
"Until we have the switch machine repaired we are likely to have modified service," Naparstek said, adding that crews are working round-the-clock to make repairs,  but he could not give a time rame for the return of full service. He also could not give an estimate of the cost of the repair nor the age of the equipment. Naparstek would not elaborate on how the switch machine broke during the derailment.
Amtrak spokesman Mike Tolbert said a switch machine is the section of interlocking track containing an actual switch and the apparatus to move a rail.
NJ Transit offered holiday service on Tuesday on the Northeast Corridor and the North Jersey Coast Line, resulting in many overcrowed trains.
Naparstek offered an apology for the inconvenience of limited service, but said that "first and foremost we'll make sure the operation is safety and the riding public's safety has been taken into consideration."
Naparstek affected cars on the 10-car train were brought back onto the rail Tuesday morning  after a slow, careful process.
"There are constraints. because of the overhead catenary (wires), the number of switch machines and the closeness of other tracks. As we re-rail we want to make sure we don't cause other damage," Naparstek said, adding that the cars were taken to the Sunnyside Yard in Queens for further examination.
Naparstek said Amtrak does not believe that the March 24 derailment of an NJ Transit train after it was sideswiped by an Amtrak Acela train as it left the platform and Monday's derailment are related.
"We don't think they have the same causes but we are investigating both throughly," Naparstek said.
He said it's "premature to get into causes of the derailment" because "analysis and measurements" still need to be done.
After NJ Transit's Board of Directors meeting on Tuesday, executive director Steven Santoro acknowledged the frustration of riders because of crowded conditions,  but said it's an unfortunate result of the limited service and the timing of the two recent derailments.
More from New Jersey 101.5
More From New Jersey 101.5 FM