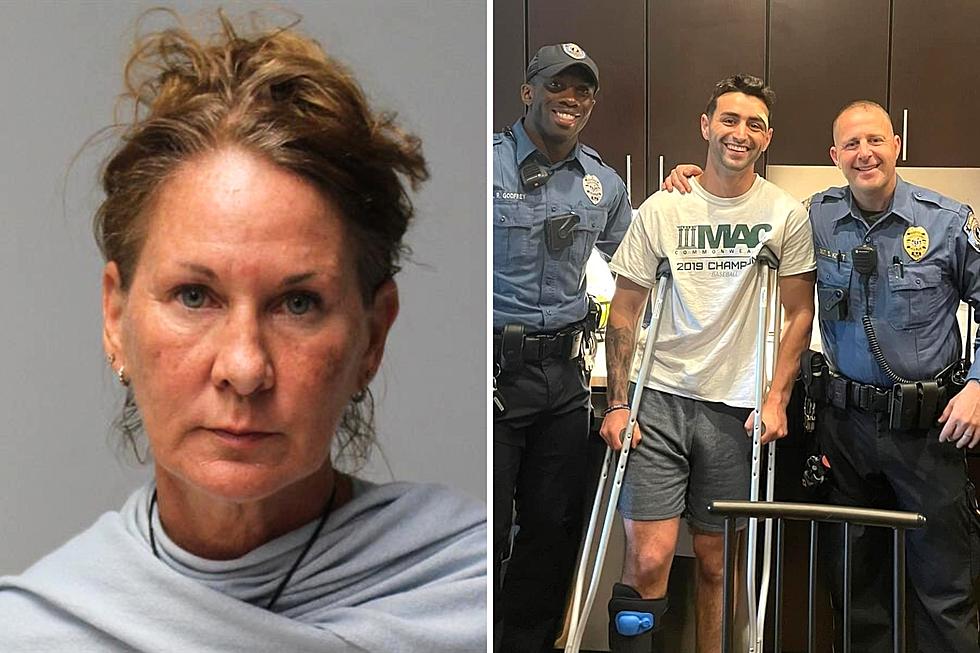 NJ woman gets 3rd DUI for Robbinsville cop hit-and-run, police say
Rachel Glatt, Connor Boyle (MCPO/Facebook)
🚗 Video shows a woman hit a Robbinsville cop with her car and drove off
🚗 Police added a new charge of driving under the influence
🚗 The officer is still recovering from the crash
---
ROBBINSVILLE — After running over a police officer and fleeing the scene, an East Windsor woman is now charged with driving under the influence for the third time in the last decade.
Robbinsville police added the DUI charge against Rachel Glatt, 52, last month for the April 22 hit-and-run along Route 130, Robbinsville Lt. William Swanhart told New Jersey 101.5 on Wednesday.
Glatt was also charged in April with second-degree aggravated assault, fourth-degree assault by auto, reckless driving, failure to change lanes for an emergency vehicle, failure to report a crash, and leaving the scene of a crash causing personal injury.
It's the third time Glatt has faced charges for driving under the influence. State records obtained by New Jersey 101.5 show that she was issued a violation for drunk driving after a crash on Dec. 23, 2016. She was then issued another violation on March 13, 2017 and her license was suspended for 90 days. It was her third license suspension since 1991.
👮‍♂️ Robbinsville cop in recovery
Patrolman Connor Boyle, 25, was lucky to survive the hit-and-run on Route 130 near Voelbel Road.
The officer was helping a motorist with their disabled vehicle when he was struck by a Volkswagen Passat, according to Robbinsville police. Video shows that the vehicle did not stop. Fortunately, Boyle remained conscious and was able to radio for help on his own.
Robbinsville spokesman John Nalbone told New Jersey 101.5 on Wednesday that Boyle was still in a walking boot in mid-May and that there is no timetable for his return to duty. When he is healthy enough to get back to work, Boyle will start as a school resource officer for a local middle school.
Report a correction 👈 | 👉 Contact our newsroom
LOOK: Most dangerous states to drive in
LOOK: 20 of the biggest insects in the world
Stacker
compiled a list of 20 of the biggest insects in the world using a variety of news, scientific, and other sources.
Biggest NJ company layoff notices in 2022 and 2023
In some cases, workers may be offered back their jobs or transfers to different locations.
Here's a look at more than a dozen of the biggest announcements within two years.
More From New Jersey 101.5 FM