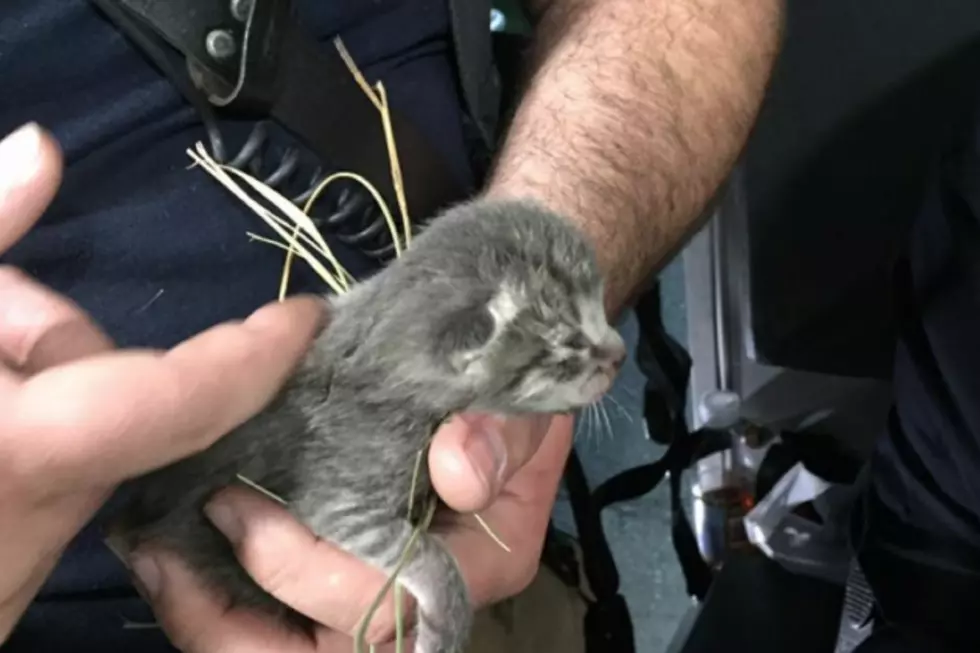 Kittens rescued from building set ablaze for NJ firefighter training
A kitten after being rescued by firefighters (Credit: Township of Clinton Division of Fire)
CLINTON TOWNSHIP — Things were going along as planned for the Annandale Hose Company as they braved flames and high heat during a training exercise in Hunterdon County Monday. Then, they heard kittens.
According to the Township of Clinton Division of Fire, crews were conducting training exercises at the Hunterdon County Emergency Service Training Center in Clinton Township Monday when the kittens were discovered.
"While conducting our training we got a surprise when seven very fragile, and very scared, kittens were located and rescued inside the burn building," the fire department said in a Facebook post Wednesday.
The training took place inside a specially constructed building that's basically set ablaze to simulate the conditions inside an actual structure fire, which, the fire department said, can reach temperatures up to 1100 degrees Fahrenheit.
Firefighters said on Facebook that crews entered the burning structure, where heat and heavy smoke engulfed the building. They completed one rotation inside what they described as a "hellish" environment but before they left, firefighters heard the kittens.
They quickly searched the building until they located the seven tiny creatures in one of the smoke-filled rooms.  The training session then turned into an actual rescue mission as firefighters pulled the kittens out of the building and to a waiting ambulance, the department said on Facebook.
Members of the Clinton Rescue Squad used oxygen tubing to help the kittens breathe as emergency workers reached out to Lost Paws Animal Rescue in Pittstown. The kittens received medical treatment from Garden State Veterinary Specialists, according to Lost Paws. The kittens were taking bottles and beginning to breathe better as of Tuesday night, Lost Paws said on Facebook.
Toniann Antonelli is a social content producer for NJ 101.5. She can be reached at toniann.antonelli@townsquaremedia.com, or on Twitter @ToniRadio1015.