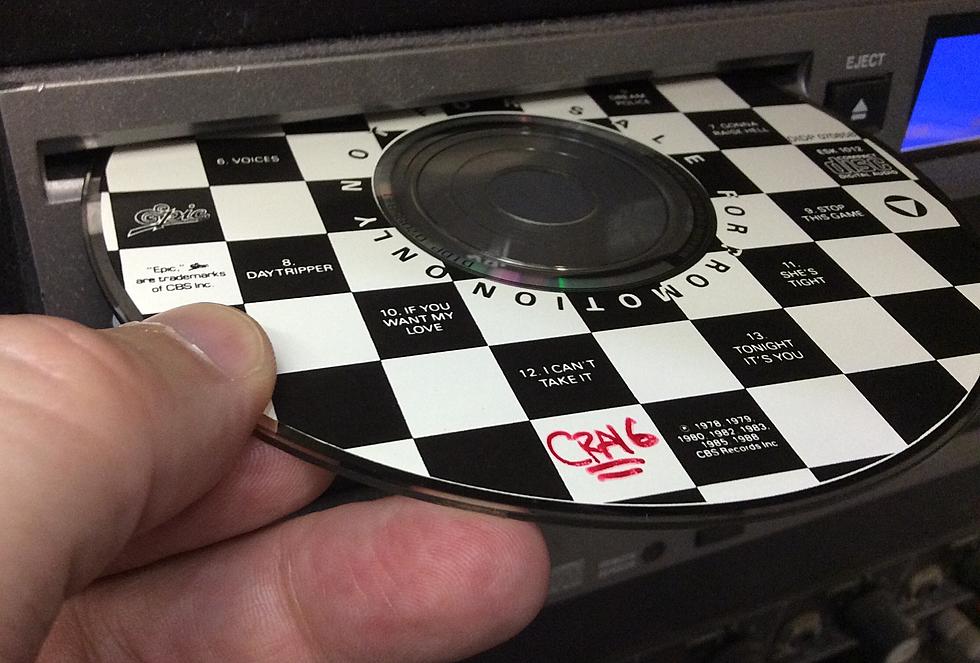 Craig Allen's Fun Facts: "Surrender" by Cheap Trick
Loading my Cheap Trick "Radio-Only Promo CD" in the studio player! (Craig Allen photo).
While "Surrender" may not be this Rockford, Illinois-based band's biggest chart hit...over time, it has become one of their best known!
And...its one of "Jersey's Favorite Hits!"
In this "teen anthem," the singer thinks that his parents are overprotective (long before there were helicopter parents?)...but he has some new-found respect for them, when he finds them "rolling on the couch," listening to his KISS records.
Writer Rick Nielsen admits that he had to "go back and put myself in the head of a 14 year old."
Cheap Trick's drummer, Bun E. Carlos adds: "We had that track back in 1975...(when) we used to rehearse in the basement of Rick's dad's music shop...in Rockford...(and) as soon as I heard it, I thought it was an interesting lyric."
"I used to hear my friends saying they thought their parents were strange." Rick Nielsen continues: "The first thing I got was the opening of the chorus 'mommy's alright, daddy's alright.'"
Would you believe...that it "just rolled off at one sitting." AWESOME!
"Surrender" would be Cheap trick's first song to crack the Hot 100 charts.
Like I said, it wasn't one of their biggest charting songs, as it halted at #62 in 1976.
"I Want You To Want Me" would make it to #7 in 1979...and the band would hit #1 nine years later with "The Flame."
But, I digress...as I love the music charts, and music history! I am compelled to put it all in perspective for you...
I can't read music...but my research shows that our spotlight song contains one of the more famous key changes in rock!
According to its writer, Rick Nielsen, "Surrender" starts out in B flat, it goes to B for two verses, and then changes key to C. This happens at about the 2:15 mark, with the line: "What ever happened to all this season's losers of the year."
If it wasn't a major chart hit...besides hearing "Surrender" on the "Live At Budokan" album...how did this Jersey Favorite become so...popular?
Like the "Jersey Prize Team"...it's everywhere!
In an early, fun, twist...the live version was used on the movie soundtrack for "Detroit Rock City." In this cult movie (available on DVD), the kids are headed to a...KISS concert!
Most recently, "Surrender" plays during the closing credits of "Guardians Of The Galaxy, Vol. 2." It's also on the soundtrack album.
In the 1983 classic "Fast Times At Ridgemont High," ticket hustler Mike Damone sings "Surrender" to a girl in an effort to get her to buy tickets to a Cheap Trick concert.
Cheap Trick members Rick Nielsen and Robin Zander appear in the 2003 movie "Daddy Day Care." Of course, "Surrender" is featured in the movie.
"Surrender" has been a part of many TV episodes...shows including:
"Scrubs," "Cold Case," "Supernatural," "South Park," "One Tree Hill," "New Girl," "Californication," and "Life In Pieces."
In concert, "Surrender" is the song where Rick Nielsen is most likely to break out his famous 5-necked guitar!  Check out this concert video...
Nielsen happens to own...HUNDREDS...of guitars...many of rather outrageous design...made by the Hamer Guitar company.
Surrender to the music...Cheap Trick and otherwise!
Jersey's Favorite Hits play every weekend on New Jersey 101.5 FM...listen LIVE online here at nj1015.com. And, don't forget the FREE New Jersey 101.5 app...download it at the app store, and Google Play!
More From New Jersey 101.5 FM