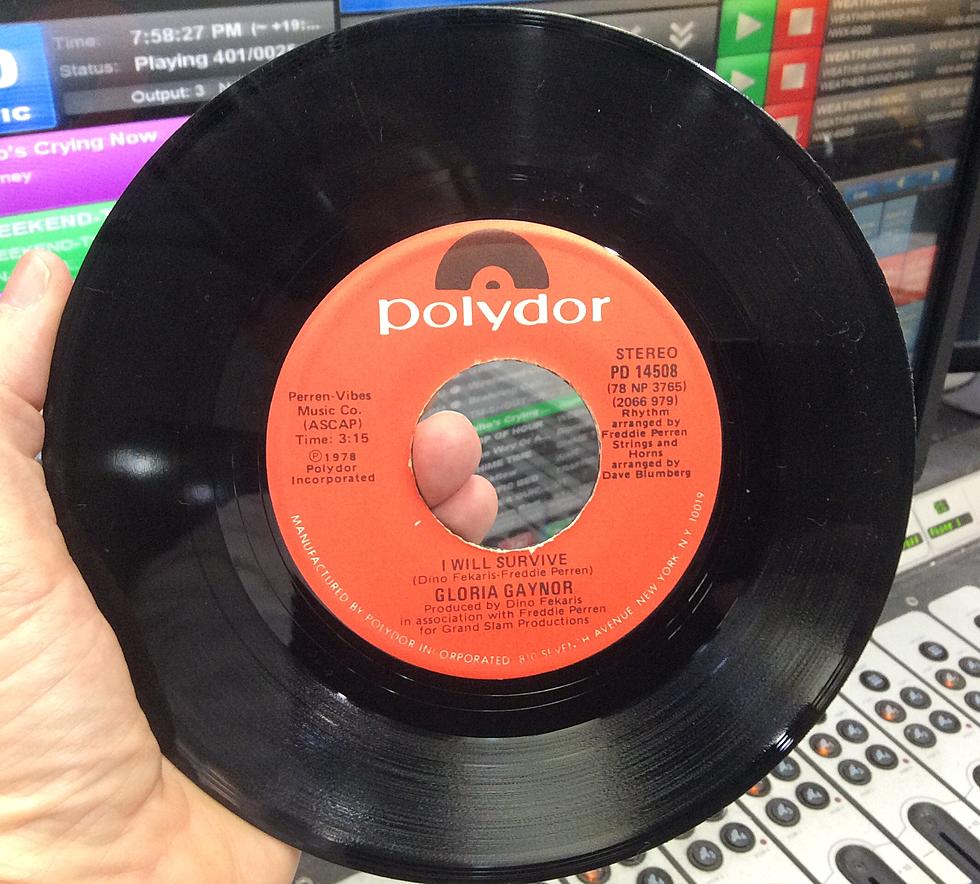 Craig Allen's Fun Facts: "I Will Survive" by Gloria Gaynor
I need a turn table in the studio! (Craig Allen photo).
Gloria Gaynor's name is synonymous with disco music...but did you know that she is a New Jersey native?
Here come a few artist facts...before the song-specific "Fun Facts."
Gloria Gaynor was born in Newark on September 7, 1949. Music has always been a part of her life.
As a kid, she enjoyed listening to the radio, and to records by the likes of Nat "King" Cole and Sarah Vaughn.
Her 2000 autobiography "I Will Survive" states that her father played the ukulele and guitar, and sang professionally in area nightclubs. Her brothers sang gospel, and formed a quartet, but Gloria was not allowed to join the all-guy group.
In this autobiography, Gloria confesses to wanting to sing as a child...but no one in her family knew it!
Further, she grew up in the projects as a "tomboy."
In high school, Gloria was a member of her school choir, the mixed chorus, and the girls' glee club. While she suffered stage fright before her first solo, Gaynor's confidence in her singing grew. By the time that she had graduated from high school with honors, Gloria knew that she wanted a singing career.
To appease her mother, who wanted Gaynor to have something to fall back on, she went to beauty school and took business courses.
In the 1960's, Gloria Gaynor was a singer with the "Soul Satisfiers", a jazz/pop band. As Gloria Fowler, she recorded "Will You Be My Guy / Train Of Love" for a small Chicago label.
She released a second single, "She'll Be Sorry/Let Me Go Baby" as Gloria Gaynor in 1965.
After a LONG wait...1975 was a good year for Gloria Gaynor!
The "Never Can Say Goodbye" album would establish Gloria Gaynor as a "disco" artist, a tag that she has to this day.
"Never Can Say Goodbye" was a #9 song, in early 1975.
The album played an important role in introducing disco music to the public, with  "Never Can Say Goodbye" becoming the first song to top Billboard Magazine's Dance chart!
For 3 more years, Gaynor would put out albums, and singles, that were hits in the clubs, but ignored by the mainstream music world.
Then, the album "Love Tracks" was released in 1978.
Get ready for some Fun Facts!
"I Will Survive" (or as I call it: the Female National Anthem), was not supposed to be the hit!
It was the flip-side to "Substitute." This song was a worldwide hit for a South-African girl group called "Clout."  Polydor Records felt that "Substitute" would be the hit...
...but, a Boston Disco DJ changed all that, when he flipped the record over, and played "I Will Survive." The same thing happened in the clubs. And, the rest is history!
"I Will Survive" topped the charts (#1)  on March 10, 1979. It would stay there for 3 weeks!
This "female empowerment" anthem is about moving on...surviving...a bad relationship.
Female? It was written by two MEN!
Freddie Perrin and Dino Fekaris had co-written hits for the "Jackson 5" and "Rare Earth," and songs for the "Temptations" and "Four Tops."
Then, they were let go by Motown....and that was the inspiration for the hit!
Fekaris saying: "I was an unemployed songwriter contemplating my fate" when one of his songs came on TV, and "I remember jumping up and down on the bed saying 'I'm going to make it...I will survive."
The duo had penned the #1 hit "Reunited" for Peaches and Herb...and when they finished writing our spotlight song, they agreed that the next "diva" to come along, would get the song!
That "diva" was Gloria Gaynor, whose record company called Perrin looking for production assistance with (the above mentioned) "Substitute."
With Perrin and Fekaris on board for the project, Gloria Gaynor agreed to record "I Will Survive" as the B-side (as mentioned above).
Gaynor learned the song from a demo that the writers made for her...with both "Substitute" and "I Will Survive" being recorded in the same session.
Would you believe: Gloria Gaynor was in a back brace when she recorded "I Will Survive?" Further, producers put baffles under her arms! True...she had just come out of the hospital after suffering a back injury!
Freddie Perrin had her do several takes on the vocals. He then "double tracked" them, giving Gaynor's vocals more punch. What you are hearing is two different takes, synced up, and mixed together!
"I Will Survive" earned the only Grammy Award EVER  for Best Disco Recording, in 1980.
In October 2000, VH-1's "100 Greatest Dance Songs" gave Gloria Gaynor's biggest hit the #1 slot.
The song has become an anthem for the Gay community...but, it's reach extends further, as it has been sung in 20 languages, including Arabic.
It's also a major Karaoke favorite! GO FOR IT!!
It has been "covered" over the years by artists including Diana Ross, Selena, Gladys Knight, and the band "Cake" (which reverses the song's gender).
Since the debut of "I Will Survive," Gloria Gaynor has...survived.
In fact, in 1983, she recorded a new version of "I Will Survive," with some changed lyrics to reflect Gloria's new Christianity. The words "It took all the strength I had not to fall apart" were changed to "only the Lord could give me strength not to fall apart."
This proved to be a turn off to all but her most devoted fans.
With the "disco revival movement" in the mid-to-late 1990's, Gloria Gaynor's hit(s) started to make a comeback. She also started dabbling in acting...
...you may remember Gloria playing the kids' music teacher, and singing "I Will Survive" at the prom on "That '70s Show."
In 2001 Gaynor performed "I Will Survive" at the 30th Anniversary Concert for Michael Jackson.
Gloria Gaynor returned to the recording studio in 2002, releasing her first album in over 15 years. "I Wish You Love" returned Gaynor to the Dance Music charts.
On September 19, 2005, Gaynor was honored twice when she and her music were inducted into the "Dance Music Hall Of Fame." She was inducted in the "artist" category, along with fellow disco legends Chic and (the late) Sylvester.
"I Will Survive" was inducted in the "record" category.
In a 2014 TV interview, Gloria Gaynor said of her hit, and it's lasting power:
"People are always going through situations in their lives that they think are insurmountable, and hope they'll survive." Plus, its a "timeless lyric."
Further, "I feel so honored and so blessed," she says, "to have a song that impacts peoples' lives so positively, for so many years."
More From New Jersey 101.5 FM