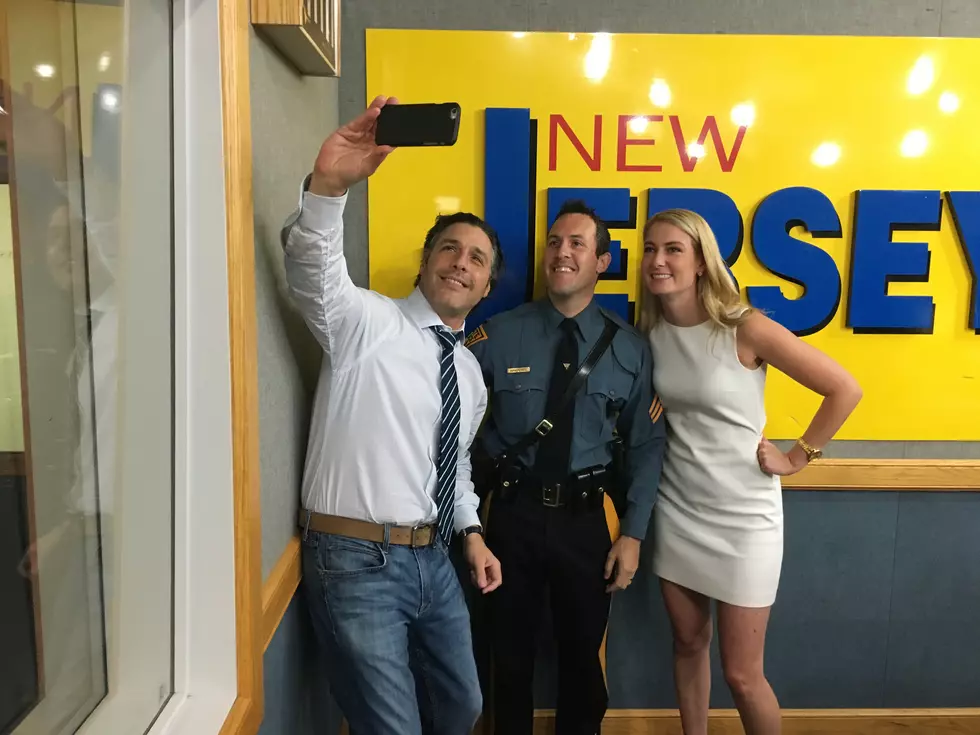 #BlueFriday: NJ trooper's efforts change neighbor's home…and life
(Dan Tantillo/Townsquare Media)
HAMILTON TOWNSHIP — When New Jersey State Troop Adam Polhemus and his wife Kristin set out to help a neighbor whose home had fallen into severe disrepair, they didn't realize that in the end, their actions would actually benefit others as well.
Anne Glancey's Hamilton Township property had become an eyesore in their quiet neighborhood. Paint was peeling from the house, the landscaping had been neglected and a 1984 Plymouth sat on the property and hadn't be touched in years.
The town noticed, and began to send her violation letters in June, threatening to fine her at least $1,000 per day or more for some of the code violations until they were remediated. But Glancey, who had lived alone for years, is on a limited income and couldn't afford the repairs, nor did she have anyone to help her with the work - at least, that's what she assumed. But Adam and Kristin had other ideas.
Glancey, who lived in the same house since she was about 4 years old, usually kept to herself. So when Adam, 35, and Kristin, 34, moved next door in October 2011, it took some time before the couple managed to forge a friendship with their neighbor.
Adam Polhemus said he and his wife would make small talk from time to time. They would discuss gardening, cooking and other common hobbies. Eventually, Glancey learned that Polhemus worked as a NJ state trooper.
"She had a deep admiration for law enforcement," Adam Polhemus said, adding that Glancey's father served in Korea during World War II. "So she always respected indiviuals in uniform and service. I think she felt that she could trust me a little bit more."
As the years passed, the neighbors grew closer. At the same time, Glancey's house continued to deteriorate.
"As time passed, it became more and more noticeable that she was having trouble keeping up with it," Polhemus said, adding that his neighbor always seemed hesitant to discuss the problems she was having.
With the friendship between Adam and Kristin Polhemus and Glancey well-established, Adam said he and his wife were gradually able to talk to their neighbor about her house.
"That allowed inroads for talking about some of the things going on in her house," Polhemus said.
They began asking about some of the issues but Glancey would always change the subject, Polhemus said. So instead, they would inquire about how she was managing and whether or not she was warm enough in winter.
Then, this past summer, Glancey told the couple about a letter she received from the township regarding her property. Under a new Neighborhood Improvement Program, Hamilton Township was cracking down on code violations and she was informed that she could be fined at least $1,000 per day if the problems weren't abated. The couple learned that if no action was taken, the town could put a tax lien on her home. That's when Glancey, a retired teacher, admitted that she didn't have money for the repairs or anyone to help her.
Without giving the matter a second thought, Polhemus and his wife told their neighbor they would make sure the repairs would be made.
"I just figured I would ask some friends or do it myself," Polhemus said.
They devised a plan to post a message on Facebook, telling friends that they planned to hold a landscaping day to begin making some improvements. Initially, about 20 people respond, but as the first day of work began, more neighbors and friends who noticed the flurry of activity, began showing up to help.
The work continued a second day at which time, Polhemus said, they had another problem to tackle: the car parked on the property needed to be removed.  Enter the Wounder Warrior Foundation. The group sent representatives who managed to get the vehicle started. Glancey then made the decision to donate it to wounded veterans.
In the days that followed more and more people joined the couple in their effort to fix up Glancey's home. At one point, nearly 30 people showed up to pitch in. They worked on the landscaping then began the arduous process of scraping the peeling paint from the home's exterior.
"It was pretty amazing because everyone brought tools and supplies. People just showed up, and a lot of them didn't even know each other," the state trooper said.
People brought food and even businesses such as Chick-fil-A provided meals once they heard of the project.
There's still a lot of work that needs to be done, such as repairs to a dilapidated porch and a leaky roof, so Polhemus is hoping to enlist the services of masonry experts and roofers. In the meantime, he said, he and his wife and content knowing that they were able to help their neighbor and help bring her happiness and build her relationships in the neighborhood.
"My wife and I really didn't think anything of it aside from doing the right thing for a neighbor. She's a pretty remarkable elderly woman who's held her own for quite some time," Polhemus said.
The trooper, whose parents were both teachers, also feels a special connection to Glancey.
"From what I understand, she was a very good teacher and a remarkable person who really challenged her students," he said.
Both his parents were teachers. "I hope this encourages people to help people wherever they may be in their lives."
When asked about the cost of the work that was done, Polhemus estimates that it would have cost her about $10,000 or more to have outside contractors and landscapers handle the job. Polhemus said he and his wife paid for some of the supplies, and Glancey keeps asking for the receipts. But he's not looking to be compensated.
"If I never saw a penny from it, I'm more than well compensated for it. This was never about the money," he said. "All these people were out there helping Anne, but they were really helping themselves. I really hope this encourages people to help others, wherever they may be in their lives."
Toniann Antonelli is a social content producer for NJ 101.5. She can be reached at toniann.antonelli@townsquaremedia.com, or on Twitter @ToniRadio1015.
More From New Jersey 101.5 FM