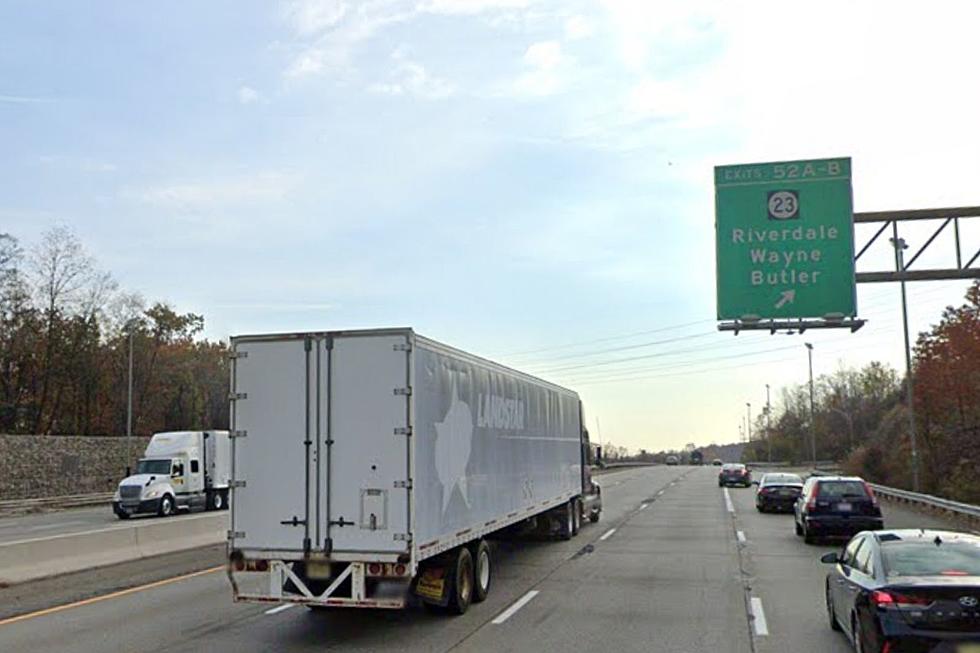 Police: NJ man bails from moving tractor trailer on Route 287
Route 287 in Riverdale (Google Maps)
RIVERDALE — A 27-year-old man was seriously injured after bailing out of a moving tractor-trailer on Route 287, State Police confirmed.
The incident happened just before 6 p.m. on Saturday, as a Kenworth tractor pulling a flatbed trailer was headed southbound on the highway in Riverdale.
David Chavez, of Livingston, was a passenger in the truck cab, when he "exited the vehicle" and hit the pavement around milepost 53.2, police said.
The truck was being driven by Chavez's father, as reported by the Daily Voice, who said that his son "just opened the door out of nowhere."
The incident remained under investigation as of Monday.
Moving ambulance incident
A similar incident happened nearly two months ago, involving a moving ambulance on Route 208 in Bergen County.
A 21-year-old male passenger, who worked for the private ambulance company, appeared to have bailed out of that vehicle after an argument with the driver on Feb. 24, Wyckoff Police said.
That man suffered internal injuries and possibly broken bones and was taken to St. Joseph's Hospital in Paterson for treatment.
NJ county fairs make a comeback: Check out the schedule for 2022
UPDATED 4/10: A current list of county fairs happening across the Garden State for 2022. From rides, food, animals, and hot air balloons, each county fair has something unique to offer.
(Fairs are listed in geographical order from South NJ to North NJ)
Every NJ city and town's municipal tax bill, ranked
A little less than 30 cents of every $1 in property taxes charged in New Jersey support municipal services provided by cities, towns, townships, boroughs and villages. Statewide, the average municipal-only tax bill in 2021 was $2,725, but that varied widely from more than $13,000 in Tavistock to nothing in three townships. In addition to $9.22 billion in municipal purpose taxes, special taxing districts that in some places provide municipal services such as fire protection, garbage collection or economic development levied $323.8 million in 2021.
These are the best hiking spots in New Jersey
A trip to New Jersey doesn't have to be all about the beach. Our state has some incredible trails, waterfalls, and lakes to enjoy.
From the Pine Barrens to the Appalachian Trail to the hidden gems of New Jersey, you have plenty of options for a great hike. Hiking is such a great way to spend time outdoors and enjoy nature, plus it's a great workout.
Before you go out on the trails and explore some of our listeners' suggestions, I have some tips on hiking etiquette from the
American Hiking Society.
If you are going downhill and run into an uphill hiker, step to the side and give the uphill hiker space. A hiker going uphill has the right of way unless they stop to catch their breath.
Always stay on the trail, you may see side paths, unless they are marked as an official trail, steer clear of them. By going off-trail you may cause damage to the ecosystems around the trail, the plants, and wildlife that live there.
You also do not want to disturb the wildlife you encounter, just keep your distance from the wildlife and continue hiking.
Bicyclists should yield to hikers and horses. Hikers should also yield to horses, but I'm not sure how many horses you will encounter on the trails in New Jersey.
If you are thinking of bringing your dog on your hike, they should be leashed, and make sure to clean up all pet waste.
Lastly, be mindful of the weather, if the trail is too muddy, it's probably best to save your hike for another day.
I asked our listeners for their suggestions of the best hiking spots in New Jersey, check out their suggestions:
New Jersey's new legislative districts for the 2020s
Boundaries for the 40 legislative districts for the Senate and Assembly elections of 2023 through 2029, and perhaps 2031, were approved in a bipartisan vote of the Apportionment Commission on Feb. 18, 2022.
The map
continues to favor Democrats, though Republicans say it gives them a chance to win the majority.
NJ Diners that are open 24/7
More From New Jersey 101.5 FM