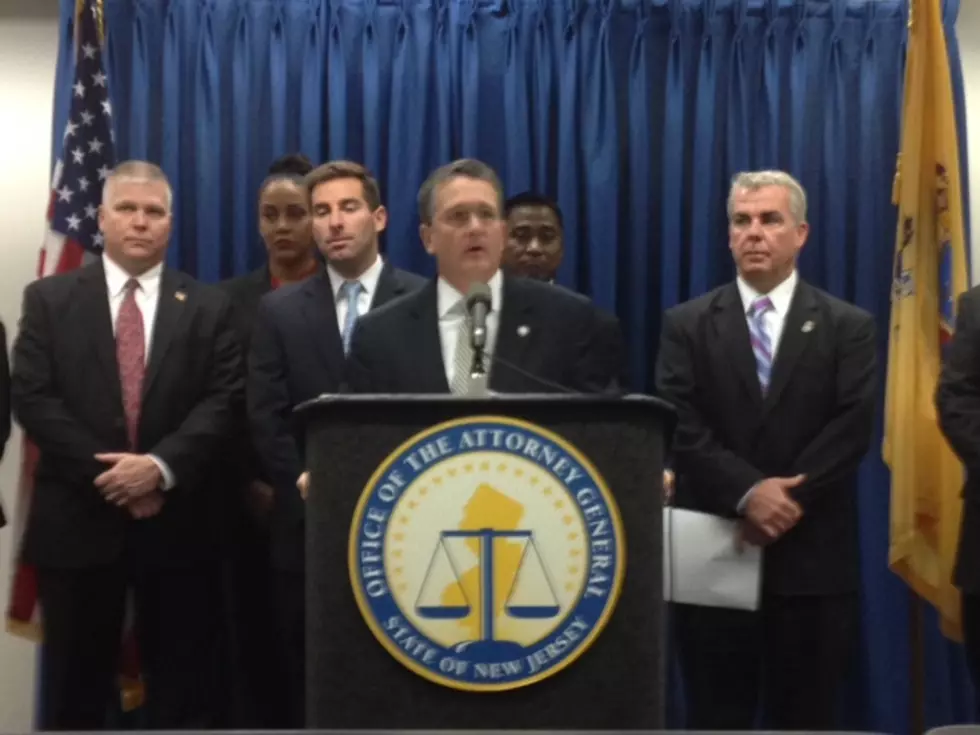 NJ Cracks Down on Child Porn Suspects [AUDIO]
Acting Attorney General John Hoffman announces arrest as part of Operation Predator Alert. (Photo by David Matthau, Townsquare Media)
Fourteen men are charged with possessing and distributing child pornography after being arrested as part of Operation Predator Alert.
"What sets this operation apart is that it marks the first major sweep that has targeted offenders under New Jersey's strict new anti-pornography statute," says Acting State Attorney General John Hoffman.
He points out in the past offenders faced fourth degree charges, and were unlikely to face any time behind bars, but now it's a 3rd degree offense.
"The new law increased punishment for virtually all child pornography offenses and brought New Jersey much closer into alignment with strict federal legal guidelines," Hoffman explained.
Hoffman says those charged with distributing 25 or more images or videos of child pornography will face a mandatory minimum of five years behind bars without parole.
"This is hard time for the hardest of criminals," he says, "those who have abused and taken advantage of the innocent and most vulnerable victims imaginable. We are coming down hard on offenders who, by sharing these vile materials, support and encourage sexual predators who rape and abuse children."
The new law also stipulates those convicted of possession or distribution of child pornography will be put under parole supervision for life under Megan's Law.
"Offenders who derive sexual gratification from these repulsive materials pose a real, tangible danger to children because of their perverse impulses, and we are putting communities across New Jersey on notice that these perverts who crave images of children being raped and tortured are living in their midst."
List Of Those Arrested During Operator Predator Alert
Each currently is charged with third-degree possession of child pornography under New Jersey's new child pornography statute (with the exception of James Hooker, who is charged with possession under the old statute) and second-degree distribution of child pornography.
Huahao "Howard" Chang, 30, of Somerset. Arrest, Sept. 30. Bail, $75,000.
Jeffrey M. Mander, 25, of Bridgeton. Arrest, Oct. 1. Bail, $50,000.
Juan C. Alvarez, 33, of Egg Harbor. Arrest, Oct. 2. Bail, $100,000.
Mark V. Miller, 66, of Millville. Arrest, Oct. 3. Released without bail.
Cristian Gonzalez-Araya, 33, of Trenton. Arrest, Oct. 7. Bail, $100,000.
Juan S. Montoya, 24, of Pennsauken. Arrest, Oct. 8. Bail, $100,000.
Mitchell Beard, 32, of Lower Township. Arrest, Oct. 9. Bail, $75,000.
Jackson Beard, 32, of Lower Township. Arrest, Oct. 9. Bail, $75,000.
James Hooker, 66, Eastampton. Arrest, Oct. 10. Bail, $75,000.
Francis "Frank" P. Gillice, 63, of Cape May Court House. Arrest, Oct. 15. Bail, $75,000.
Brian S. Bell, 40, of Woodstown. Arrest, Oct. 16. Bail, $40,000.
Celalleti "Steve" Koc, 25, of Hamilton (Mercer County). Arrest, Oct. 17. Bail, $40,000.
Cesar Urena-Valverde, 30, of Trenton. Arrest, Oct. 22. Bail, $100,000.
Jason Block, 33, of Wrightstown. Arrest, Oct. 24. Bail, $100,000. Fugitive from Colorado.
More From New Jersey 101.5 FM