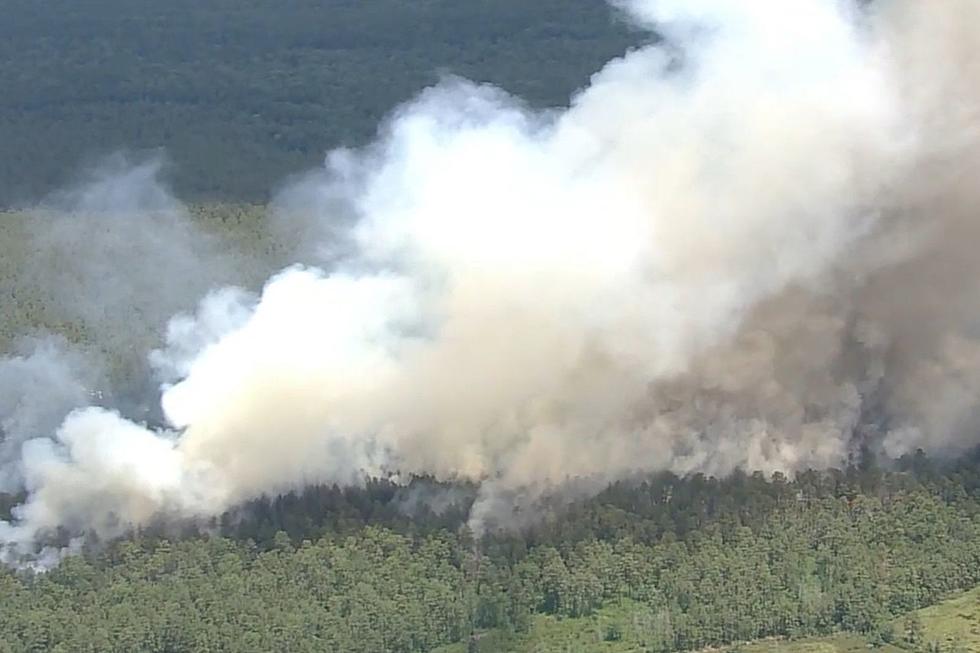 New Jersey's on fire: Wildfire sparks again in Burlington County
Wildfire in the Browns Mill section of Pemberton Township 6/9/23 (6ABC Action News)
PEMBERTON TOWNSHIP — Weary firefighters responded to two more wildfires in Burlington County late Friday morning.
The New Jersey Forest Fire Service reported the rapidly spreading fire off City Line Road in the Browns Mills section of Pemberton Township inside the Brendan T. Byrne State Forest early Friday afternoon.  As of 4:10 p.m., the agency said 85 acres had burned with 0% containment.
No major roads had been closed by the fire only local forest roads.
Fire crews were working on shoring up containment lines and a backfiring operation to burn fuel ahead of the main fire. The operation is expecte to last much of the night.
The Forest Fire Service confirmed a second fire along Route 37 eastbound in Manchester near the Pine Acres Manor Mobile Park around 4:30 p.m. across from Leisure Village West Pine Lake Park. Manchester Police Capt. James Komsa told New Jersey 101.5 at 5:30 p.m. the fire was under control and no evacuations were needed.
A hotbed of wildfires
It's the third potentially large wildfire in Burlington County in the past two weeks of what has been a very active wildfire season in New Jersey.
Just a week ago the Flatiron Wildfire in Medford burned Township through 82 acres. The Allen Road fire in the Bass River State Forest burned around 5,000 acres the week before.
The Glory Wildfire burned 82 acres in Jackson on Tuesday and Wednesday.
While no specific warnings were issued Friday about wildfires, conditions remain dry and conducive to the rapid spread of fires, according to New Jersey 101.5 Chief Meteorologist Dan Zarrow, who added that there is a chance of showers and thunderstorms Friday afternoon.
Report a correction 👈 | 👉 Contact our newsroom
NJ's crazy haze, choking smoke, and sinister sky
More From New Jersey 101.5 FM