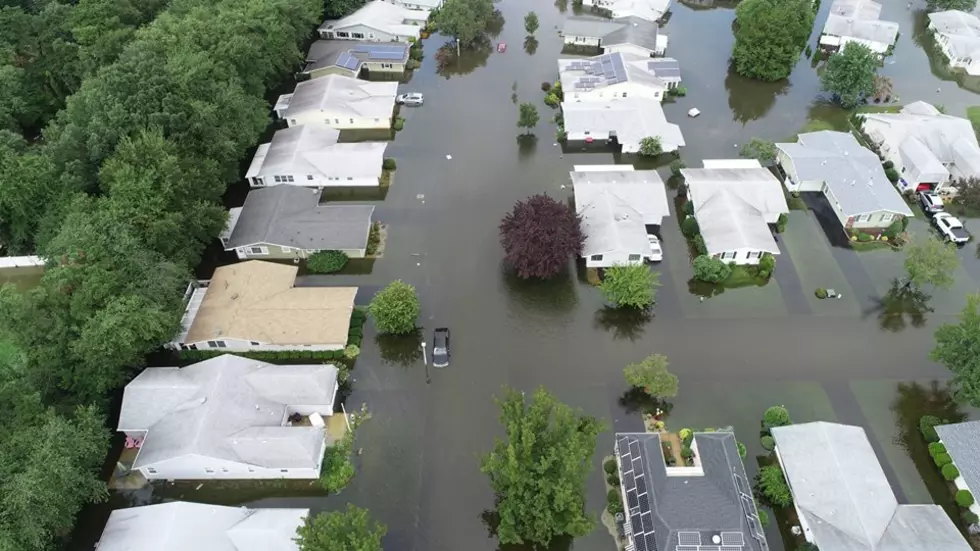 Never flooded before: Did Parkway work cause Brick disaster?
(Brick Police)
BRICK — A neighborhood that has never flooded before found itself inundated on Monday following a fierce summer storm. Now, local officials want to know if the flooding was worsened by any man-made causes.
State Sen. Jim Holzapfel, Assemblyman Dave Wolfe and Assemblyman Greg McGuckin want the Department of Transportation to look into whether the recently reconfigured Exit 91 on the Garden State Parkway played a role.
"It's a little suspicious that Greenbriar can go five decades without this kind of flooding, including during Superstorm Sandy, but it's suddenly underwater a year after the adjacent Exit 91 project was completed," Wolfe said Tuesday. "We need to know if changes to the grading or drainage in the area led to this flooding, and we need a plan to prevent it from happening again."
"We need to determine if this was a freak event that's unlikely to happen again, or if it's a direct result of the engineering of the interchange," McGuckin said.
Article continues below video:
Citing "historic amounts of rain," Gov. Phil Murphy on Tuesday signed an executive order declaring a state of emergency for Monmouth, Ocean, Passaic, Bergen and Essex counties.
"This will allow us to focus resources into the most impacted areas, as necessary. Our job as public officials, first and foremost, is to ensure that everyone is safe, especially since we may not be out of this weather pattern yet and more rain may still fall on already saturated ground," Murphy said.
A day after areas of Brick and the northern Ocean County and southern Monmouth County area were inundated with 8 inches of rain in just three hours, the pavement was dry at Greenbriar 1, where more that 100 residents had been forced to leave.
"When you drove through it actually didn't look like anything even happened," Mayor John Ducey told New Jersey 101.5 about his visit on Tuesday morning. "There was no debris because it was just rain water. There was no sand or mud or muck. Even the grass looked perfectly normal until you opened up doors or garages and looked inside and saw the damage to see floor boards up, boxes soaked, the walls wet to a certain point."
Ducey said the power was cut by JCP&L to 105 houses pending an inspection by the township engineers to check the electrical panel and meter for wetness.
Home improvement retailer Lowe's brought over nearly everything the township Office of Emergency Management director said was needed to help residents, according to the mayor.
The company also provided people to help Department of Public Works workers remove wet furniture and empty refrigerators, the mayor said.
Around 60 Brick Township High School football, lacrosse and soccer players and members of the cross country team will be among the volunteers that will help residents on Wednesday remove more furniture and cut out wet sheet rock.
Article continues below video:
Murphy said impacted residents and businesses should document all property damages caused by floodwaters and report it to the appropriate County Office of Emergency Management. Businesses may also account for revenues lost due to the floods. Local officials should continue to document damages for debris removal, such as downed trees and mud from streets, and emergency protective measures, such as sandbagging or pumping flood water.
The governor urged the residents in Greenbriar, where most residents don't have flood insurance because the area is not prone to flooding, to communicate with their local elected officials about their concerns.
"That will go up to the county and come immediately to us. We will then get back and hopefully be able to assist aggressively" Murphy said.
Ducey said the emergency order issued by the township on Monday and the state will help residents file claims with their insurance company.
Ducey said residents have been hearing conflicting stories from their insurers.
"Certain insurance companies are telling people that as long as the town called a state of emergency they'd be covered. Other people said if it was rain damage and not flooding they'd be covered so there's all sorts of stories the residents are saying," he said.
Ducey said a nearby Brick Municipal Utilities Authority pumping station that handles toilet water was flooded but temporary pumps were brought in to help.
More From New Jersey 101.5 FM