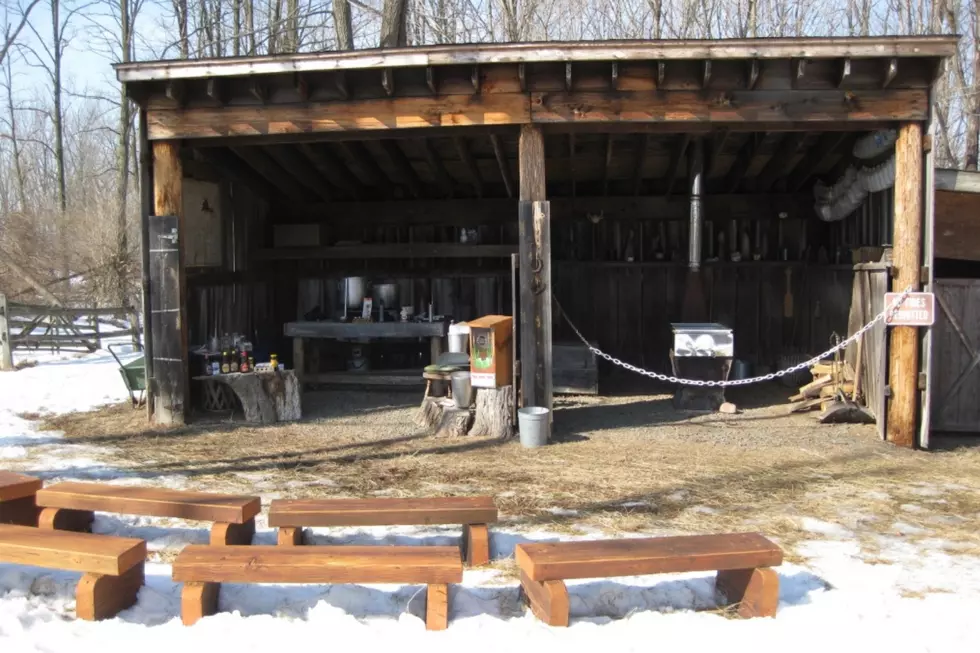 Learn how to make maple syrup all month long in Somerset County
Maple sugaring program in Basking Ridge (Photo Credit: Somerset County Park Commission)
🥞 Somerset County park naturalists will hold maple sugaring demos all month long
🥞 Learn how to tap a tree, collect sap and make New Jersey maple syrup
🥞 Tickets for the 60-minute demos can only be purchased at the door day of the event
---
BASKING RIDGE — Maple sugaring has been gaining popularity in New Jersey over the past few years.
What is maple sugaring?
It is the process by which maple syrup is made out of sap that naturally flows up and down maple trees.
Native Americans and colonists began the tradition of maple sugaring centuries ago in the Northwest. Now, people of all ages will see this tradition brought to life and learn how to tap trees, discuss sap-collecting methods from the past, and learn modern-day techniques as well as the boiling process, which is the final step in creating New Jersey's maple syrup.
What is the program entail?
During February, learn all about the maple sugaring process and take part in the maple sugaring program hosted by the Naturalists at the Somerset County Park Commission's Environmental Education Center (EEC) on Lord Stirling Road in Basking Ridge.
Participants will learn how to tap a tree, collect sap, and make syrup.
The hour-long demonstrations will be held every Saturday and Sunday at 12 p.m. and 2 p.m. throughout February.
The program costs $7 per adult and $6 per student and senior citizen. Tickets can be purchased at the door only. Participants should arrive 30 minutes before the start of the program to purchase tickets, and allow time to hike to the Sugar Shack to meet their naturalist.
The outdoor program is 60 minutes and is conducted at the EEC's Sugar Shack, which is a half-mile hike from the center. Therefore, participants should dress appropriately for the weather, such as wearing boots for wet, muddy, and snow-covered trails, and layers of clothing to stay warm.
For more information about the program, contact Kurt Bender or call 908-722-1200, ext. 5332.
There are many other maple sugaring programs available in New Jersey such as Tenafly, Westfield, Mendham, Flemington, and Hopewell Township on Howell Living History Farm.
Jen Ursillo is a reporter and anchor for New Jersey 101.5. You can reach her at jennifer.ursillo@townsquaremedia.com
Click here to contact an editor about feedback or a correction for this story.
OMG! Cutest pets in New Jersey!
The 99 top paying jobs in New Jersey
How much do you make? These are the occupations in New Jersey with the highest median annual compensation. Source: Federal Bureau of Labor Statistics, 2022
More From New Jersey 101.5 FM