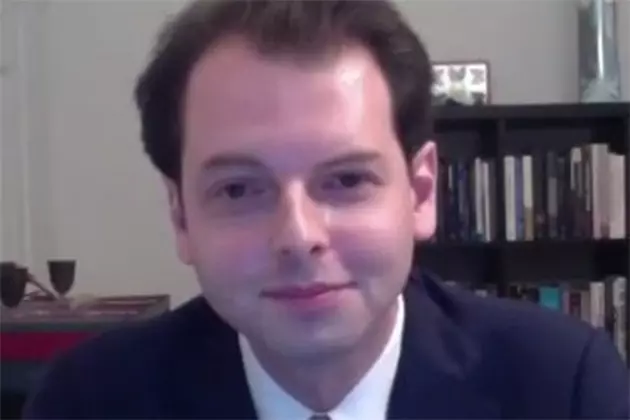 In the future, Hitler will be seen as 'great leader,' NJIT lecturer videoed saying
JasonRezajorJani.com
NEWARK — A lecturer at New Jersey Institute of Technology says the school is trying to "illegally" fire him for a video that appears to show him predicting the return of concentration camps, and a time when Adolf Hitler is remembered as a "great European leader."
The video of Jason Reza Jorjani was shot by a student in Sweden who went undercover with the alt-right for a year as part of a project for the group Hope Not Hate, according to an op-ed in the New York Times. Jorjani described that article as libelous on his blog.
In the video, also published by the Times, Jorjani said he believes the alt-right will continue to grow in the coming years, especially in Europe. He said the migrant crisis in Europe is "gonna end with concentration camps and expulsions and war ... at the cost of a few hundred million people."
"We will have a Europe, in 2050, where the bank notes have Adolf Hitler, Napoleon Bonaparte, Alexander the Great," he's heard saying in the video. "And Hitler will be seen like that: like Napoleon, like Alexander, not like some weird monster who is unique in his own category — no, he is just going to be seen as a great European leader."
Jorjani is described as one of the founders of the AltRight Corporation, which describes itself as "an organization established to foster cooperation and coordination among alt-right groups in Europe and North America."
He also said in the video his group had contacts in the administration of administration of President Donald Trump.
Calling the article in the Times "trash" on his blog, Jorjani said the video "was obtained surreptitiously and under false pretenses."
"It has been deceptively edited to make it appear as if I am advocating genocidal extreme right-wing policies," he said. "My nightmarish prediction of a future that would follow from Western policymakers' failure to address the Muslim migrant crisis in the present has been taken out of context and made to appear as if it is advocacy for 'concentration camps and expulsions of war ... at the cost of a few hundred million people.'"
He told New Jersey 101.5 in an email he would respond to a request for comment soon, but saod the school was planning to "illegally" fire him and "I've got too much going on right now."
Jorjani said in his blog the way the video was portrayed was "libel — or worse," and that he did not believe the story had clarified his comments "in a responsible fashion."
Jorjani is listed on NJIT's website as being a lecturer in the humanities department.
"NJIT is a university that embraces diversity and sees it as a source of strength," the school said in a statement sent before Jorjani's message claiming he'd be fired was received.
A later statement from the school called the statements Jorjani made in the video "antithetical to our institution's core values."
While Jorjani had not been fired, the statement said he had been "placed on administrative leave" pending "a review of this and related matters."
More From New Jersey 101.5
Contact reporter Adam Hochron at 609-359-5326 or Adam.Hochron@townsquaremedia.com