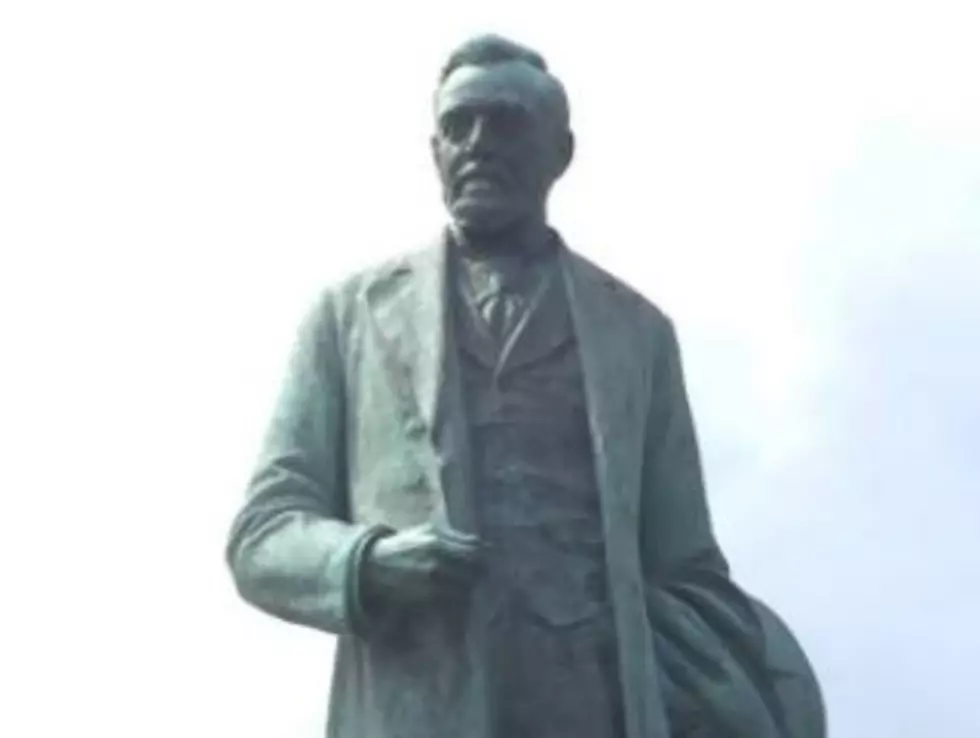 Should Asbury Park take down this statue? Group calls it symbol of city's problems
Help not Handcuffs via Facebook
ASBURY PARK — The leader of a group hoping to see the removal of a statue dedicated to the city's founder says that while the physical monument's removal would be a positive step, it would only be a symbolic victory in a much larger fight.
Randy Thompson, CEO of Help Not Handcuffs said a the group is holding a planning meeting at 7 p.m. on Thursday for a rally to be held in the near future. He said when it is held the purpose of the rally will be to reinforce their message that the culture established by James A. Bradley does not need to exist in today's city.
"The effort is to not have monuments to racism," he said. Thompson said he sees the statue as a symbol for a much larger problem the city is facing today. He said his group believes the issues the city faces in terms of drugs and crime can be traced back to Bradley's designs of the city when he first founded it.
According to the Asbury Park Press, the idea for the statue started in 1921 following Bradley's death and was built to coincide with city's 50th anniversary. City historian Werner Baumgartner told the Press story that he opposes the removal of the statue.
"I don't think you can call the man a racist when society kind of dictated certain separations," he was quoted as saying. "It might have been business pressures more than anything else, rather than a personal desire to segregate races."
Thompson said the group started working to help the city in 2014 and had planned to have a rally on Martin Luther King Day calling for the removal of the statue. While he sees problems with the statue on a larger scale, Thompson said it also hits close to home for him as well.
"We're a white family, my daughter's cousin is black," he said. "I think it's obscene that when we walk to the beach with my daughter's cousin we have to walk past this man who would say if he were here today that member of your family can't go because of the color of their skin. That to me is a little much."
Thompson said even many years after Bradley's death, his legacy continues to live on. He said the city is divided into two main sections, one which is mostly black and one that is mostly white.
"That was James Bradley's plan," he said. "This is segregationist."
Thompson also said Bradley's statue has been "whitewashed" to mask his true legacy beyond founding the shore town.
"All it says is James A. Bradley, and the dates that he lived, founder of Asbury Park," he said. "When you look into it you'll see that his key achievement was achieving segregation in the north. That statue itself has a race history."
The debate about the fate of the statue echoes others happening around the country with people calling for the removal of monuments dedicated to Confederate figures. While he would like to see the statue taken down Thompson said it can still play a role.
"We're saying you should put it in a museum somewhere," he said. "It's a piece of history. Don't destroy it, but that certainly does not represent the community of Asbury park. It actually represents all that divided Asbury Park."
Thompson said that as the country looks to figure out what to do with statues and monuments from the past there are more worthy people who should be recognized.
"Statues are really there to glorify people," he said. "Where are the statues that are going to glorify the black civil rights leaders, what about the gay rights leaders who have suffered horribly? What about women's rights?"
Thompson said the steps Bradley took to found the city contributed to the issues it now faces as part of a larger crime and drug problem.
"The war on drugs is perpetuated in the city of Asbury Park where 25 percent of our arrests are for drug use only," he said. "We know that even though white people and black people use drugs at the same rate, it's the black people that are getting arrested and we see that in the arrest data in Asbury Park."
The rally on Thursday night will mark the second one held in the city in less than a week after one was held on Monday to "Stand Against Hate." Thompson said he hopes his group's rally will take the message from the Monday event and go even further to help the city itself.
"We want to take a look in the mirror at Asbury Park and say we just made a huge community-wide statement against racism, bigotry, hate, and prejudice," he said. "We want to see what policies do we have here in the city of Asbury park and in the state of New Jersey that support racism, bigotry, and hate and start changing those."
Thompson also knows that in these turbulent times there are inherent risks with holding rallies such as his. Prior to Monday's rally a woman was pepper-sprayed after she said a white nationalist confronted her and others on Sunday night while they were painting signs for the event.
"Already there's been an attack. Just because people who do promote hate don't like other people talking about it and against it," he said.
Ultimately the decision to take down the statue of Bradley will be left to the Asbury Park administration. Thompson said he has spoken to Mayor John Moor about the issue so he knows it is on their radar.
"The city's got entrenched issues, and again those issues were deliberately entrenched from the time of its founding by Bradley," he said. "They are held as just a regular part of our normal life and they've been held for decades and centuries, and they perpetuate today."
More From New Jersey 101.5
Contact reporter Adam Hochron at 609-359-5326 or Adam.Hochron@townsquaremedia.com
More From New Jersey 101.5 FM