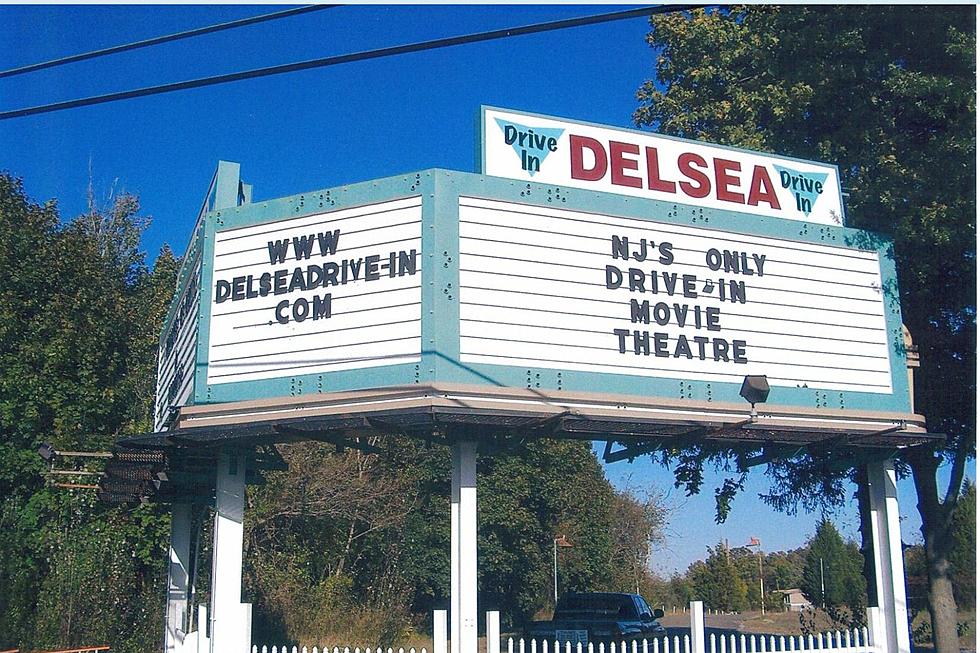 The only drive-in theater in NJ celebrates the industry's 90th anniversary
NJ's only authentic drive-in movie theater, Delsea Drive-In, Vineland (Photo Credit: Jude DeLeonardis)
🎬 NJ's only drive-in movie theater reopened in 2004
🎥 The drive-in movie theater industry celebrates its 90th anniversary
📽 The affordable drive-in theater is open on weekends showing double features
---
VINELAND — New Jersey's only authentic drive-in movie theater has been in existence of 19 years and this year, it is celebrating the 90th anniversary of the drive-in movie theater industry.
The Delsea Drive-In originally opened in 1949 in Vineland. It briefly closed in 1987 before being reopened in 2004, said Jude DeLeonardis, who co-owns the theater with her husband, John.
What is the history of the drive-in movie theater industry?
On June 6, 1933, the first drive-in movie theater was opened by Richard Hollingshead Jr. in Pennsauken, New Jersey.
Today, tickets are a bit more expensive than that, but still relatively cheap compared to regular movie theater prices. DeLeonardis said the cost is $12.50 for a double feature.
The admission cost at that time was 25 cents per car and 25 cents per person.
How did Delsea celebrate the 90th anniversary?
During the month of June, the Delsea Drive-In held a free pass raffle. Every completed online ticket purchase for the month of June was entered into the raffle. The winning pass is "in kind", meaning that if the original June ticket purchase was for four general admissions, then your pass (should you win), would be for four general admission tickets on another evening going forward in the 2023 season.
What are the drive-in's operating hours?
The Delsea Drive-In is open from mid-March through the fall. DeLeonardis said it operates only on weekends. They start out the season on Fridays and Saturdays. During the summer, Sundays are added. Then in the fall, the schedule reverts back to Fridays and Saturdays.
Tickets can be ordered on the website.
How many cars does the drive-in hold?
The drive-in has two screens. Screen 1 holds roughly 375 vehicles. Screen 2 holds between 200 and 220 vehicles.
Each screen carries a double feature.
For example, this weekend, June 30 - July 2, playing on Screen 1 will be Indiana Jones and the Dial of Destiny starting at 8:50 p.m. on Friday, Saturday and Sunday evenings. The second feature will be The Boogeyman starting at 11:30 p.m.
Playing on Screen 2 will be The Flash, also starting at 8:50 p.m. all three nights. The second feature will be Asteroid City, beginning at 11:25 p.m.
What's cooking?
Take advantage of the drive-in's concession stand. DeLeonardis said the drive-in is known for its extensive list of food choices. They serve the classics like burgers, hot dogs, grilled cheese, subs, French Fries, funnel fries, and shakes. But they also serve a variety of Atkins foods, and gluten-free items like veggies, hummus, fruit, and salads.
One house rule is that folks cannot bring in their own food and beverages without purchasing a food permit. If patrons would like to bring a picnic dinner for themselves, that's fine, but DeLeonardis said a food permit must be purchased online, along with their movie tickets.
All the money raised from ticket and concession stand sales help to keep the drive-in theater afloat, she added.
How has the Delsea Drive-in stayed in business?
While many New Jersey businesses have been forced to close whether due to the COVID-19 pandemic or other circumstances, the Delsea Drive-In has been able to stay in operation.
The COVID-19 pandemic worked in the drive-in movie theater's favor, DeLeonardis said. When they were able to open up, venues like a drive-in theaters were able to take in large crowds. They were one of the few businesses located outside that was able to operate and people wanted to get out.
"COVID, oddly and ironically enough, was very good to drive-in theaters," she said.
Also, compared to other forms of family entertainment like theme parks, the boardwalk, and bowling, just to name a few, drive-in movies are relatively cheap, she said.
People are spending about six hours at the drive-in for a double feature for only $12.50. That's pretty good, she added.
How is today's drive-in different from years past?
The Delsea Drive-In still creates that feeling of nostalgia that so many have come to enjoy. Patrons still watch movies from the comfort of their cars or if they choose to sit outside their cars, they can do that, too.
What has changed is the technology, DeLeonardis said. By that, she means how the movie is delivered to the screen, including both picture and sound.
The other thing that has changed is how ticket sales are conducted.
"We ask that all patrons purchase their tickets in advance online. By in advance, we mean you can purchase it as soon as we put up our schedule and have our ticket sales activated, or you can do it right as you're driving up to the theater on your smartphone," DeLeonardis said.
What movies will be shown this summer?
This is a tricky question because authentic drive-in theaters typically do not have advanced schedules, DeLeonardis said.
"If you see a theater that has advanced theaters, it's because they're either still running 35mm and not showing current product, or they are not actual motion picture theaters," she said. They may be like movies in the park, or something similar.
But Delsea Drive-In is an authentic drive-in movie theater, so the movie schedule is delivered weekly.
These movies are booked through movie bookers that the drive-in pays and it's all contracted, DeLeonardis explained. Negotiations typically come down to the wire, either to that Monday or even that Tuesday morning before play.
She said she might know one or two weeks that they're getting a major title but she would not know the co-features until the week of play.
However, DeLeonardis did give a sneak peek into next weekend saying she will have the movie, "Insidious."
How can patrons help the drive-in stay in business?
"We are limited when it comes to both money and manpower but we do what we can to keep going," said DeLeonardis.
While the pandemic helped to boost business, she said now the problem is inflation. People are struggling and need to decide where their dollars go. Unfortunately, she said the arts and entertainment have taken a back seat and are not a priority.
"We try to keep the cost down to make it affordable."
But help is still needed.
In the past, the Delsea has had full weekends. But in 2023, they have not had full weekends. In fact, DeLeonardis said the turnout has been dismal this season, so far.
"We're able to survive and keep going. We have some bump-ups with the bigger titles but there's so much controversy with so many movie products and I think that shows up in the attendance," she said.
For independent owners who may want to have a choice as to what they play and don't play, movie studios make it difficult for them.
For example, some movie studios won't give you their "A-list" movie without taking their entire alphabet of movies.
The Delsea Drive-In is committed to providing a unique family-friendly experience and DeLeonardis invites everyone to come out this summer and fall to enjoy an affordable evening full of fun and entertainment.
 Report a correction 👈 | 👉 Contact our newsroom
NJ county fairs are back! Check out the 2023 summer schedule
A current list of county fairs happening across the Garden State for 2023. From rides, food, animals, and hot air balloons, each county fair has something unique to offer.
(Fairs are listed in geographical order from South NJ to North NJ)
More From New Jersey 101.5 FM