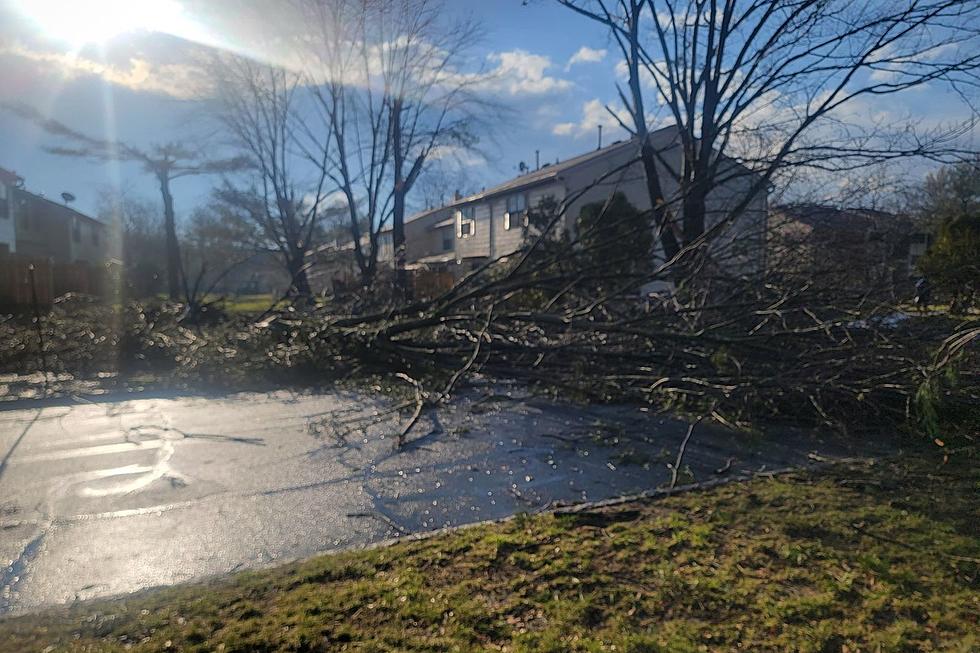 Confirmed: Tornado touched down and left a mess in West Windsor, NJ
Tree brought down by a tornado in West Windsor 2/21/23 (Ryan Kelly)
🔴A strong line of storms with hail, heavy rain and gusty wind moved west to east across Mercer and Monmouth counties after 3 p.m. Tuesday
🔴A National Weather Service survey team confirmed a tornado rated an EF2 on the
Fujita Scale moved in a line from Route 1 to Quaker Bridge Road in West Windsor
🔴There was a lot of damage in the Lawrence Square Village neighborhood on the West Windsor-Lawrence border
---
A National Weather Service survey team says a tornado moved through West Windsor and Lawrence on Tuesday afternoon with a top speed of 115 mph.
A strong line of storms with hail, heavy rain and gusty wind moved west to east across Mercer and Monmouth counties after 3 p.m. An area of rotation in the Hightstown-East Windsor-Cranbury area around 3:30 p.m. prompted a Tornado Warning, which was canceled by 4:15 p.m.
A preliminary investigation determined an EF-2 on the Fujita Scale tornado formed in the area south of Route 295 in Lawrence Township at 3:35 p.m. It traveled 5.8 miles in a straight line east across Mercer County Park ending in the Quaker Bridge Road area on the border of the two Mercer County townships at 3:41 p.m.
How to confirm a tornado
It is New Jersey's first confirmed tornado since an EF-1 storm touched down in Blackwood, Camden County on June 9, according to New Jersey 101.5 Chief Meteorologist Dan Zarrow.
"A tornado is a localized area of intense, twisting winds. Given how strong the rotation was on radar Tuesday afternoon, and how extreme the wind damage was," Zarrow said. "I am not surprised at all this was a tornado."
Zarrow said the survey team uses a standard list of "damage indicators" to calculate the approximate wind speed.
he last tornado in to occur in February in New Jersey was on Feb 12, 1999, an F-1 near Cherry Hill. There were 3 tornadoes on Feb 2, 1973, one F-2 and two F-1s in Hunterdon County.
Property damage, no injuries reported
Approximately 100 properties in West Windsor sustained minor damage while 160 Lawrence residents were displaced, according to police. Red Cross New Jersey was on hand to assist residents.
PSE&G restored the vast majority of customers who lost power by Wednesday morning.
A water spout was also reported off the coast in Sea Girt, according to the National Weather Service.
Dan Alexander is a reporter for New Jersey 101.5. You can reach him at dan.alexander@townsquaremedia.com
Click here to contact an editor about feedback or a correction for this story.
Even more cutest pets in New Jersey — 2023
We asked for the cutest pets — and we got 'em! Here are some more of all the furry, scaly, feathery and wrinkly friends in the Garden State.
We've announced our winner here.
LOOK: These are the most Instagrammed sports stadiums in the world
OLBG
analyzed Instagram hashtags & revealed the most Instagrammed sports stadiums across the world, including those here in the United States. The top 10 are listed below, based on available data from February 7, 2023.
Every NJ celebrity with a star on the Hollywood Walk of Fame
More From New Jersey 101.5 FM