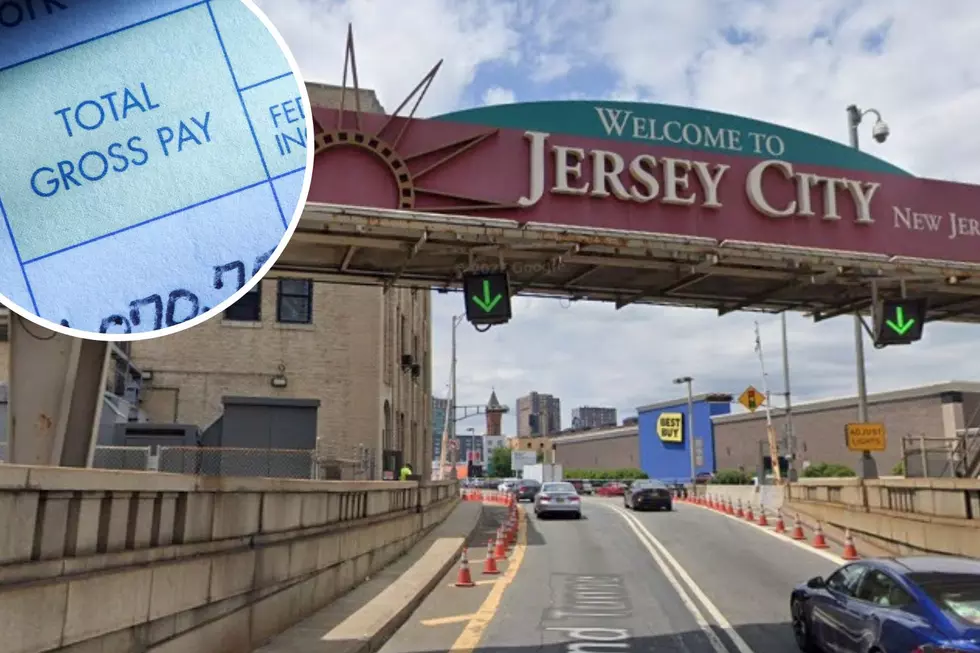 Brooklyn biotech company that grows bones is lured to NJ
Welcome to Jersey City sign at the Holland Tunnel (Google Street View)
⚫ Cutting-edge biotech company moving from Brooklyn to New Jersey
⚫ The state EDA will give EpiBone millions in tax credits
⚫ The firm will add almost 100 new jobs in Jersey City
---
The New Jersey Economic Development Authority has approved a plan to give the biotechnology company EpiBone up to $3.5 million in tax credits over a seven-year period in exchange for the company moving from Brooklyn to Jersey City.
EpiBone, which grows bone and cartilage for skeletal reconstruction using stem cells to create new healthy bone and cartilage, is expected to add 90 full-time jobs in the Garden State.
The biotech firm, currently with a product in clinical trials and two in various phases of clinical development, has outgrown its current space in Brooklyn and is looking to expand.
Expanding New Jersey's life sciences
"By securing EpiBone's relocation to Jersey City through the ground-breaking Emerge Program, New Jersey is once again expanding its nation-leading life sciences ecosystem," said Gov. Phil Murphy in a statement.
"EpiBone will serve as an invaluable asset to our growing economy as it brings nearly 100 new jobs to our state and innovates at the cutting edge of life-changing biotechnology."
The governor also noted the company is women-owned, and the relocation will "continue to foster a fairer and more inclusive New Jersey."
Utilizing a new economic recovery act
The Emerge Program is part of the New Jersey Economic Recovery Act, which allows businesses and nonprofits to apply for tax credits for projects that create jobs.
EpiBone is the first company approved under Emerge to qualify for the program's "Small Business" designation.
Thrilled to be in New Jersey
EpiBone co-founder and CEO Nina Marie Tandon said "New Jersey's educated and diverse talent pool, accessible location, and network of high-profile research universities makes it an ideal spot for a dynamic, rapidly growing business to reach its potential."
"New Jersey also offers a robust range of programs to support companies through all stages of growth," she said. "Jersey City, in particular, is a model of diversity, has a thriving innovation community, and is accessible via mass transit – all just a short drive from lower Manhattan and major international airports."
The project will be the company's headquarters and will include research and development facilities. The positions moving to Jersey City include executive staff, clinical positions, research, system engineers, lab support, quality control and quality assurance specialists, manufacturing support, information technology, and various administrative functions.
David Matthau is a reporter for New Jersey 101.5. You can reach him at david.matthau@townsquaremedia.com
Click here to contact an editor about feedback or a correction for this story.
LOOK: Food and Personal Care Shortages We Could See In 2023
Learn about the 13 potential shortages that could impact stores in 2023, from produce and meat to snacks and beverages.
Up or down? Average property tax changes in NJ in 2022
Below are the average property tax bills for every municipality in New Jersey last year.
The towns are listed from the biggest cut in the average bill to the highest increase. On the county maps, the deeper red color means a higher increase above 2% whereas the darker green signifies a smaller increase or a reduction.
Each listing also shows how the average tax bill is split among the county, school and municipal governments.
LOOK: The 25 least expensive states to live in
More From New Jersey 101.5 FM