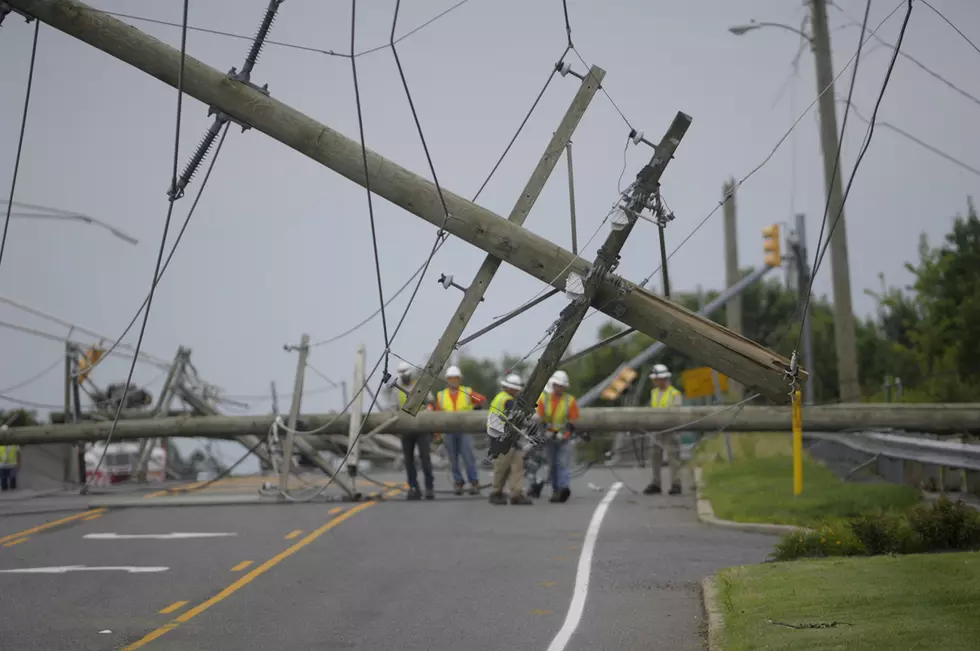 Atlantic City Electric expects all power to be restored today
Fallen utility poles on Harmony Road in Gibbstown (ACE)
Atlantic City Electric continue working in the hardest hit sections of Gloucester County to get power restored to all customers by Monday night.
More than 650 utility workers are in the hardest hits towns of Deptford, Greenwich, East Greenwich, Mantua, Gibbstown, Washington Township, Winslow Township, Waterford Township, Gloucester Township, Wenonah, and Carneys Point to get most customers back online nearly a week after powerful thunderstorms rolled through South Jersey. 4,524 customers are still without power as of mid-afternoon on Monday.
"We share our customers' frustration that additional poor weather has prevented us from getting power back on as quickly as we had expected for those final customers," said Susan Coan, Atlantic City Electric regional vice president on ACE's website. "We are working as quickly and safely as possible, and we won't slow that pace until service is restored to the last customer."
Saturday night's storms were a setback to restoration efforts as 16,000 new outages were reported. "The ground is saturated, and tree root systems may be unstable; this has made trees vulnerable and more likely to fall, causing new outages. New outages are added to our outage maps but are not differentiated," ACE explains.
"While we continue to work around the clock to restore power to every customer affected, we urge all customers without power to stay in contact with our customer call centers," Coan said. "By responding to callbacks and reporting lingering outages, customers play an integral role in the company's ability to identify localized outages."
The American Red Cross's South Jersey Region will open their relief center in Mt. Royal again today at the firehouse on Mantua Road from 10:30 a.m. - 8 p.m.
Greenwich Township Mayor George Shivery on Sunday called a press conference to complain about the  "lack of response" he has received from Gov. Christie. Shivery said he was the first mayor in South Jersey to endorse Christie in 2009 and he's "disheartened by the governor's lack of response." The mayor says communication with the governor's office has been "terrible."
Christie in a statement said he has been working with Board of Public Utilities President Richard Mroz "to expedite restoration efforts and to ensure the certainty of a firm restoration schedule is in place." He said that ACE would have most power restored on Monday.
 MORE COVERAGE:
More From New Jersey 101.5 FM