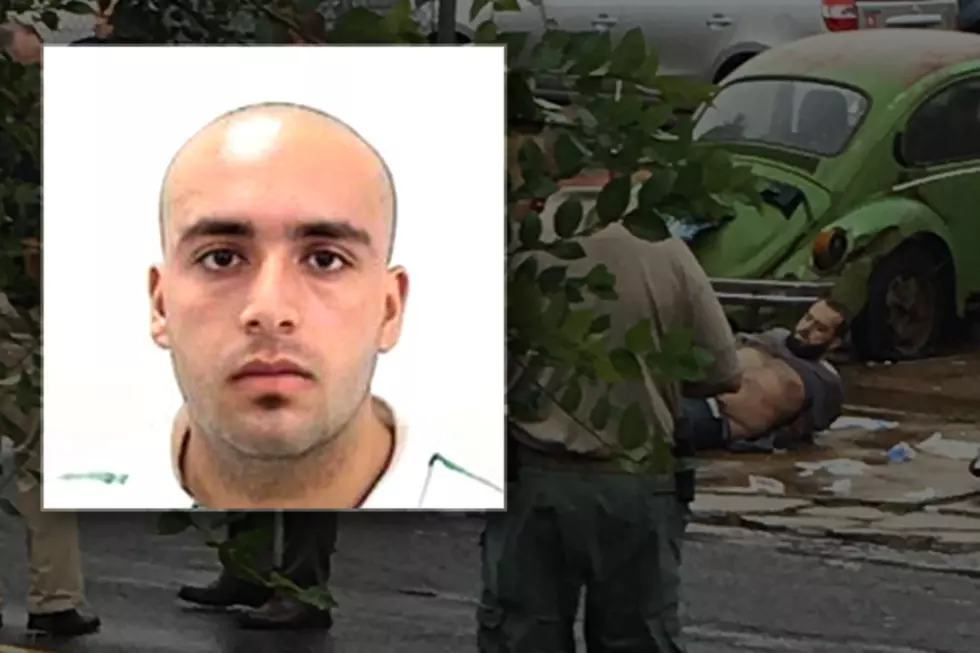 What we know (and don't!) about bombings and Ahmad Khan Rahami
Forground: Ahmad Khan Rahami (NJ State Police). Background: Rahami is taken into custody after a shootout with police Monday. (Moshe Weiss via AP)
It's been a hectic, terrifying weekend — but one in which New Jersey was spared the carnage we've often come to connect with terror.
Still, 29 people in New York City were hurt in the Chelsea section of New York when an improvised explosive device detonated there — an explosion bookeneded by others in Seaside Park and Elizabeth that could easily have led to more injuries or even deaths.
At least two Linden officers were wounded in a shootout with suspect Ahmad Khan Rahami, 28 — found sleeping in a bar doorway as law enforcement throughout the Tri-State area hunted him — but neither was seriously hurt, authorities said. Rahami himself seemed conscious, with his upper right arm bandaged and bloodied, as he was loaded into an ambulance in Linden. Authorities said he underwent surgery for a gunshot wound to the leg.
Three explosion sites. One suspect. No deaths. Plenty of questions.
There were three blasts this weekend — and while authorities stress the investigation is continuing, they haven't suggested there's any urgent threat of more.
Authorities quickly ruled out a prank or an accident, after they reportedly discovered two more undetonated shrapnel devices connected to the exploded device. The timing of the explosion and its failure to completely detonate prevented further property damage or injuries, a spokesman for the Ocean County Prosecutor's Office said.
Then, Saturday night, a shrapnel-packed pressure-cooker bomb similar to those used in the Boston Marathon bombing injured 29 people in New York's Chelsea section, though none were hurt seriously. At the time, authorities hedged on whether the two events were connected — but have since said they were.
New Jersey residents awoke to news of further threats Monday morning — learning that late Sunday night, two homeless men discovered five explosives in a backpack, in trash can near an Elizabeth train station.
One was detonated as authorities tried to disarm it. No one was hurt.
Within hours, authorities had swarmed Rahami's last known address, at Elmora and Linden Avenues, above a chicken take-out restaurant his family owned. He was not home.
What led authorities to Rahani? 
Only some of that is clear.
According to William Sweeney Jr., the FBI's assistant director in New York, five people were pulled over Sunday night in a vehicle associated with Rahami approaching the Verrazano-Narrows Bridge. They were questioned and released, Sweeney said. At least so far, none have been charged.
From statements by Sweeney and others, police were already looking specifically for Rahami — who was not in the car. Elizabeth Mayor Chris Bollwage said Monday evidence obtained through that stop led police to his town. Sweeney said residences in both Elizabeth and Perth Amboy had been searched.
He didn't specify why Perth Amboy became a point of interest — but according to court records, Rahami previously lived in that town.
It's not clear how long he'd been in Elizabeth. Bollwage said members family — who'd had an adversarial relationship with the municipality over its chicken business, where Rahami had worked — had lived above the shop and Rahami had at least been staying there recently.
Representatives of the FBI and other law enforcement declined to say how they initially tied the explosives to Rahami, however — but said he was connected to the specific devices.
"He was our focal point based upon evidence by the New York JTTF (Joint Terrorism Task Force) as well as the JTTF in the state of NJ," FBI Special Agent Tim Gallagher said Monday.
Authorities were known to be poring over surveillance video and examining bomb fragments and components for evidence. New York Gov. Andrew Cuomo said as investigators gathered information, they learned there were "certain commonalities among the bombs," leading authorities to believe "that there was a common group behind the bombs."
A law enforcement official told the Associated Press fingerprints and surveillance video helped investigators identify Rahami. The official said Rahami is seen in surveillance footage "clear as day" at the scene of the Saturday night bombing in Manhattan. The official says investigators were also able to recover his fingerprints from the scene.
Another law enforcement official said investigators pulled over another car "associated" with Rahami when it appeared headed toward an airport Sunday. It had three men and two women in it.
The bombs in New York and New Jersey also had a common element: flip-style cell phones, officials said.
The officials spoke to The Associated Press on condition of anonymity because they weren't authorized to speak publicly about the case.
Bollwage said Rahami himself was not specifically on law enforcement's radar before this weekend's incidents.
Did he have any accomplices?
Authorities haven't ruled anything out, but nothing like the manhunt that ended with Rahami's capture is continuing in New Jersey.
"I have no indication there is a cell operating in the area or in the city," Sweeney said Monday.
But Bollwage also cautioned Monday "it's really early in the investigation to see if there's anybody else involved."
"Anyone who puts a bomb in any place that could harm individuals, that's an act of terrorism," Sen. Bob Menendez of New Jersey said Monday.
New York Mayor Bill de Blasio said much the same: "Based on the information we have now, we have every reason to believe this was an act of terror."
The open question is whether Rahami was in any way affiliated with or inspired by a terror organization. It's just as unclear what his motives were. Since he's lived through his confrontation with police, there's some hope that will become more clear as he's interrogated and the investigation continues.
This weekend's explosions weren't the only terror in the U.S. this weekend. Private security firm Dahir Adan stabbed nine people at a Minnesota mall before being shot dead. ISIS has claimed credit for that attack. The terror organization had not made any such claim as of mid-day Monday.
He was a naturalized citizen of the United States, and an Afghan immigrant
New Jersey 101.5 learned Monday he has a criminal record — having been charged in 2012 with violating a domestic violence restraining order, and in 2014 with aggravated assault. He also faced weapons charges in the latter incident. A grand jury never indicted him.
Another person at his last known address on Elmora Avenue in Elizabeth, Najiba Rahami, 51, was arrested in 2010 on child abuse charges. Those were dismissed in 2011 after she completed a pre-trial intervention program. Her relationship to the bombing suspect was not immediately clear Monday morning.
New Jersey 101.5 is continuing to seek more information about those incidents.
What's his family's history with Elizabeth?
Rahami's father, Mohammad, and two of Rahami's brothers sued the city in 2011 after it passed an ordinance requiring their restaurant, First American Fried Chicken, to close early because of complaints from neighbors that it was a late-night nuisance.
The Rahamis charged in the lawsuit that they were targeted by neighbors because they are Muslims.
The lawsuit also alleges that neighbor James Dean McDermott, owner of Dean Relay Press and Radio on Linden Avenue, targeted Rahami's father Mohammad and his brothers Mohammad K. Rahami Jr. and Mohammad Q. Rahami because they were Muslim.
It claims McDermott repeatedly called police on the business and told the owner and his sons that "Muslims make too much trouble in this country" and "Muslims should not have businesses here."
The lawsuit was terminated in 2012 after the elder Mohammad Rahami pleaded guilty to blocking police from enforcing the restrictions on the restaurant.
Rahami could face charges in multiple jurisdictions.
>Preet Bharara, the U.S. Attorney for the Southern District of New York, said Monday he expects Rahami will face charges in Union County, NJ related to the Linden shootout with police that ended in his capture.
He could also face federal terrorism charges and charges in both New York and New Jersey for the series of explosions.
For now, he's reportedly recovering at a Union County-area hospital.
Sporadic lockdowns in the area have ended.
The train stations are open, the schools are open, the business community is open," Bollwage said Monday. "I hope anybody that does things on a Monday in September continues to do what they would do on a Monday in September."
— With reporting by Dan Alexander, Sergio Bichao, Dino Flammia, Toniann Antonelli and the Associated Press.
More from New Jersey 101.5: