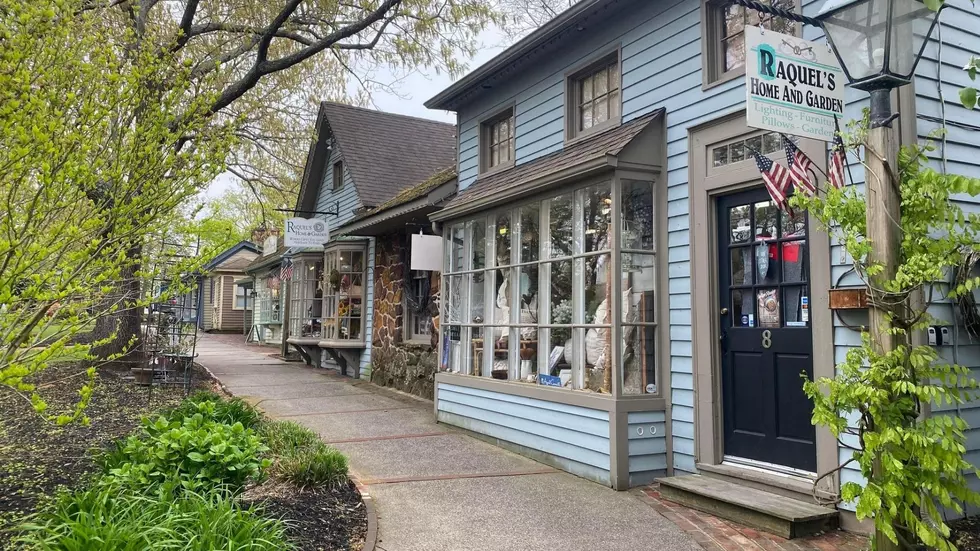 Historic Smithville is a cute NJ village that's perfect for a day trip
Photo by: Jordan Jansson
If you're looking for a cute little town to relax and take a stroll, Historic Smithville is the perfect spot.
Historic Smithville is a quaint colonial village with 50 shops, 10 places to eat, cobblestone walkways, footbridges, and a beautiful lakefront view. They also have paddle boating, a merry-go-round, a kids train and retro arcade games.
The village is an unincorporated community in Galloway, a township in Atlantic County. It's about 13 miles north of Atlantic City.
Here is a little history about Historic Smithville
The Smithville Inn was built in 1787 by a local developer named James Baremore. It was a great stop for stagecoach travelers from Leeds Point to Cooper's Ferry. It became a staple for many, but with railroads, automobiles and highways on the rise, Smithville became less of a destination.
Smithville was basically an abandoned stagecoach stop, until it was purchased and refurbished by a local couple, Fred and Ethel Noyes in 1952.
They opened an antique shop that would then turn into The Smithville Inn. It was a dining destination for locals and visitors.
With the popularity of the Smithville Inn, they began to build a town around the restaurant. They purchased historic buildings from South Jerseys past and brought them into the village, many of which you can still see today.
After walking around and checking out all the historic buildings, you can sit at one of the provided picnic tables or seating options and enjoy the lakefront view. You can also go paddle boating on the lake for $15.
There is also a colorful and fun merry-go-round that only costs $3 to ride.
It's also great for shopping.
They have everything you can want including boutiques, candle stores and candy stores. When you enter the shops, you may realize that many of the people greeting you behind the counter are the owners, which I personally loved.
Next time you are looking for a fun day trip, consider checking out Historic Smithville.
New Jersey's smallest towns by population
New Jersey's least populated municipalities, according to the 2020 Census. This list excludes Pine Valley, which would have been the third-smallest with 21 residents but voted to merge into Pine Hill at the start of 2022.
These are the best hiking spots in New Jersey
A trip to New Jersey doesn't have to be all about the beach. Our state has some incredible trails, waterfalls, and lakes to enjoy.
From the Pine Barrens to the Appalachian Trail to the hidden gems of New Jersey, you have plenty of options for a great hike. Hiking is such a great way to spend time outdoors and enjoy nature, plus it's a great workout.
Before you go out on the trails and explore some of our listeners' suggestions, I have some tips on hiking etiquette from the
American Hiking Society.
If you are going downhill and run into an uphill hiker, step to the side and give the uphill hiker space. A hiker going uphill has the right of way unless they stop to catch their breath.
Always stay on the trail, you may see side paths, unless they are marked as an official trail, steer clear of them. By going off-trail you may cause damage to the ecosystems around the trail, the plants, and wildlife that live there.
You also do not want to disturb the wildlife you encounter, just keep your distance from the wildlife and continue hiking.
Bicyclists should yield to hikers and horses. Hikers should also yield to horses, but I'm not sure how many horses you will encounter on the trails in New Jersey.
If you are thinking of bringing your dog on your hike, they should be leashed, and make sure to clean up all pet waste.
Lastly, be mindful of the weather, if the trail is too muddy, it's probably best to save your hike for another day.
I asked our listeners for their suggestions of the best hiking spots in New Jersey, check out their suggestions:
More From New Jersey 101.5 FM