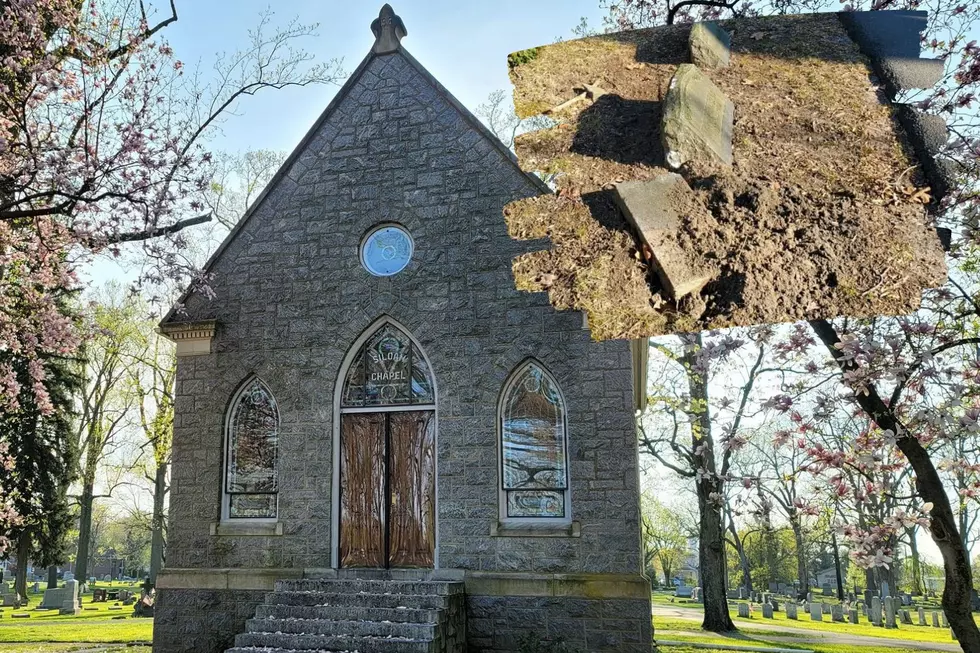 Vandals wreck graves at historic cemetery in Vineland, NJ
Renee Cheesman/Facebook Siloam Cemetery Townsquare Media illustration
🔴 Vandals damaged or destroyed grave markers in one of NJ's oldest cemeteries
🔴  Many prominent people are interred on the grounds
🔴 Police are asking for the public's help
---
Police are asking for the public's help in locating who damaged gravestones in an historic cemetery in South Jersey.
Several headstone markers appear to have been run over at Siloam Cemetery in Vineland.
Photo's posted on Facebook by Vineland Police show large tire marks in the dirt around the damaged gravestones. Some of the markers were knocked over. Others were pushed down into the dirt.
A waterline used to irrigate graveside flowers was also damaged.
It is hoped someone near the cemetery may have captured a vehicle entering or exiting on surveillance video.
Caretaker Chris Muhen says they are working to make repairs, and urged anyone who knows anything to contact police.
Siloam Cemetery is the oldest cemetery in Vineland, Cumberland County, and one of the oldest in New Jersey. It was founded in 1864 on a plot of land donated by Charles K. Landis, the founder of Vineland.
Several prominent individuals have been interred on the grounds.
They include:
⬛ Naturalist Mary Treat (1831-1923), who corresponded with Charles Darwin. Darwin cited Treat's work on carnivorous plants in his publications.
⬛ Thomas Bramwell Welch (1825–1903), the creator of Welch's grape juice, is also buried at Siloam.
⬛ Suffragist Mary Elizabeth Tillotson (1816–1888), Tillotson organized the country's first anti-fashion convention in 1874, and symbolically voted in the first presidential election held after the Civil War.
If you have any information about the vandalism and who may be responsible, you are asked to reach out to Vineland Police Officer Hunter @ AHunter@vinelandcity.org or you can send an anonymous tip to VPD.TIPS from any smart phone or computer.
Eric Scott is the senior political director and anchor for New Jersey 101.5. You can reach him at eric.scott@townsquaremedia.com
Click here to contact an editor about feedback or a correction for this story.
LOOK: Here's where people in every state are moving to most
How much does the average NJ home cost? Median prices by county
Everything is costing more these days — and housing is certainly no exception in New Jersey.
Data for 2022 from January through August, compiled by New Jersey Realtors, shows that South Jersey has been seeing homes hit the market and sell in less than a month, on average.
Median prices for single-family homes have reached $500,000 and above in nine counties in North and Central Jersey.
All but two counties have seen houses go for more than the list price, on average, this year.
New Jersey's Most Terrifying Serial Killers
New Jersey Nightmares - Notorious Serial Killers
More From New Jersey 101.5 FM