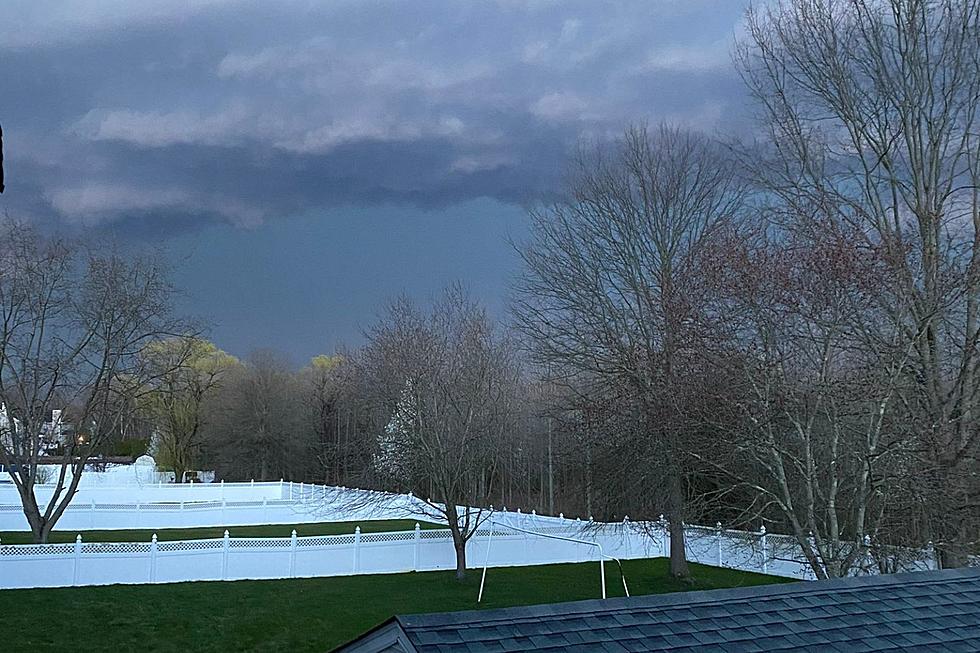 Strong thunderstorms, possible tornadoes blow across NJ
Dark clouds over Burlington (Kaitlyn Potucek)
🔴 Several Tornado Warnings popped up quickly early Saturday evening
🔴 Over 33,000 JCP&L and PSE&G customers are without power as of 9 p.m.
🔴 The National Weather Service may check possible tornadoes in Upper Freehold and Howell on Sunday
---
The strong thunderstorms that moved across the Delaware River into New Jersey led to several tornado warnings late Saturday afternoon and thousands without power.
New Jersey 101.5 Chief Meteorologist Dan Zarrow expected the afternoon sun to "cook" the atmosphere to set the stage for strong thunderstorms. He was proven right with several warnings that were issued by the National Weather Service within the 30 minutes of each other.
A rotation detected in over strong squall line over Richboro, PA in Bucks County triggered a warning for areas east in Mercer and Burlington counties including Bordentown, Princeton, Pennington, Trenton, Ewing, Florence and Hamilton.
Another warning was issued for northern Burlington County as a squall line developed over Willingboro moving to the east.
Zarrow said the National Weather Service may be sending survey teams to check reports of possible tornadoes in Upper Freehold and Howell on Sunday. A water spout was also reported near the northern edge of Atlantic City.
Power outages
As of 9:25 p.m. over 33,400 utility customers are without power.
JCP&L's outage map showed just over 20,000 customers in Monmouth (Howell) and  Ocean (Jackson and Plumsted) counties without power
PSE&G's outage map was showing over 11,000 customers without power mostly in Burlington (Chesterfield, Cinnaminson Camden and Willingboro), Camden (Pennsauken and Runnemede) and Mercer (Hamilton) counties.
Atlantic City Electric's outage map showed over 2,400 customers without power mostly in Gloucester County (Monroe Township)
Heavy wind, trees down
Ocean County Sheriff Mike Mastronardy told New Jersey 101.5 there are many trees reported downed by the storm in Jackson. Howell police Dsgt Peter Kuppler also reported numerous trees down in his township as well.
A wind gust of 71 mph was reported by the National Weather Service in Yardville, 65 mph in Burlington Township and 62 mph in Lakewood.
Quarter size hail was reported in Mercerville and Ewing with slightly larger size hail reported in Allentown.
Lightning may have triggered a structure fire in Rio Grande, according to the National Weather Service.
What should you do if you are in an area under a Tornado Warning? The National Weather Service advises you to:
Move to a basement or an interior room on the lowest floor of a sturdy building.
Avoid windows.
If you are outdoors, in a mobile home, or in a vehicle, move to the closest substantial shelter and protect yourself from flying debris.
Take a radio and phone with you to keep abreast of the latest warnings
Dan Alexander is a reporter for New Jersey 101.5. You can reach him at dan.alexander@townsquaremedia.com
Click here to contact an editor about feedback or a correction for this story.
Biggest NJ company layoff notices in 2022 and 2023
In some cases, workers may be offered back their jobs or transfers to different locations.
Here's a look at more than a dozen of the biggest announcements within two years.
More From New Jersey 101.5 FM