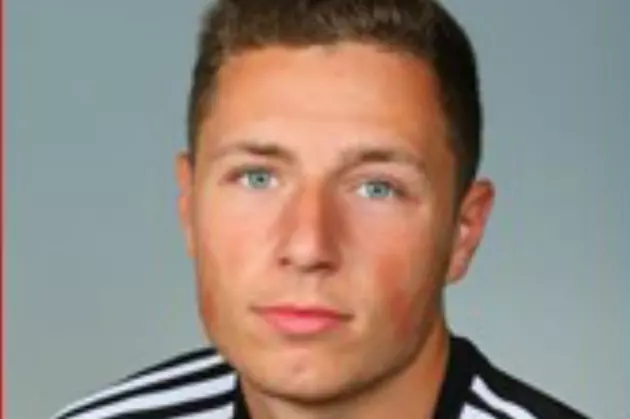 Rutgers Newark soccer player dies in Delaware crash
Adrian Velazquez (Rutgers Athletics Newark)
BEAR, Delaware  — A Rutgers Newark soccer player was one of two people killed in a car crash on Saturday.
Driver Adrian Velazquez of Kearny and passenger Alfahtee Heuy from Hillside, both 19, were killed in the crash on Route 13 south of Wilmington around 10:15 a.m, according to Delaware State Police. The State Police said the crash happened when the 2003 Toyota Avalon being driven by Velazquez  drifted from the left lane into the right lane, through a grassy area and into an area of thick brush and trees before hitting a large tree.
Two passengers in the back seat survived the crash and were hospitalized: a 19-year-old man from Newark  and a 20-year-old Howell man police said was not wearing a seat belt and was ejected from the car. The Howell man was listed as being in critical condition at a Delaware hospital. Police did not disclose their identities.
A puppy traveling in the car also died.
Velazquez was a defender for the Rutgers Newark men's soccer team that won its first NJAC title last fall.
"The Rutgers University – Newark community is profoundly shocked and saddened by the sudden and tragic loss of our student, Adrian Velazquez. Our hearts are broken for his family, teammates and fellow athletes, friends and neighbors of the Kearny community, and all who knew him," Peter Englot, Senior Vice Chancellor for Public Affairs and Chief of Staff for the Newark campus.
Albert Coutinho, chairman of the Ironbound Soccer Club in Newark said in a Facebook post that Velaquez was a former player for the club, and said his family contributed a combined 35 years of volunteer coaching to the organization.
"Our thoughts and prayers are with the entire family, as well as those of the three other young men involved, during this time of unimaginable suffering," Coutinho wrote.
The Delaware State Police said its investigation into the crash is continuing, but impairment is not considered a factor.
Information from the Associated Press was used in this report.