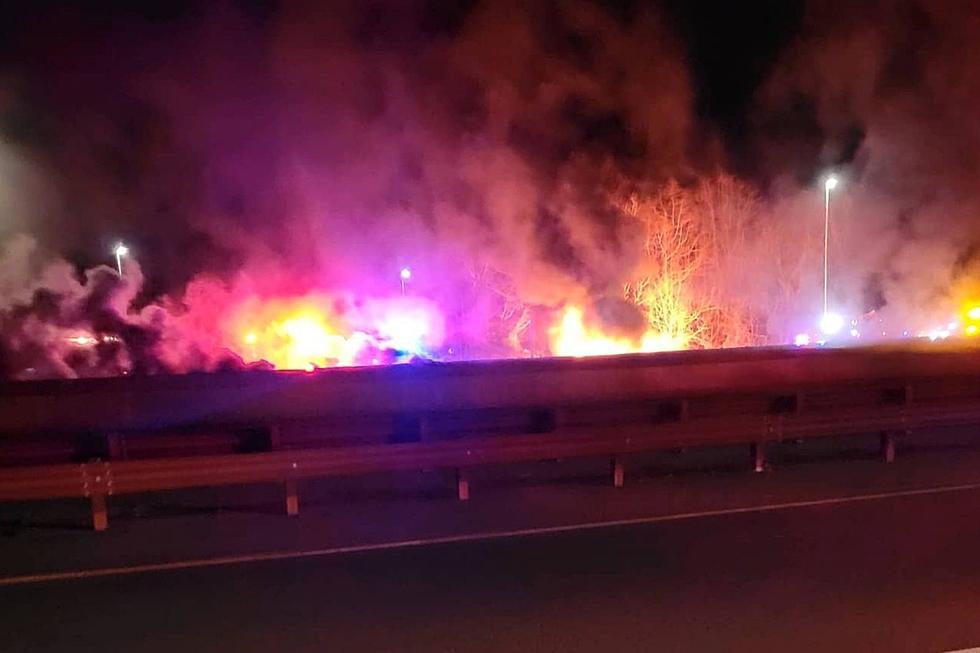 NJ teens who set destructive Parkway fire will get locked up
Parkway brush fire in Brick (courtesy Ramstown Fire Company)
🔥 The teens from Brick admitted using a Christmas tree to start a fire in a culvert at Exit 91
🔥 The fire in January 2022 closed the Garden State Parkway for 10 hours
🔥 The Turnpike Authority spent $3 million to make repairs
---
BRICK — Two teens were sentenced to time in a detention center and probation after admitting they set a fire in a culvert under the Garden State Parkway in January 2022 that closed both directions for 10 hours.
The teens, both from Brick, were charged the next day on Jan. 20 after the New Jersey Turnpike Authority Board of Commissioners approved $3.5 million in emergency repairs to the area of Exit 91. State Police found that flames had been started within a drainage culvert underneath the Parkway, from the  Exit 91 north entrance ramp to the Exit 91 south exit ramp.
The fire destroyed the liner inside a 66-inch reinforced concrete culvert pipe for a length of about 300 feet, according to the NJTA Board of Commissioners.
Portions of the original culvert surface also were "significantly damaged," as were a connecting stormwater drainage system and treatment devices.
During the investigation, detectives found the same youths had also burglarized a building owned by the New Jersey Turnpike Authority, next to the Parkway 91 north commuter lot.
Christmas tree used to set fire
Ocean County Prosecutor Bradley Billhimer said the teens admitted in late 2022 to setting a Christmas tree on fire in a culvert and were sentenced to 60 days in the Ocean County Juvenile Detention Center and three years juvenile probation.
The two will also split $15,000 in restitution, complete 50 hours of community service and attend and complete a fire setter's education program.
The announcement of the sentence was delayed by a motion by their attorneys to keep their identities confidential. The state intended to release their full names but a judge ruled in February they could only be identified by their initials, I.J. and A.R.
Previous reporting by Erin Vogt was included in this report.
Dan Alexander is a reporter for New Jersey 101.5. You can reach him at dan.alexander@townsquaremedia.com
Click here to contact an editor about feedback or a correction for this story.
2023 Seaside Heights Polar Bear Plunge
Photos from the 2023 Seaside Heights Polar Bear Plunge, which raised $2.5 million for the Special Olympics New Jersey.
More From New Jersey 101.5 FM