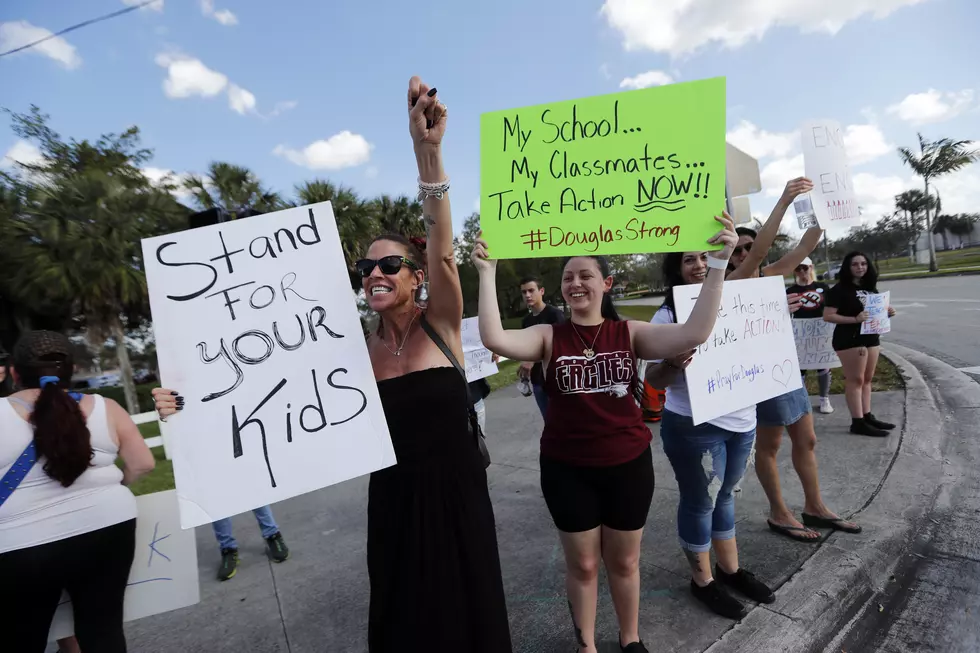 NJ students will walk out of school to protest gun violence
(AP Photo/Gerald Herbert)
TRENTON —  Students in New Jersey are lending their voices to those demanding Congress take action on gun violence.
Students from schools in Denville, East Hanover, Haddonfield, Medford, Millington, Princeton, Scotch Plains, South Plainfield, Stirling, Summit and Westfield have signed up to participate in the the "#Enough National School Walkout" on March 14, the one-month anniversary of a shooting in Parkland, Florida that killed 17 students. Their participation is not organized by the schools themselves.
The effort is headed by the group that organized the Women's March on Washington the day after the inauguration of President Trump.
The plan is to walk out of class at 10 a.m. for 17 minutes "to protest Congress' inaction to do more than tweet thoughts and prayers in response to the gun violence plaguing our schools and neighborhoods," according to a Facebook page organizing the national effort.
Senior Brett Johnson has signed up Shawnee Regional High School in Medford to participate.
"We want our voices to be heard because Congress is not the one sitting in a classroom afraid that they're going to be shot. It's not something they're not facing but we are and so our voices are the ones that need to be heard," the aspiring law student told New Jersey 101.5.
A member of the Burlington County Young Democrats, Johnson hopes to sit down with administrators soon to get their blessing for the walkout and an assembly afterward.
"Those I have talked to we have agreed if we cannot get the administration's backing we are still going to go through with it because we do have a right to peacefully protest and we have the right for our voices to be heard," she said.
She said has been anxious thinking about what she would do if a gunman entered her school.
"Depending on what I'm wearing that day dictates if I will or won't be able to run. What class I'm in dictates how easily I'll be able to escape, and how quickly I can reach my sister. What part of the wheel – AM or PM – we are in dictates how much I will have in my book bag at the time — enough to protect myself but too much to run, or too little to act as a shield but light enough to sprint with if I'm in the hall," Johnson said.
She also cites her siblings as another reason she is so vocal.
"They are another reason I am so adamant about speaking up; it's not just my own life on the line," she said.
Elizabeth Meyer, a Branchburg resident and mother of four, is heading efforts for New Jersey students to be part of the March For Our Lives in Washington, DC on Saturday, March 24. Students from Stoneman Douglas will lead a march through the streets of the capitol to get their message across, while a rally will take place at a yet-to-be determined location in New Jersey.
"It's difficult for kids to get to Washington. Even older kids are relying on parents for transportation and funding. It would be a great opportunity to engage youth here in New Jersey," Meyer said.
The planning is just getting started, but she said it very different than any other events she has been involved with, including the Women's March and the March for Science.
"This one really hits home for me as a teacher and a mom," she said. "It's very student-centered. In the past we've had a lot of adults speaking. Legislators and elected officials. This is really about empowering youth and empowering kids."
Kids will be brought into the planning process to help work out the details about the event.
"We want to put kids into leadership positions wherever we can and be there to support them," Meyer said.
The group Everytown For Gun Safety and its Moms Demand Action drew a crowd of about 100 to Toms River for a rally on Monday led by students.
More From New Jersey 101.5 FM