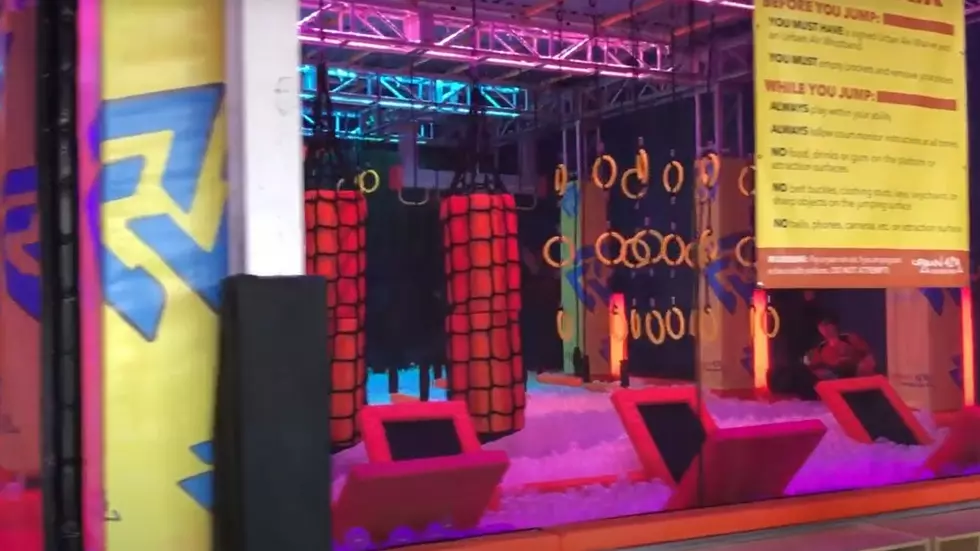 National indoor theme park's new location in NJ opening soon
via Urban Air on YouTube
Kids love jumping. More than they do just about any other activity. Why do you think trampoline parks are so popular?
So NJ parents—and kids!—will be thrilled to hear about the opening of a new trampoline park here in New Jersey that, according to its website, is so much more than that.
It's called Urban Air Adventure Park and it is, in fact, filled with more adventure than just trampolines. You may be familiar with Urban Air from its location in Toms River or any of its other five locations around New Jersey.
But now, people driving by the Hazlet Town Center on Route 35, who may have been wondering what's coming into the newly revamped Plaza have an answer.
I gotta give kudos to the "What's Going There?" column of the Asbury Park Press, not to mention their accompanying Facebook page, "What's Going There?" by David P. Willis, because he always has the scoop on the new things popping up in any neighborhood.
The Hazlet Town Center has new owners who have broken up the Kmart and Pathmark grocery store spots, which allowed for new tenants like Aldi and Burlington. It's also welcoming Planet Fitness (in a new spot) and Panera bread.
But back to Urban Air: Here's what makes it different. While other places are just a large expanse of trampolines, Urban Air, with over 200 locations across the country, has become famous for its variety of different adventures.
For instance, they have indoor attractions for kids of all ages like indoor climbing walls, interactive games, and amusement rides. The coolest thing at Urban Air is probably their sky rider, which lets you fly from the ceiling, safely strapped in, and view the entire indoor amusement park from your vantage point up in the air.
There's also mini golf, bowling and a café for when all of this fun works up your kids' appetites. You can see the video from the Avenel location below:
So far, we're not sure of an opening date, but get ready for the next great thing in Hazlet Towne Center. Because Urban Air Adventure Park has everything your kid needs for a fun day of adventure
Opinions expressed in the post above are those of New Jersey 101.5 talk show host Judi Franco only.
You can now listen to Dennis & Judi — On Demand! Hear New Jersey's favorite best friends anytime, anywhere and any day of the week. Download the Dennis & Judi show wherever you get podcasts, on our free app, or listen right now.
Click here to contact an editor about feedback or a correction for this story.
LOOK: These Are the 50 biggest retailers in America
These are the best hiking spots in New Jersey
A trip to New Jersey doesn't have to be all about the beach. Our state has some incredible trails, waterfalls, and lakes to enjoy.
From the Pine Barrens to the Appalachian Trail to the hidden gems of New Jersey, you have plenty of options for a great hike. Hiking is such a great way to spend time outdoors and enjoy nature, plus it's a great workout.
Before you go out on the trails and explore some of our listeners' suggestions, I have some tips on hiking etiquette from the
American Hiking Society.
If you are going downhill and run into an uphill hiker, step to the side and give the uphill hiker space. A hiker going uphill has the right of way unless they stop to catch their breath.
Always stay on the trail, you may see side paths, unless they are marked as an official trail, steer clear of them. By going off-trail you may cause damage to the ecosystems around the trail, the plants, and wildlife that live there.
You also do not want to disturb the wildlife you encounter, just keep your distance from the wildlife and continue hiking.
Bicyclists should yield to hikers and horses. Hikers should also yield to horses, but I'm not sure how many horses you will encounter on the trails in New Jersey.
If you are thinking of bringing your dog on your hike, they should be leashed, and make sure to clean up all pet waste.
Lastly, be mindful of the weather, if the trail is too muddy, it's probably best to save your hike for another day.
I asked our listeners for their suggestions of the best hiking spots in New Jersey, check out their suggestions:
More From New Jersey 101.5 FM