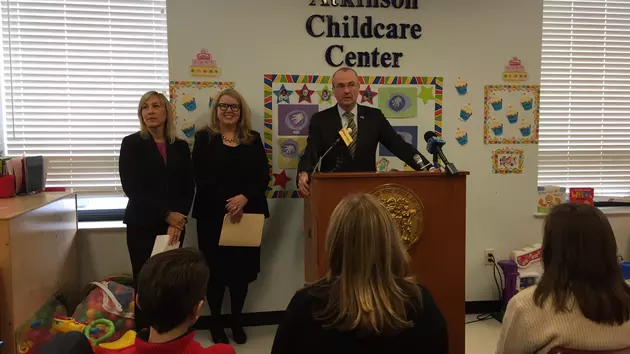 Murphy still noncommittal on police and fire salary cap
Christine Norbut Beyer and Carole Johnson are introduced as Cabinet nominees by Gov.-elect Phil Murphy. (Michael Symons/Townsquare Media NJ)
EWING – With less than two weeks until he takes office, Gov.-elect Phil Murphy on Wednesday announced two more Cabinet nominations and continued to resist taking a position on whether to reinstate a cap on the raises that arbitrators can award police officers and firefighters.
Murphy also said he thinks President Donald Trump will ultimately help fund the Gateway rail tunnel under the Hudson River, despite a Friday letter from the Federal Transit Administration saying there isn't an agreement in place to provide half the funds, no matter what the states say had been agreed to by the Obama administration in 2015.
"I personally believe that that's one letter at one moment in time. I believe that cooler heads will prevail at the end of the day," Murphy said.
The Trump administration called Gateway a local project mostly helping local transit riders. Murphy says it's bigger than that.
"This is certainly about the interests of New York and New Jersey, but it is much more broadly about the interests of the entire Northeast Corridor, and I would argue it's a national security matter," he said.
Murphy said his transition office has discussed the Gateway Tunnel issue at length with other stakeholders, including the Christie administration, but hasn't had much dialogue about it with the Trump administration.
"I'm an optimist though," Murphy said. "I believe the president will see this, Congress will see it, I know both states see it, that this is a national security matter. It's in the enlightened interests of America to do this project, and I believe we will ultimately succeed."
On the police and fire arbitration cap, which expired Monday with the start of the new year, Murphy continued to say he wants to wait until he sees the final report of the Police and Fire Interest Arbitration Task Force before deciding if he's like to see it reinstated.
The Dec. 31 deadline for a final report has come and gone, but as panelist Assemblyman Declan O'Scanlon, R-Monmouth, said two weeks ago, there isn't one coming beyond what half the panel published in September.
"I want to see the report," Murphy said. "This is what drives people crazy, by the way. This is mandated – I think by law, isn't it by law, that the report has to come out?"
A report issued in late September by the half of the task force appointed by Gov. Chris Christie concluded the cap contributed to $531 million in property tax savings. The panel's union members objected to the report, saying it didn't reflect additional information they wanted researched.
"I continue to say what I have said. I have not come off this," Murphy said. "There are good arguments on both sides. I want to see the report. I did one of these reports a lot of years ago. And it's not fun and it's not easy to get to the final report. But they owe it to the citizens of the state to get there."
In 2005, Murphy chaired a task force appointed by then-Gov. Richard Codey that examined public workers' pensions and health benefits.
Murphy made his remarks at HomeFront, a social services agency near Trenton-Mercer Airport where he announced two Cabinet nominations – Carole Johnson to be Department of Human Services commissioner and Christine Norbut Beyer to head the Department of Children and Families.
Murphy called the positions two of the most consequential in state government.
"I'm asking both Carole and Christine to be the voices for those New Jerseyans who have no one else to speak on their behalf," Murphy said.
Johnson is a former senior health policy adviser on President Barack Obama's White House Domestic Policy Council who grew up in North Cape May and got involved in government and politics in the office of then-U.S. Rep. William Hughes.
The Department of Human Services is the state's largest, with 11,000 employees and a budget, including federal and other funds, approaching $18 billion a year. It includes the state's Medicaid program, which could be in for changes if the federal Affordable Care Act is scaled backed.
"What we need to do in New Jersey is be as creative as possible because that's what we're going to need to do regardless to ensure that families' needs are met," Johnson said.
Norbut Beyer got her start in child welfare as an intern with the Division of Youth and Family Services, then was its director when a court-ordered overhaul of the agency began more than a decade ago.
"Although they were not without struggles – the first two years of the reform were extremely difficult – I'm proud of the eight and a half years I spent at DYFS and DCF," Norbut Beyer said.
Murphy is now nearly halfway through selecting his Cabinet. Eight of the 10 nominees announced so far are women.
---
---