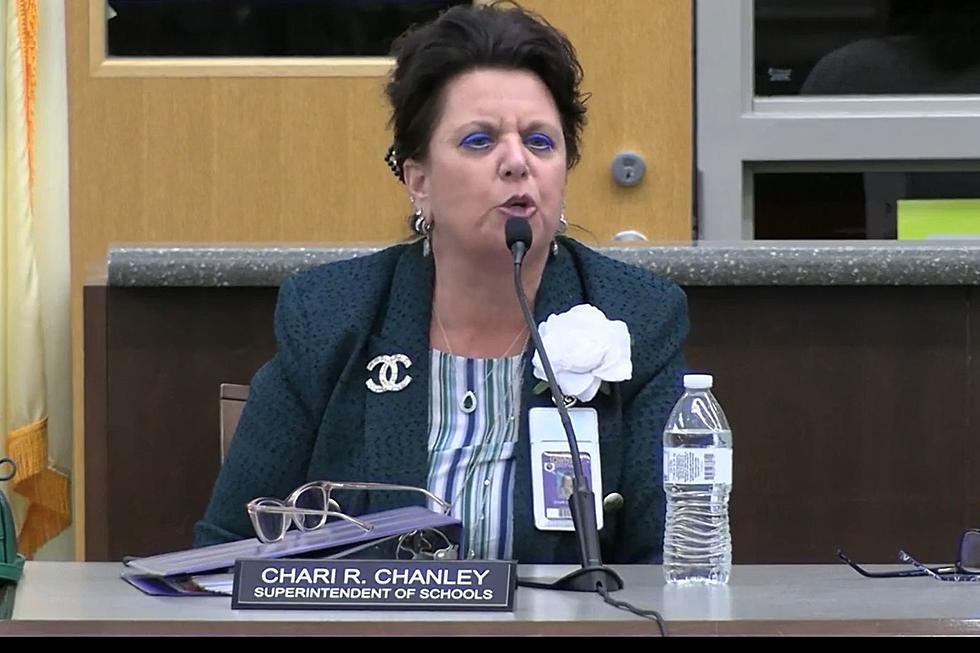 Monroe, NJ superintendent explodes after parent calls her a bully
Chari Chanley (Monroe BOE
MONROE (Middlesex) — The Board of Education meeting on March 15 ended in fireworks with a parent calling the superintendent a bully.
Schools Superintendent Chari Chanley erupted in furor after Rebecca Micciolo criticized the official's tenure as principal of Applegarth Elementary School in 2009.
"Ms. Chanley violated my daughter's confidentiality and told the parents of the bullies about my daughter's psychiatric treatment. As a result, other parents wouldn't allow their children to interact with my daughter, leading to my daughter's social isolation," Micciolo said.
"I believe our lives would have been different if Chanley had handled the bullying properly. Ms. Chanley, you are a bully, and you support and enable other bullies and you should have no oversight over the children in Monroe or anywhere else," Miccolo said.
Micciolo said that her then-7th grade daughter began to be bullied after a family trip to Florida due to a death in the family. During her week away, her "friends" started a "nasty rumor" that led to her being called names.
"My daughter didn't want to go to school. She became physically ill if I pushed her to go. She wanted to die and had plans to make that happen," Micciolo said.
Police sent to house
Micciolo told the meeting that Chanley sent police to their house to force her daughter to go to school and said she asked her daughter if the rumors were true or if she made up the allegations because she was jealous of the girls.
Things went from bad to worse when she was raped at age 16 by a 21-year-old Monroe resident. She gave birth to a boy and the father entered his life five years later. Micciolo said that he got 50/50 custody and on his first visit killed his son.
Christopher Gregor was indicted in July by an Ocean County grand jury for the death of his son by forcing him to repeatedly run on a treadmill.
"Venomous, blatant, lie"
Chanley said she wanted to respond to what she called "lies" about the situation with her daughter.
"I think it is disgusting that you as a mother who has had such great loss, and I feel terribly sorry for your loss, would utilize the tragedies in your life to use it as a venomous, blatant, lie about me. I take great pride in how I run my life and my job," an angry Chanley said as she pushed the microphone away and folded her arms across her chest.
Several people applauded when Chanley was done.
The public comment section of the meeting was quickly closed and a man who approached the podium seconds too late was not able to speak.
Chanley was named superintendent of the Monroe Township school district in July after 20 years with the district, according to MyCentralJersey.com. She served as principal at the Monroe Middle School before being named acting superintendent following the resignation of Dori Alvich.
Dan Alexander is a reporter for New Jersey 101.5. You can reach him at dan.alexander@townsquaremedia.com
Click here to contact an editor about feedback or a correction for this story.
How much your school district gets under Murphy's proposed 2024 budget
Gov. Phil Murphy's porposed 2024 budget includes $1 billion in new spending for school funding including pre-K funding, pension and benefits, and an additional $832 million in K-12 aid, which is listed below by county and district.
LOOK: Food and Personal Care Shortages We Could See In 2023
Learn about the 13 potential shortages that could impact stores in 2023, from produce and meat to snacks and beverages.
Weird things NJ taxes - and some they don't
In general, New Jersey assesses a 6.625% Sales Tax on sales of most tangible personal property, specified digital products, and certain services unless specifically exempt under New Jersey law.
However, the way the sales tax is applied in New Jersey sometimes just doesn't make sense.
New Jersey puts out an itemized list for retailers that spells out what is, and what is not, taxed.
Perhaps because this is New Jersey, there are some bizarre and seemingly contradictory listings.
More From New Jersey 101.5 FM