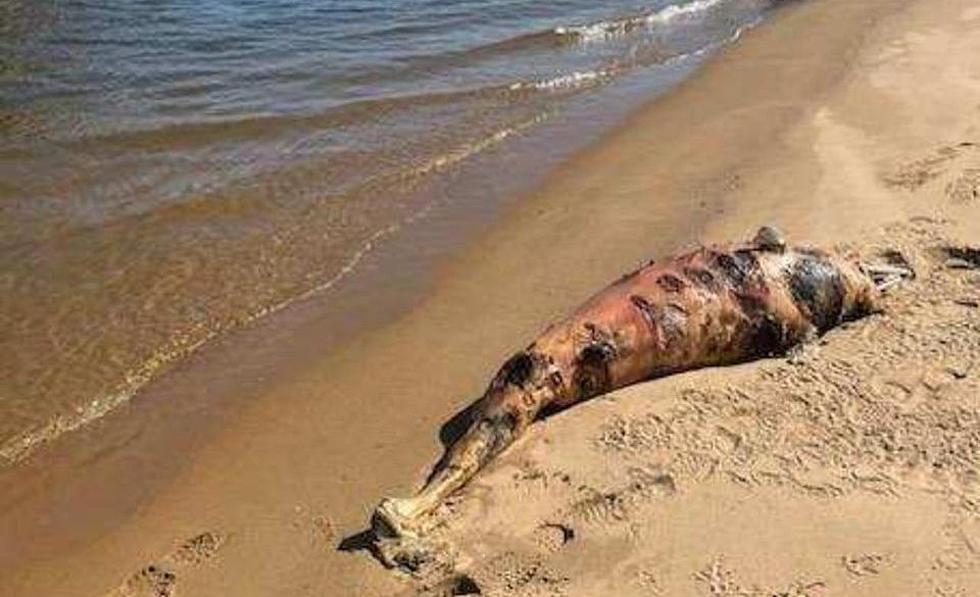 Dead dolphin washes ashore in Middletown as NJ marine mammal deaths continue to climb
(Photo: Middletown Township Mayor Tony Perry)
🔵 26th dead dolphin washes ashore off the cost of New Jersey since December
🔵 The latest was found near the Oceanic Bridge in Middletown Township
🔵 Calls enhanced for stoppage of work an investigation into dolphin and whale deaths
---
There have been 26 dead dolphins found off the Jersey Shore coast since the beginning of December after the latest deceased mammal was found in Middletown on Wednesday.
Mayor Tony Perry said that this is the 7th dolphin found in Middletown alone with two on local beaches and five at Sandy Hook.
"It's just so sad to see this happening because now Middletown has unfortunately been the landing place for 7 dolphins and 1 whale - over on Ideal Beach - and it's just sad to now see this all happening," Perry tells Townsquare Media News.
He's hoping there will soon be answers as to why this has been occurring.
"There's obviously something going on and I want to get to the bottom of that, but, we certainly need to all have a realistic approach to this and a sensible approach to this, examine what is happening to these animals with full transparency," Perry said. "I get these reports back about what's happened to some of these animals but most of them -- the results of the autopsy is N/A -- well, I don't except not available as an answer."
Perry is hoping for a deeper look into what's been happening across the Jersey Shore and in Middletown.
"I want answers as to why these marine wildlife are washing up on my shores, washing up throughout Monmouth County, all across New Jersey, and, I think the public deserves those answers and we should be full transparent about that," Perry said.
Following the discovery, Monmouth County Commissioner Director Tom Arnone said that the Monmouth County Department of Public Works and Engineering helped remove the mammal found near the Oceanic Bridge.
"Our Division of Bridges and Division of Highways moved the dolphin over the bulkhead of the Bridge once the proper assessments were completed by partner agencies. The dolphin was then sent to the Monmouth County Reclamation Center for proper disposal," Arnone said in a statement obtained by Townsquare Media News.
The discovery of the dolphin in Middletown on Wednesday was reported by a bystander in the area at the time, according to Arnone.
Shortly thereafter, the Marine Mammal Stranding Center based in Brigantine was called to the scene.
Sheila Dean, Director of the MMSC, tells Townsquare Media News that their team did investigate the discovery and that the dolphin was in bad shape.
"The dolphin was badly decomposed with all skin missing and flesh mostly off the body. We were unable to take any samples because of the state of decomposition. There were no apparent injuries/illness.  Since it was floating in the water, the dolphin's body was left at scene."
It was earlier in April that a dolphin was found off the beach in Sea Bright floating and ultimately left in the Navesink River.
With this latest discovery of the deceased dolphin, the calls for action from many Jersey Shore lawmakers continue to grow louder.
"This is a perfect example of why we came together last week for a press conference to call for an investigation into what is causing the marine mammals' deaths," Arnone said.
Monmouth County Commissioners along with some local and state leaders as well as U.S. Jersey Shore Congressman Chris Smith gathered in Long Branch earlier this month to again for a stoppage in any Offshore Wind activity and projects and the start of an investigation to once and for all determine why so many whales and dolphins have been dying off the Jersey coast.
After 40 whales, dolphins, and porpoises have died recently, Monmouth County State Senator Declan O'Scanlon and Gloucester County State Senator Ed Durr introduced a resolution this week asking state and federal leaders to put a temporary pause on sonar testing and wind turbine mapping.
2023 Beach Badge Prices For The Jersey Shore
100 Best Jersey Shore Beach Views
Top 25 Bon Jovi Songs Of All Time
The Biggest Music Stars From New Jersey
Famous Athletes Who Came From New Jersey
Professional Sports Teams That Play In New Jersey
Professional Sports Teams That Play In New Jersey
New Jersey Abandoned Sports Stadiums
The Biggest Music Stars From New Jersey
More From New Jersey 101.5 FM