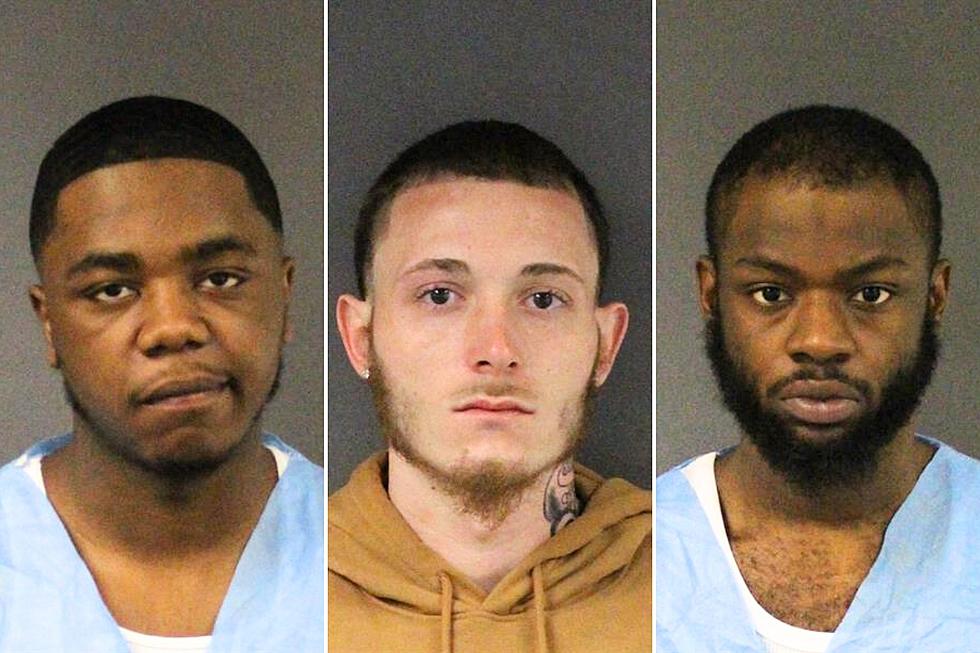 Instagram spat spurs Easter murder of Trenton, NJ man, cops say
From left: Joseph Fayson, Justin Malkin, Darrin Eutsey (Mercer County Prosecutor's Office)
🔴 A Trenton man is dead after an Easter Sunday shooting
🔴 The victim and one shooter traded remarks on social media, officials say
🔴 It's the latest death in an ongoing Trenton rivalry
---
TRENTON — An ongoing feud and posts on social media escalated into a gang shooting on Easter Sunday that left a man dead, according to authorities.
Jhosse Tolentino, 23, was sitting in the driver's seat of a 2010 Infiniti G37 near the corner of Lamberton and Federal streets in Trenton shortly before 7 p.m. on April 9 when a hail of bullets struck him and his vehicle. Mercer County Prosecutor Angelo Onofri said 34 shell casings were recovered from the side of a building at 601 Lamberton Street.
Three men are charged with first-degree murder for the shooting. Trenton residents Joseph Fayson, 22, and Justin Malkin, 23, and Darrin Eutsey, 23, of Hamilton also face weapons offenses and a count each of third-degree theft.
Onofri said that the shooting was the latest death stemming from a four-year feud between the city's H-Block gang and South Trenton residents, specifically associates of Lamberton Street. The H-Block gang has been connected to several murders in Trenton and was the target of a DEA investigation that netted the arrests of 18 accused gang members in January 2021.
Leading up to the Easter murder, Tolentino and family members of H-Block members got into a "dispute" on Instagram, the prosecutor's office said in a statement.
"This led to H-block member Joseph Fayson insulting the victim and Lamberton Street associates on Instagram. The victim then shared a story on Instagram in response to one of the comments by Fayson shortly before he was murdered."
Authorities said that camera footage showed a stolen 2007 Toyota 4Runner driving up next to Tolentino's vehicle as it sat parked. Three armed men got out of the SUV, fired repeatedly at the victim's driver's seat, then got back into the Toyota and drove away.
Tolentino was taken to Capital Health Regional Medical Center and pronounced dead. Investigators later found the stolen Toyota in the rear of a vacant property on Edgewater Avenue.
Onofri said that help from the public was key to the investigation.
"I cannot emphasize enough how important it is for the community to work with us," Onofri said.
The prosecutor's office said that it would move to hold all three charged men pending trial.
Rick Rickman is a reporter for New Jersey 101.5. You can reach him at richard.rickman@townsquaremedia.com
Click here to contact an editor about feedback or a correction for this story.
25 richest families in America
LOOK: Food and Personal Care Shortages We Could See In 2023
Learn about the 13 potential shortages that could impact stores in 2023, from produce and meat to snacks and beverages.
Weird things NJ taxes - and some they don't
In general, New Jersey assesses a 6.625% Sales Tax on sales of most tangible personal property, specified digital products, and certain services unless specifically exempt under New Jersey law.
However, the way the sales tax is applied in New Jersey sometimes just doesn't make sense.
New Jersey puts out an itemized list for retailers that spells out what is, and what is not, taxed.
Perhaps because this is New Jersey, there are some bizarre and seemingly contradictory listings.
More From New Jersey 101.5 FM