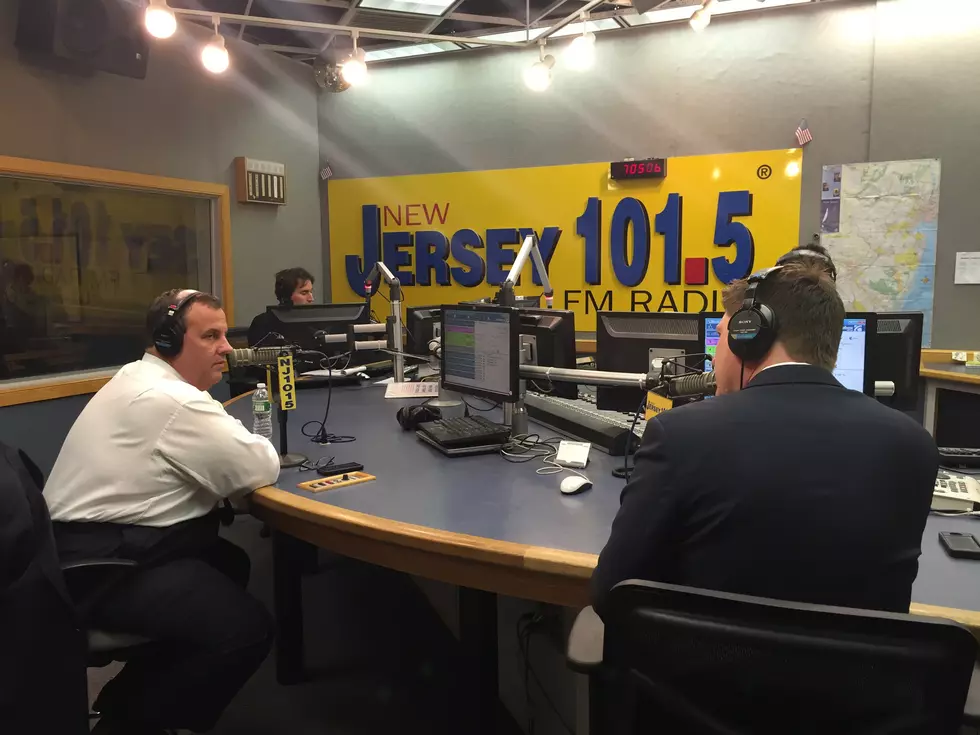 Gov. Christie says he and NJEA are 'getting closer' to pension accord
Gov. Chris Christie, with Eric Scott (right), on "Ask the Governor" in February (Kira Buxton, Townsquare Media)
Gov. Chris Christie said last night that he and the New Jersey Education Association are "getting closer" to a mutually acceptable "roadmap" toward a new approach to pensions for the state's teachers - one that could become a model for other state worker unions.
Appearing on New Jersey 101.5's 'Ask the Governor' program with Eric Scott, Christie said he was happy to find the current NJEA leadership "willing to talk and that's what we're doing. I think there's an acknowledgement now that finger-pointing isn't going to work."
Striking a conciliatory note in what has historically been a contentious relationshipwith the NJEA, Christie said the pension funding problem was the product of earlier state administrations. "The numbers don't lie," he said, "and it's not the current leadership of the NJEA's fault, and it's not my fault."
A key premise in the outline of a potential agreement is a takeover of the teachers' pension system by the NJEA. "It no longer be a political football," Christie said.
Noting that private sector unions manage their own pension systems, the governor said, "There's no reason that public sector unions can't do the same thing."
On other topics, Christie:
Defended the PARCC test to an eighth grader named Rachel who called in to ask why the change from current standardized tests is necessary. "PARCC is brand new. . .  Let's everybody take a deep breath. I am someone who believes that testing to see where people are is important."
Complained about coverage he received for his comments on vaccination requirements during his recent trade visit to London. He called it case of "the national media. . . trying to justify their airfare." Christie said, "I am (a) complete supporter of vaccination. What I said there was, as we move forward mandating new vaccinations, that parents have to have a role."
Mocked a New York Times report on his "extravagant" travel tastes, saying the Times "has already decided to endorse Hillary Clinton, I'm sure." The former secretary of state is the Democratic frontrunner for  2016 and Christie is expected to seek the GOP nomination. "Everything that I do is cleared by ethics folks before I do it, and yeah, I'm completely comfortable with it," he said.
Praised the purchase of the former Revel Casino Hotel by investor Glenn Straub. "This guy's taking some risks and that's a positive for Atlantic City.
Listened to a caller whose niece was killed by a drunk driver argue against a bill that would soften penalties for first time offenders caught drinking and driving. Christie noted that the bill has not yet been signed into law.
Christie also fielded a question from a caller who is 18 months from retirement and worried about the impact of potential changes in the state's police and fire pension systems. The governor assured the man that changes now in discussion would not affect those close to retirement. "It would make no difference to you at all," he said.
During his budget address on Tuesday, Christie stressed the need for additional pension and health benefit reforms to avoid financial catastrophe in the not-too-distant future.
In the speech, he touted what he described as "an unprecedented accord with the NJEA on a Roadmap for Reform to solve our long-term problems with the pension and health benefit systems."
According to Christie, the New Jersey Pension and Health Benefits Study Commission he appointed months ago has proposed several "fixes" designed to level the benefit playing field between public and private sector workers, while lessening the long term financial burden shouldered by the state.
"We have some concepts we think we can explore further with them and move through," Steinhauer said Tuesday. "We don't endorse everything that they [the commission members] say, but we do see some common area that we can work on."
The "roadmap" calls for the existing pension plan for members of the New Jersey Education Association to be frozen, and replaced by a new plan, with both the existing and new plans  transferred to a Trust that would be overseen by the NJEA.
The governor has not specified the details of the new plan but experts believe one likely formula would be a hybrid, combining a 401K type employee contribution plan with a defined pension program.
The roadmap also calls for employees to make larger payments for healthcare premiums, while trimming the coverage they currently enjoy. Also, the state would make contributions every year to the Trust, to pay off the unfunded liability of the existing plan, and to ensure this would happen a Constitutional Amendment would have to be approved by the voters in November. The exact amount of contributions to be made has not yet been determined.
The state would also have to find significant savings in health care costs, so any viable plan would require public sector unions, to help find the required savings by embracing a variety of initiatives including wellness programs to help members people to stay healthy and spend less on medical care.
David Matthau and Patrick Lavery contributed to this story.
---
COMPLETE SHOW AUDIO
Segment 1
Segment 2
Segment 3
Segment 4
More From New Jersey 101.5 FM