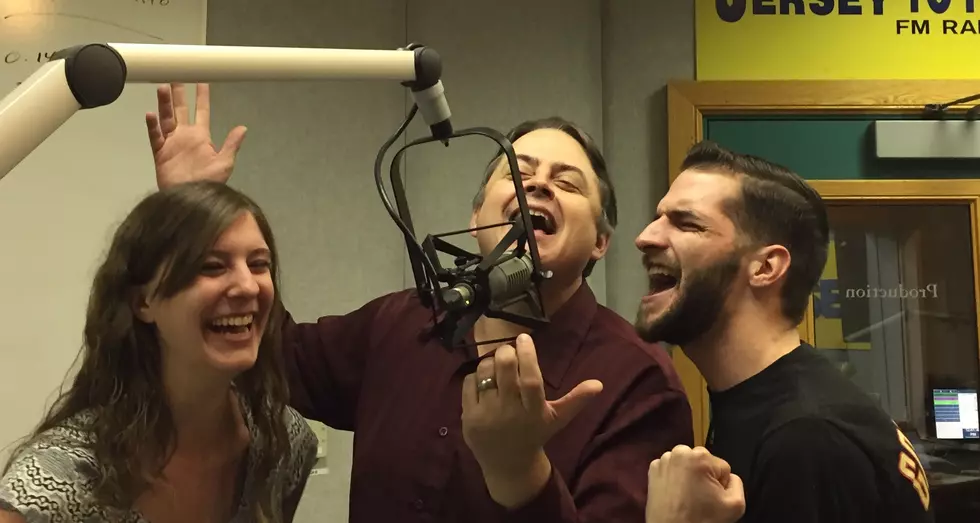 Friday night's Jersey sing-along will be the scariest yet
Photo by Toniann Antonelli
First I want to say a huge thank you to Joe Votruba, our producer. When Bill Doyle had to go out on medical leave 5 weeks ago Joe stepped up and filled in for him and has been on-air with me ever since. He's done an outstanding job and it's been a lot of fun working with him. Bill returns this Monday the 27th.
But a strange thing happened. It has become a very odd tradition during the Jeff & Joe era to close out every Friday night show with a statewide sing-along the last 3 minutes of the program. It started as a one time thing because that first week we worked together Kylie Moore (who's been filling in for what Joe normally does) got the song Rocket Man by Elton John stuck in our heads. By Friday we sang it on air to close out the show as a way to exorcise this musical demon from our minds. Thus a weird and horribly off key tradition was born.
We've been asking no matter where you are or what you're doing, even if you can be seen and heard in your car at a red light, when the sing-along starts we want you to join us and belt it out at the top of your lungs. It's a goofy, cathartic, fun way to kick off the weekend.
But now it's come down to this. We agreed for this final sing-along that Joe got to choose the song and Kylie and I would have to go along with it. Wouldn't you know the jerk had to pick 'Let It Go' from Frozen. It's bad enough that I have to sing a Disney song, I just found out one of the first lines requires me to sing that I'm a queen. Oh, just great.
So get practicing New Jersey. If you don't know the words, here they are. Have it down by 6:50pm.
The snow glows white on the mountain tonight
Not a footprint to be seen
A kingdom of isolation,
And it looks like I'm the queen.

The wind is howling like this swirling storm inside
Couldn't keep it in, heaven knows I tried!

Don't let them in, don't let them see
Be the good girl you always have to be
Conceal, don't feel, don't let them know
Well, now they know!

Let it go, let it go
Can't hold it back anymore
Let it go, let it go
Turn away and slam the door!

I don't care
What they're going to say
Let the storm rage on,
The cold never bothered me anyway!

It's funny how some distance
Makes everything seem small
And the fears that once controlled me
Can't get to me at all!

It's time to see what I can do
To test the limits and break through
No right, no wrong, no rules for me I'm free!

Let it go, let it go
I am one with the wind and sky
Let it go, let it go
You'll never see me cry!

Here I stand
And here I'll stay
Let the storm rage on!

My power flurries through the air into the ground
My soul is spiraling in frozen fractals all around
And one thought crystallizes like an icy blast
I'm never going back,
The past is in the past!

Let it go, let it go
And I'll rise like the break of dawn
Let it go, let it go
That perfect girl is gone!

Here I stand
In the light of day
Let the storm rage on,
The cold never bothered me anyway!"
More from New Jersey 101.5: