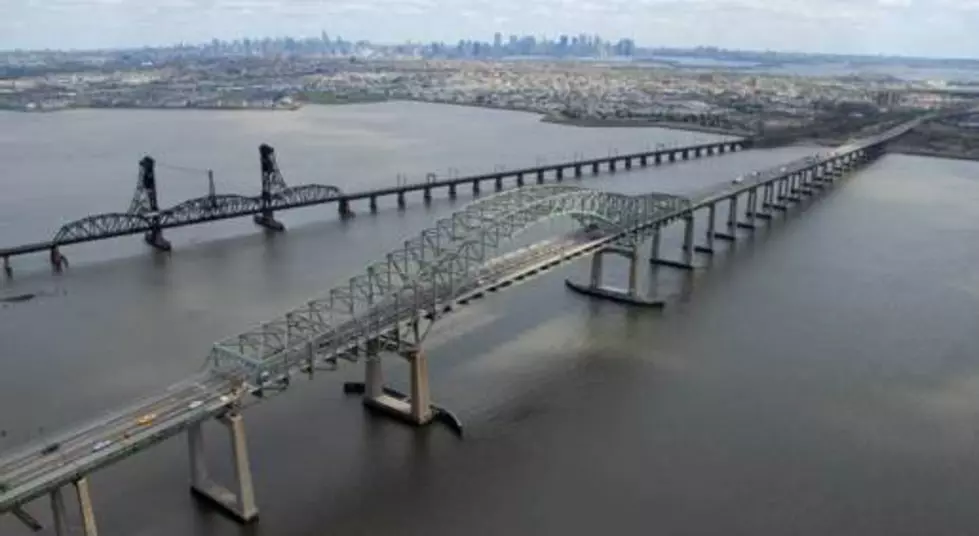 Double traffic trouble on Route 78 all weekend
Newark Bay-Hudson County Extension of the NJ Turnpike (NJ Turnpike Authority)
JERSEY CITY — Route 78 will have two trouble spots for drivers all weekend long.
The highway, which becomes the Newark Bay-Hudson County Extension of the New Jersey Turnpike, will be reduced to just one lane westbound between exits 14A and 14 across the bridge, and eastbound between Exit 14C and Jersey Avenue until 5 a.m. on Monday.
The closures are expected to create long delays for those headed west to the Turnpike and east to the Holland Tunnel.
Weather permitting, crews will be working on "high-priority bridge deck repairs and resurfacing," according to the Turnpike Authority.
Bridge deck work will also close the ramps from Route 78 in both directions to Routes 1&9 south until 5 a.m. Monday. The DOT said the decks would be removed and replaced along with retaining walls.
The $26.6 million federally funded project to replace three Route 78 bridge decks began in February and should be complete by the end of 2018, according to the DOT.
I-78 eastbound Detours:
From I-78 eastbound Local (Primary)
—Take Exit 57, keep left and follow signs for Newark Airport
—Stay right and take exit for Routes 1&9 northbound
—Follow to exit for Port Newark
From I-78 eastbound Local (Secondary – If vehicles misses Exit 57)
— From I-78 eastbound Local-keep right onto Routes 1&9 southbound Local
— Follow Routes 1&9 southbound Local to McClellan Street
— Exit right to cross over and merge onto Routes 1&9 northbound Local
— Keep right to continue on Routes 1&9 northbound Local
— Follow to exit for Port Newark
I-78 westbound Detours:
From I-78 westbound Local (Primary)
Keep right at closure onto Routes 1&9 southbound Local
Follow Routes 1&9 southbound Local to McClellan Street
Exit right to cross over and merge onto Routes 1&9 northbound Local
Keep right to continue on Routes 1&9 northbound Local
Follow to exit for Port Newark
From I-78 westbound Local (Secondary – if vehicles miss Routes 1&9 southbound exit)
— Follow I-78 westbound ramp, stay right to Exit 57/Routes 1&9 southbound
— Follow signs to Routes 1&9 southbound, stay on Routes 1&9 southbound to McClellan Street
— Exit right to cross over and merge onto Routes 1&9 northbound Local
— Follow signs to continue on Routes 1&9 northbound Local
— Follow to exit for Port Newark
Routes 1&9 southbound Detours:
From Routes 1&9 southbound (Primary)
— Do not exit at I-78 westbound, stay on Routes 1&9 southbound
— Follow Routes 1&9 southbound Local to McClellan Street
— Exit right to cross over and merge to Routes 1&9 northbound Local
— Keep right to continue on Routes 1&9 northbound Local
— Follow to exit for Port Newark
From Routes 1&9 southbound (Secondary – if vehicles take I-78 Westbound Exit)
— Keep left at ramp closure
— Follow I-78 westbound ramp, keep right at Exit 57
— Follow signs to Routes 1&9 southbound, stay on Routes 1&9 southbound to McClellan Street
— Exit right to cross over and merge onto Routes 1&9 northbound Local
— Follow all signs to continue on Routes 1&9 northbound Local
— Follow to exit for Port Newark
More From New Jersey 101.5 FM