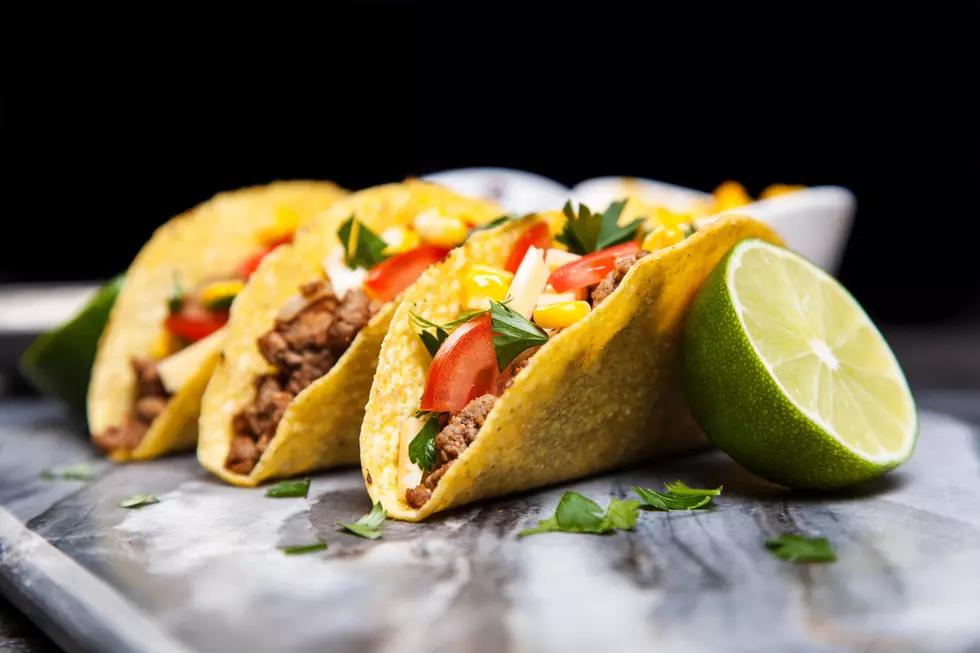 13 of the best NJ Mexican restaurants to celebrate Cinco de Mayo
GeorgeDolgikh
🌮 Celebrate Cinco de Mayo at one of the many Mexican restaurants in New Jersey
🌮 Many offer food and drink specials, as well as live music
🌮 Most require reservations and some are BYOB
---
Margaritas, tacos, live music, maracas, and more!
Cinco de Mayo is almost here. No matter what your nationality may be, most people love to take part in the holiday that celebrates the day of the Mexican army's May 5, 1862 victory over France at the Battle of Puebla during the Franco-Mexican War.
What better way to celebrate than at an authentic Mexican restaurant in New Jersey, right?
While there are many, here are just 13 of some of the greatest restaurants in the Garden State to get your Cinco de Mayo on!
Spicy's Taco and Tequila Bar
1506 Richmond Avenue, Point Pleasant Beach
With its signature cocktails, beers, margarita flights, live music and entertainment, plus a full menu of tacos, burritos, fajitas, chimichangas, enchiladas, and more, Spicy's Taco and Tequila Bar is the ideal place to celebrate Cinco de Mayo. It's fairly new to the area, offering a casual, creative, fun-filled vibe that's sure to put you in a party mood.
Rosalita's Roadside Cantina
Two locations: 180 Route 9 North, Englishtown
                        1048 Cedar Bridge Ave, Brick (in Brick Plaza)
Rosalita's offers Tex-Mex cuisine at its finest. From farm to table, the kitchen staff is there early in the morning making all the food from scratch, according to the website. The restaurant is known for its giant burritos, fresh salads, tacos, enchiladas, fajitas, and its famous margarita selection, from smoky to spicy, to tropical choices.
The vibe is fresh, casual and fun; another great place to celebrate Cinco de Mayo. Word of warning: Rosalita's gets very crowded so be sure to get their early to reserve your table or a great seat at the bar.
Salted Lime
46 East Main Street, Somerville
"The newest Latin-inspired concept from Mark Daniel Hospitality, influenced by Central and South America, Salted Lime provides a casual, lighthearted, and fun atmosphere," a, Salted Lime provides a casual, lighthearted, and fun atmosphere.
What is super cool about the Salted Lime is that they've partnered with Beaver Brook Ranch in Hope, NJ to provide all the beef and pork on the menu. The ranch raises 100% grass-fed and finished beef, as well as their non-GMO corn-fed pigs. All the animals raised are antibiotic and hormone free.
The restaurant has a great selection of Mezcal and tequila flights to choose from, as well as other cocktails and spirits.
A wide selection of dishes fill the menu including tacos, quesadillas, seafood, and so much more. The Salted Lime corn tortillas are sourced from La Milpa de Rosa in New York. "We offer house-made flour tortillas, made from our chefs' hands daily," they said.
Jose Tejas
700 US Hwy 1 North, Iselin
It's impossible to talk about Mexican restaurants and Cinco de Mayo without talking about Jose Tejas. The business gets its name from a legend about a man nicknamed Jose Creole from Jalisco. He was known for fusing cuisines that blended Mexican, Cajun, Creole, and Soul food in Louisiana in the late 1930s. Today, Jose Tejas, part of the popular Border Café family carries on that legacy by melding Mexican favorites with signature southern dishes.
Try their traditional house-made sangria made with freshly squeezed orange juice and Grand Marnier!
Come hungry but just keep in mind, this place does not serve dessert.
The Red Cadillac
2258 Morris Avenue, Union
The Red Cadillac likes to cram a full week of fiesta into a few days since it's only open Thursday through Sunday. With Cinco de Mayo on a Friday this year, it's sure to be a party here.
The restaurant offers classic Mexican street cuisine, but what they are known for is its in-house infused tequilas and top-of-the-line margaritas.
For generations, the Montes family has been infusing spirts with fruits and other flavors, making these infused tequilas and sangrias a legendary component of The Red Cadillac's success.
There are 10 to 15 infused tequilas available at any given time including flavors like mango, coconut, peach, pineapple, jalapeno, and PB&J (roasted peanuts in kosher salt along with Concord grapes in light brown sugar).
Popular menu highlights include the shrimp tempura tacos, abuelas empanadas (pork), and strawberry glazed jalapeno chicken tacos (jerk chicken tossed in a homemade strawberry glaze with pickled white onions and queso fresco).
Wrap this all up with live entertainment and an ambiance sure to please, The Red Cadillac is another hot spot for Cinco de Mayo.
Aztec Authentic Mexican Restaurant
35 Perry Street, Chester
This small, family-size restaurant in Chester boasts a quiet atmosphere with background Mexican music playing. The food at Aztec Authentic Mexican Restaurant is authentic, prepared with quality, fresh ingredients. While there are so many items on the menu to choose from, the burritos are highly recommended. You also can't go wrong with the street tacos, enchiladas, and guacamole!
It's a good place to enjoy a hearty, authentic Cinco de Mayo meal in a lighter, quieter atmosphere.
Tortuga's Mexican Village
41 Leigh Avenue, Princeton
Located in downtown Princeton, Tortuga's is a locally owned Mexican restaurant with some great food for your Cinco de Mayo celebration.
Choose from tasty tacos, burritos, enchiladas, fajitas, salads, combo meals, and more.
They don't take reservations and they welcome you to BYOB.
Juanito's
197 Shrewsbury Avenue, Red Bank
Juanito's is a family-owned local Mexican eatery in Red Bank. The owner, Juan Torres, hails from San Diego, Jalisco, and since 1995, he has been serving up authentic Mexican meals based on his family recipes.
Choose from a variety of food options including quick bites and combo platters, plus seven different salsas that appeal to your taste buds.
One popular dish is Juanito's Burrito Loco: a flour tortilla stuffed with chicken, strips of beef, spinach, lettuce, tomato, avocado, black beans, and jalapenos, smothered with cheese and the sauce of your choice.
Another is Molcajete Mixto: grilled chicken, beef, chorizo, pork, shrimp, peppers, onions, and mushrooms topped with green tomatillo sauce, and smothered with cheese. Served on a steaming hot molcajete stone!
This is a BYOB restaurant so be sure to bring your favorite beer, wine, or spirits.
El Nacho's Tequila Cantina
746 Carlton Street, Elizabeth
If you're looking to party on Cinco de Mayo, El Nacho's Tequila Cantina is a great place to be. It has authentic Mexican food and live music to keep the night going.
Reservations are highly recommended as tables do book up quickly.
Enjoy freshly made guacamole, street corn, tacos, quesadillas, chimichangas, and more.
One popular special is Picada Northena: a combination of chicken, steak, chorizo, and shrimp sauteed in a special house sauce, served with tostones, yucca and topped with pico de gallo.
Get ready to take a step back into Mexico and create some fun memories with friends!
Margarita's
270 Route 37, Toms River
Owner John Pelletier says his love for doing what he does started in 1985 with his first restaurant in Concord, New Hampshire. The first Margaritas Mexican restaurant soon opened in Orono, Maine. He and his first partner would take countless adventures to Mexico in search of everything to make their restaurant authentic: carved chairs, furnishings, artwork, and colorful tile by the truckload. For years, they organized trips to Mexico for managers and staff so they could immerse themselves in the food and culture.
Margaritas brings that authenticity of Mexico to its restaurant in Toms River.
Enjoy favorites like chicken chimichangas, The Burrito Supreme, Margaritas Famous Taster (which is a little bit of everything), and the Quesadilla Extravaganza.
Be sure to try their specialty margarita drinks including flavors like blood orange, lime in the coconut, black raspberry, strawberry basil, and prickly cactus, to name a few.
How about Margaritas' famous "Go Naked" drinks, made from fresh-squeezed limes? Margarita flights are also available, as well as their new house-made infused tequila margaritas made with 100% blue agave tequila.
On Cinco de Mayo, enter to win a trip to Mexico! Margaritas will be giving away souvenir cups, and partying Cinco style. The festivities kick off at noon.
Then, on Saturday, May 6 (the day after the fiesta), enjoy $6 hornitos shots, and $20 Corona buckets.
Mariachi Grill
262 Ridge Road, Lyndhurst
Known as a family-friendly restaurant in a relaxed atmosphere in the heart of Lyndhurst, The Mariachi Grill has become a favorite local hot spot. It offers a wide menu selection of classic and specialty Mexican dishes, with all food made fresh to order.
All the fan favorites can be found here including burritos, empanadas, enchiladas, salads, seafood, and more.
Two new menu items include:
Cchilaquiles: Choice of Al Pastor, beef, carnitas, chicken, chorizo, or shrimp in a crispy corn tortilla served with salsa verde or salsa roja, with cheese, Mexican sour cream, avocado, and onions.
Cwet Burrito: Choice of red or green sauce, choice of al pastor, beef, chicken, chorizo, carnitas, shrimp or veggie, served with rice, beans, pico de gallo, cheese, avocado and sour cream.
As far as drinks, bring your own tequila and buy a margarita mix pitcher for just $10. Also for ten bucks, bring your own wine and buy a pitcher of sangria mix!
10th Avenue Burrito
801 Belmar Plaza, Belmar
10th Avenue Burritos has been featured on "Diners, Drive-Ins and Dives!" Their fresh, from-scratch Mexi-Cali menu, legendary tequila selection, and live music have made it a favorite hangout for locals.
The burritos at 10th Avenue Burrito are pretty much a big deal!
Try the Pork Mole Platter (as seen on Food Network): slow-simmered shredded pork in mole sauce over rice and topped with cheese, lettuce, tomatoes, and sour cream.
The restaurant is always coming up with some creative and modern twists for other foods like Chipotle Mashed Potato Pierogis or Loaded Nacho Fries.
Try 10th Ave. Street Tacos (also seen on Food Network): Guajillo marinated steak, cheese, chopped Spanish onions, and cilantro.
Dirty Hippie Tacos are for vegetarian lovers. They are made with sauteed seasoned tofu, black beans, garlic, tomato, cilantro, and lime. The dish is served with a salad instead of beans and rice.
The 10th Ave Burrito Bar is well-known for the largest tequila selection on the Jersey Shore. How about a Spicy Pineapple Margarita? A Mexi-Cali Mule? Maybe a Watermelon Banger. The choices are endless.
There is live music every weekend. Enjoy off-beat and original bands from around the country. You never know what you'll hear from rock to blues, roots to reggae, and heavy metal to mariachi. The best part is there is no cover charge!
Chevy's Fresh Mex
Two locations: 365 Route 3, Clifton 
                        1150 S Stiles St, Linden
The Doherty-owned and operated Chevys Fresh Mex locations in Linden and Clifton NJ are celebrating Cinco de Mayo all weekend long this year!
Both locations will be celebrating with parties on Friday and Saturday, and with a Boozy Fiesta Brunch on Sunday. There will be mariachi bands, food and drink specials, giveaways, and more!
Popular menu items include guac and chips, fire roasted salsa, watermelon margaritas, birria street tacos and more!
So, grab a taco, a margarita, and some friends and have fun celebrating one of the biggest party days of the year!
How to make the best guacamole
Jen Ursillo is a reporter and anchor for New Jersey 101.5. You can reach her at jennifer.ursillo@townsquaremedia.com
Click here to contact an editor about feedback or a correction for this story.
More From New Jersey 101.5 FM