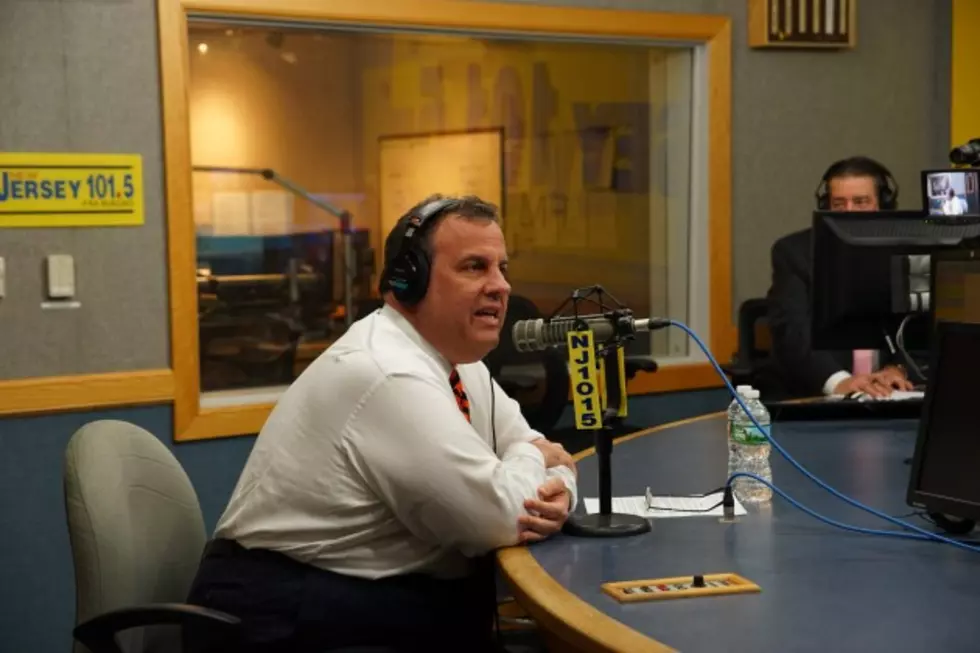 Atlantic City standoff: Christie blasts Assembly speaker as 'water boy'
Patrick Lavery, Townsquare Media NJ
Gov. Chris Christie tied the standoff over the Atlantic City takeover legislation to Democratic gubernatorial politics, calling Assembly Speaker Vincent Prieto the "water boy" for Jersey City's mayor.
Christie opened "Ask the Governor" Wednesday on New Jersey 101.5 by discussing the issues surrounding Atlantic City's finances. He said he will not allow Atlantic City, which is running out of money at the end of next week, to declare bankruptcy and reiterated his criticisms of Prieto, who won't allow a vote on the legislation unless it is changed to prevent union contracts from being dissolved.
"This is what happens when a politician backs himself into a corner and doesn't now know what to do," Christie said.
Christie has said previously that Prieto, D-Hudson, is advocating on behalf of Jersey City Mayor Steve Fulop, who like Senate President Stephen Sweeney appears likely to run for governor next year. Sweeney is a chief proponent of the Atlantic City takeover.
"It's a shame that the Assembly speaker's position has been reduced to being the mayor of Jersey City's water boy, and that's what the speaker's become," Christie said. "He's become Steve Fulop's water boy, carrying his water in a Democratic primary fight against Steve Sweeney for the Democratic nomination for governor, and the people of Atlantic City are being used as pawns."
Prieto scoffed at the suggestion he's working with Fulop on the Atlantic City bill, as he has before.
"The governor did what he always does -- engage in petty insults, concoct bizarre conspiracy theories and blame others for his failings. Notice what he's not doing -- actual governing," Prieto said in a statement after "Ask The Governor."
"Gov. Christie is absurdly delusional," Prieto said. "He also seems to have a very unhealthy obsession with Mayor Fulop, who has played no role."
Atlantic City's finances are in trouble in part because the city's tax ratables have plunged in value by roughly two-thirds, primarily because of the free-falling casino industry. The city's tax base was $20.5 billion after a revaluation in 2008 and is now $7.3 billion.
Average property taxes have been driven higher in the city, doubling in less than a decade to around $6,000 on the average home. The total property tax levy was slashed in 2015 by around one-third, but despite cuts in operating spending the overall city budget is its highest ever, $262 million.
In part that's because this year's budget includes $27.5 million for tax appeal payments. Casino properties have successfully appealed their assessments and are owed millions by the city – including $170 million, including interest, to the Borgata, which has stopped paying its $29 million a year tax bill.
Christie said Atlantic City spends too much, far more than any other municipality per person, and says the city's large tourism population doesn't account for the difference.
"The reason they're going to run out of money is because they spend like drunken sailors," Christie said.
This year's budget also has a big deficit. It counts on $32.5 million in payments from casinos that was vetoed twice by Christie, who says he won't approve the aid unless the state gets sweeping authority over local spending as part of a takeover of municipal government.
"The fact is that Atlantic City cannot do the things by itself that we need them to do. They've shown themselves completely unable to do it," Christie said.
Among those powers would be the right to break and renegotiate union contracts, which is the primary reason Prieto is balking at the bill. The Senate passed the bill March 14 by a 27-9 vote.
Prieto says Christie hasn't used all the existing authority he has to intervene with Atlantic City's finances.  Christie said it's inconceivable that he wouldn't use his authority and cited his seven years as U.S. attorney and six years as governor in arguing he has a track record of using -- and at times, critics say, exceeding -- his authority.
Because of the budget deficit, Atlantic City's government expects to run out of cash at the end of next week. Officials plan to shutter most city offices for three weeks. Police officers, firefighters and sanitation workers will continue working and be given IOUs that promise they'll be paid later.
Unions that represent municipal workers were voting Wednesday on a plan to temporarily delay paydays to every 28 days, which would avert the temporary shutdown.
More From New Jersey 101.5 FM