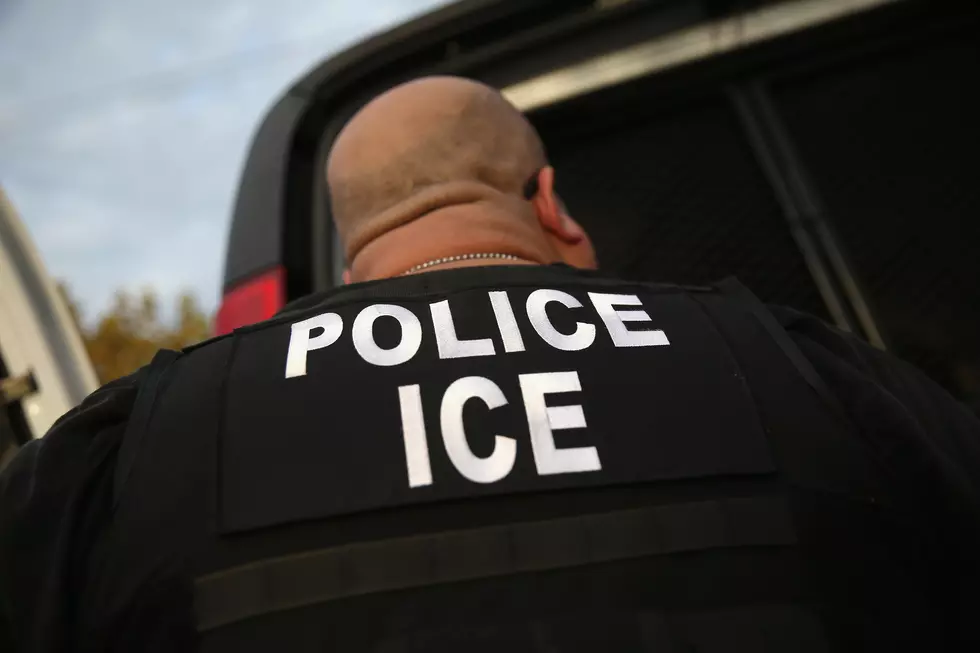 A month after DWI bust at Rutgers, ICE still holding NJ man in jail
ICE agent (John Moore/Getty Images)
NEW BRUNSWICK — A man arrested on a DUI charge at Rutgers University has been held for over a month by U.S. Immigration and Customs Enforcement at its detention center in Elizabeth.
Luis A. Lopez, 27, was arrested on Sept. 29 by Rutgers Police and charged with DWI and showing officers false documents. Per state policy with DWI cases, the university notified the ICE. Lopez was in RUPD's custody for about 6.5 hours.
According to Telemundo 47, Lopez was born in Mexico and married a U.S.-born woman. He has applied for citizenship. The couple has a home in South Brunswick.
ICE spokesman Emilio Dabul confirmed to New Jersey 101.5 that Lopez was transferred to ICE custody at the Rutgers police headquarters and taken to their facility in Elizabeth where he remained Thursday even though such offenses under state law would allow defendants to be freed pending trial.
"Lopez was placed in removal proceedings before the Executive Office for Immigration Review. In 2008, Lopez was previously encountered by ICE on two occasions in Arizona and voluntarily returned to Mexico," Dabul said.
Rutgers police did not hold Mr. Lopez on a detainer request, according to spokeswoman Dory Devlin.
Rutgers University must follow the state policy that requires notification of ICE when a person is arrested for an indictable offense, a DWI or other serious violations and there are questions related to immigration status.
"ICE agents arrived while he was being processed on DWI and exhibiting false government document charges, both requiring notification of ICE under the Attorney General directive. Mr. Lopez was in our custody for approximately 6.5 hours," Devlin said.
She said Rutgers does not hold anyone on an ICE detainer request absent a judicial order.
Community activists were critical of RUPD's handling of the situation in the mistaken belief Rutgers declared itself a "sanctuary" campus.
Sanctuary campus, sanctuary state and sanctuary city are terms that don't have a legal definition, according to Devlin.
"Rutgers does not and will not share undocumented student records without a warrant, subpoena, or court order. Furthermore, Rutgers University will insist that any engagement with Immigration and Customs Enforcement on our campus follow due legal process, including requiring a warrant where appropriate," Devlin said.
"Rutgers University does not use E-verify for any purposes other than to comply with longstanding federal law regarding employment eligibility. Immigration status is not a factor in student housing decisions."
All Rutgers students, regardless of their location, have access to the services of our Immigrant Rights Clinic, run by their law school faculty.
The clinic can provide confidential guidance on questions regarding immigration law.
In February, ICE was asked by Rutgers not to attend a career fair at the school's Newark campus after a group called RU Dreamers posted an online petition. The group was concerned that ICE's presence "would create an unsafe and exclusive environment for students" and would "challenge the proactive and inclusive stance the RU-B has taken in fostering safety, support and diversity in our community."