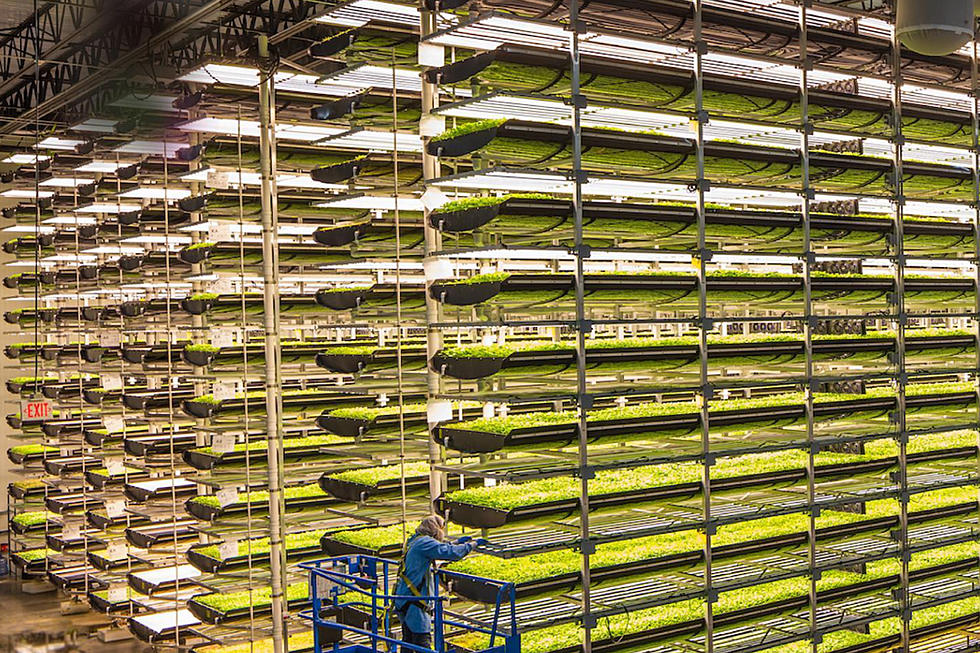 Tragic end to a promising futuristic vertical farm company in NJ
Via Aerofarms on Instagram
Ever since Aerofarms came to Newark, many Ironbound residents assumed that someday they would find their homegrown lettuce and kale on the shelf of their local supermarket. But it never came to pass.
The company, which according to Jersey Digs opened its first facility in Newark's Ironbound in 2015, used vertical towers to grow food in warehouses, meaning that cities could someday rival the countryside as centers of agriculture. This was huge news. The latest news is also huge. And very sad.
Last month, the company filed Chapter 11 bankruptcy in Delaware where eight of its subsidiaries are located. Owing more than $3 million to 30 different investors, according to the sites latest update on the project.
And even though Aerofarms says the company will remain in Newark, it will transition into a research site, meaning plant production will cease.
The company used what they called aeroponics in which the roots of a plant are misted with water and nutrients, ridding the need for soil and pesticides. Plants were stacked vertically, instead of laid out horizontally in a field, allowing the company to maximize the real estate, which is more expensive in urban areas.
According to a press release, the company promised "75 times higher productivity per square foot annually than a field farm and 10 times higher productivity than a hydroponic greenhouse while using 95 percent less water, 40 percent less nutrients, and zero pesticides, fungicides, insecticides, or herbicides."
Wow, that sounds like a huge undertaking. A true disruption of an industry. A great big idea. But perhaps too big. And now, many restaurateurs and other consumers in and around Newark, or even all over NJ, who were expecting farm fresh foods from this company, will have to look elsewhere.
See inside: Burlington County Farm Fair
This has to be the best farmers market in New Jersey
If you're looking for a great farmers market, you have to visit the Summit Farmers Market. This year they have over 50 vendors, offering a large selection of great produce from various local farmers, lots of specialty foods and more. There is also plenty of free parking. My dog and I went for a visit last week and took pictures of what they have to offer.
Vendors Not Pictured:
Adventure Kitchen
Angel Planet Foods
Anita's Baked Wonders
Bull 'N Bear Brewery
Fit Fed Puppy
Foraged Feast
Hummus Boss
Jana's Jammy
Java's Compost
Kariba Farms
Louis Organics
Luxx Chocolat
Made with Clay
Mangalitsa
Our Woods Maple Syrup
Roaming Acres Farm
Spice Sisters
Stefan's Polish Foods
Sustainable Haus
Valley Shepherd Creamery
WoodsEdge Farm
The Summit Farmers Market will be open every Sunday, from 8 a.m. to 1 p.m. and will last until November 20th. The market is located at Park & Shop Lot #1 on the corner of DeForest Avenue and Woodland Avenue.
Below are photos of some of the local vendors joining the farmers market this season:
Opinions expressed in the post above are those of New Jersey 101.5 talk show host Judi Franco only.
You can now listen to Dennis & Judi — On Demand! Hear New Jersey's favorite best friends anytime, anywhere and any day of the week. Download the Dennis & Judi show wherever you get podcasts, on our free app, or listen right now.
Report a correction 👈 | 👉
More From New Jersey 101.5 FM