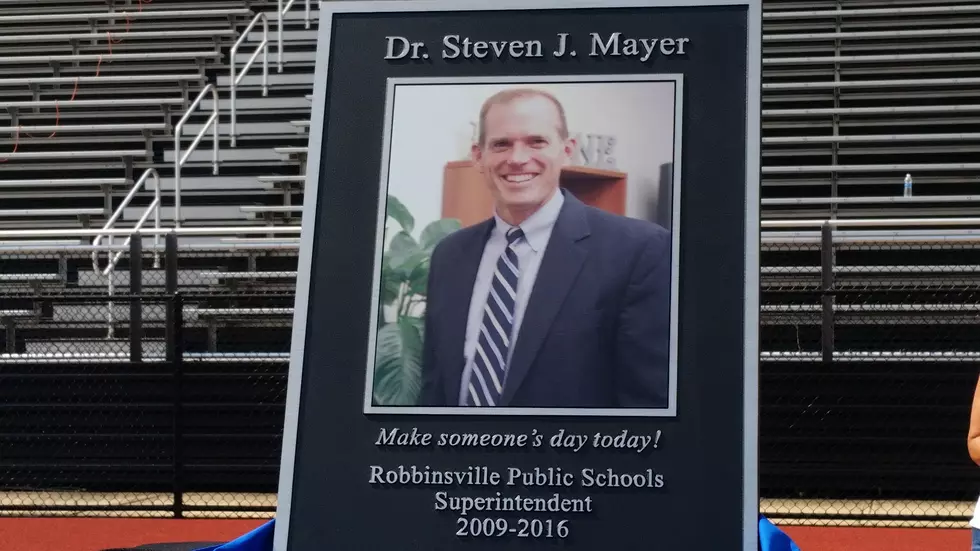 Teen driver on cell phone killed NJ superintendent, but won't go to jail
Dan Alexander, Townsquare Media NJ
ROBBINSVILLE — The teenage driver charged with the death of Robbinsville School Superintendent Steven Mayer has pleaded guilty and will be sentenced to community service.
Mercer County Prosecutor Angelo J. Onofri, who did not disclose the woman's identity because she was a juvenile at the time of the incident in April, accepted a plea deal that suspends the 17-year-old's license for two years and requires her to perform 200 hours of community service. She will be sentenced in January.
Because she was charged as a juvenile, she was expected to be spared from harsh punishment.
Mayer, 52, was jogging along Robbinsville-Edinburg Road with his dog just before sunrise on April 19 when he was struck by the car. The dog was also killed in the crash.
The woman, who is now 18, was driving to the school and on her cell phone, rushing to make a bus for a class trip.
The girl did not stop and instead drove to a nearby school and called 911 and her father.
She was ticketed with reckless driving, improper use of a cell phone while driving and leaving the scene of an accident, the Mercer County Prosecutor's Office said. Months after the crash, she was charged with second-degree death by auto.
Mayer was hired in 2009 as superintendent in Robbinsville. He previously worked in the West Windsor-Plainsboro, Edison, Monroe, Howell and Harrisburg, Pennsylvania, school districts.
The district in September dedicated the Robbinsville High School athletic field and a field house to the late superintendent. Plaques with his picture were placed in each district school with the phrase he often said to his son before he left for school each day: "Make someone's day today."
He is survived by his wife Donna, a teacher in the district, and three sons.
More from New Jersey 101.5
More From New Jersey 101.5 FM