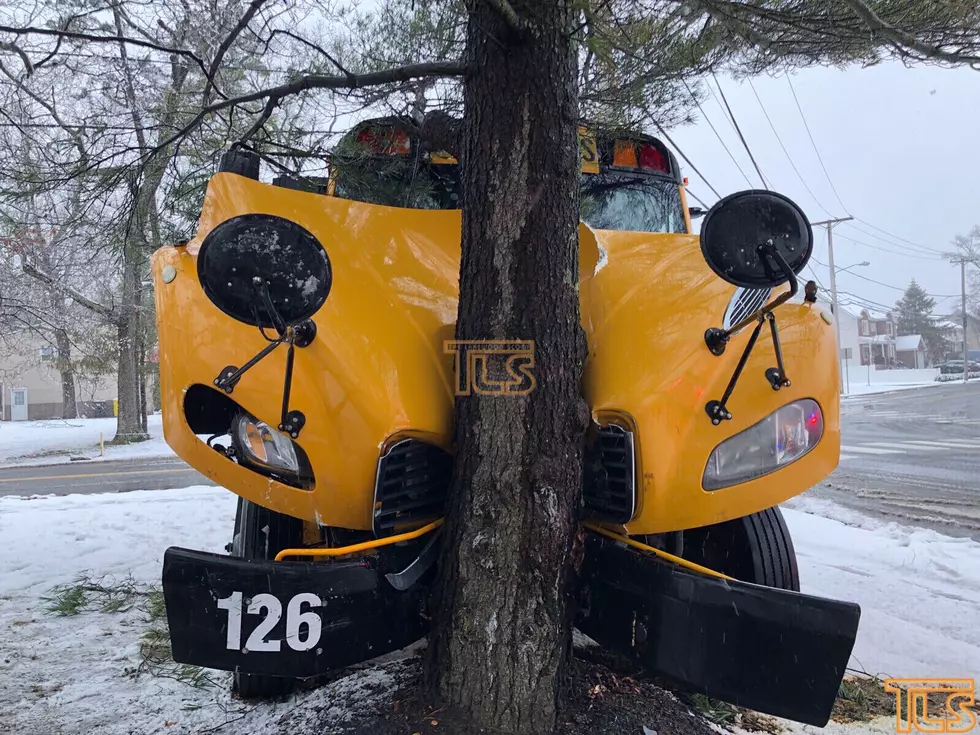 School bus slides off road, smashes into tree in NJ storm
(The Lakewood Scoop)
LAKEWOOD — A school bus skidded into a tree and a salt truck overturned on slippery roads on Tuesday morning.
The nor'easter coated some New Jersey roads with snow in the early morning hours as a band of heavier snow moved from west to east into eastern New Jersey, where up to an inch of snow accumulated, according to Townsquare Meteorologist Dan Zarrow.
Some schools along the shore and in Central Jersey delayed the start of school on Tuesday.
A school bus carrying four children hit a vehicle and then the tree at the New Central Avenue and Miller Avenue in Lakewood near the Jackson line around 8:30 a.m., according to police Sgt. Maureen McCarthy.
McCarthy said neither the driver nor any of the children were hurt.
Lakewood Board of Education attorney Michael Inzelbuch told the Asbury Park Press the students were being taken to a private boys school named Tashbar of Lakewood on a bus owned by Jay's Bus Service.
A county salt truck overturned early Tuesday morning on the southbound side of Route 206 at Triangle Road in Hillsborough early Tuesday morning, according to township spokeswomam Pamela Borak. She  said no one was injured and the road was reopened around 7 a.m.
State Police spokesman Alejandro Goez said officers responded to 54 motor vehicle crashes and 127 motorist aids such as spinouts and flat tires on State Police patrolled roads on Tuesday morning.
EDITOR'S NOTE: A previous version of story cited police information that said the bus had struck a utility pole, which was incorrect.
More From New Jersey 101.5 FM