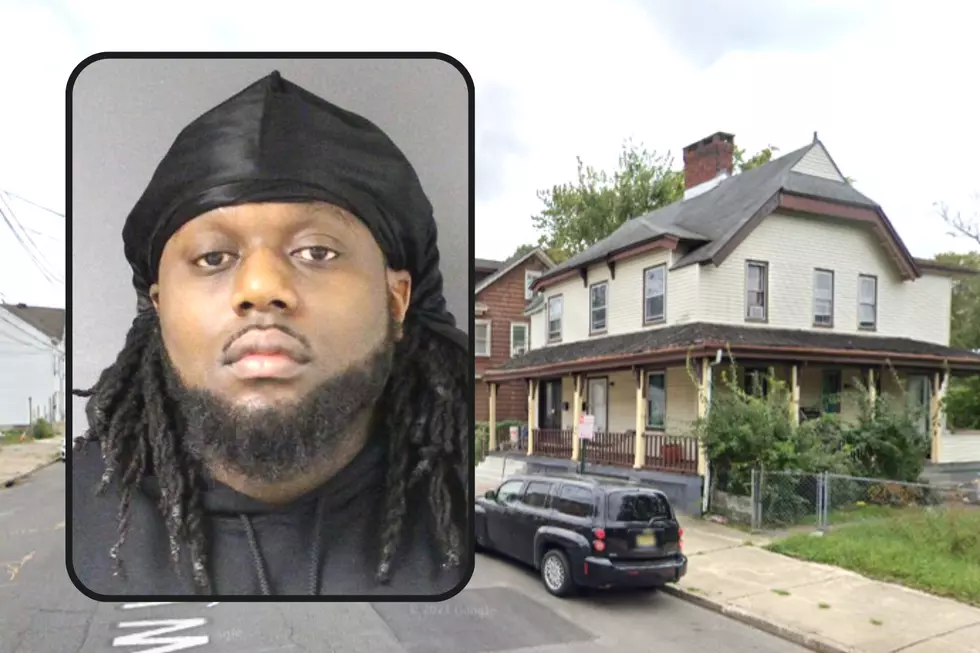 NJ man shot, killed mother of his child after domestic dispute, cops say
Jamar Leonard (Mercer County Prosecutor's Office/Google Maps)
🔵 A father is charged with murder for shooting the mother of their child on Sunday, officials say
🔵 Witnesses told police the couple had argued at least twice in the days leading up to the shooting, according to court documents
🔵 The father claims he was present for the shooting but someone else did it and he knows who it is, cops say
---
TRENTON — A Burlington man is in custody for shooting a woman to death and then driving their child to the hospital while her body lay in the street, according to authorities.
A criminal complaint obtained by New Jersey 101.5 states that 34-year-old Stephanie Vil, also of Burlington, was gunned down shortly after 9 a.m. Sunday near 512 West Hanover Street in Trenton. She was shot once in the head.
According to the Mercer County Prosecutor's Office, she was found next to a "heavily damaged" black Chrysler 300. Vil was pronounced dead minutes after cops arrived at the scene.
Officials on Monday announced they had a suspect in custody.
Jamar Leonard, 38, is charged with murder and weapons offenses. The prosecutor's office said it would move to have the Burlington man detained pending his next court appearance.
One witness, a friend of the victim, told investigators that Vil and Leonard had fought days before the shooting. According to the complaint, the witness was then on a FaceTime call with Vil on Sunday morning around 9 a.m. at the time of the shooting. Vil dropped the phone and the witness heard a muffled sound, followed by a visual of blood coming from the victim's ear.
Another witness told police that she had heard a man and woman arguing, heard a gunshot, then saw the victim's body in the street.
Trenton cops met Leonard at Capital Health Regional Medical Center. Authorities said he was not wearing shoes and had changed into different clothes from those he had been seen wearing at the scene.
During an interview with investigators, Leonard said that he had driven Vil's vehicle to the hospital with their child in the car. He also said that he was there when Vil was shot, saw her get shot, knew who did it, and would take care of it on his own, according to court documents.
Court records show that Leonard was charged in 2017 with second-degree possession of a handgun without a permit and sentenced to five years in prison. The sentence makes it illegal for him to own a firearm.
Rick Rickman is a reporter for New Jersey 101.5. You can reach him at richard.rickman@townsquaremedia.com
Click here to contact an editor about feedback or a correction for this story.
States with the most registered hunters
Stacker
analyzed data from the U.S. Fish and Wildlife Service to determine which states have the most registered hunters. Read on to see how your state ranks on Stacker's list.
NFL pros from New Jersey
There are more than 60 active pros with NJ roots.
More than 10 players who made it to the NFL conference championship games this year have NJ ties — and four active NFL quarterbacks were born in the Garden State.
Some of them may even be on your fantasy football team.
13 Musicians Who've Served in the US Military
More From New Jersey 101.5 FM