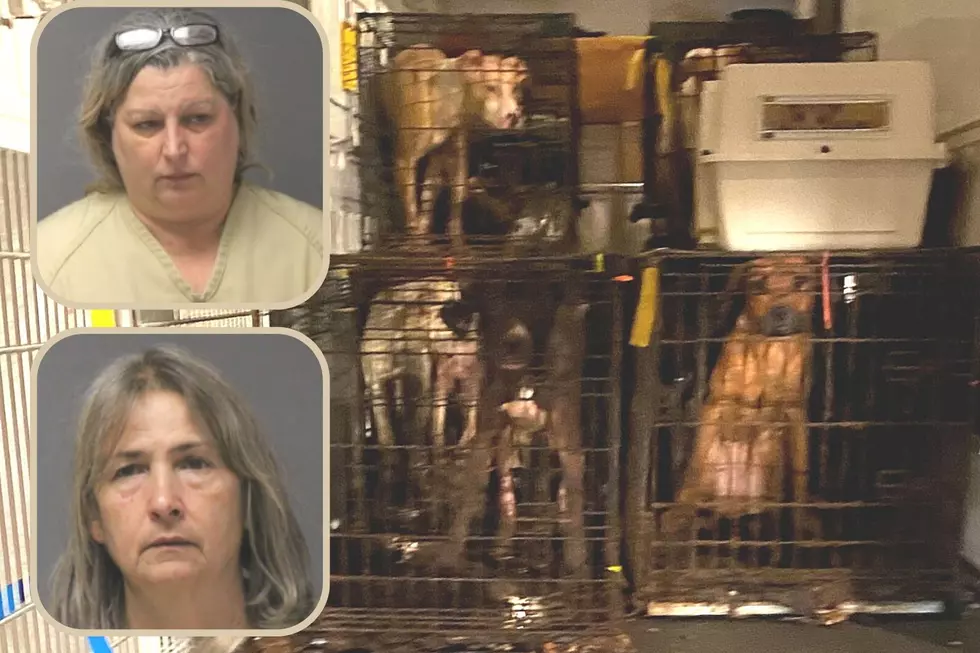 NJ 'Crazy Rescue Ladies' back to jail after asking for dogs back
Aimee Lonczak, Michele Nycz. Animals removed from a Brick Township home 12/3/22 (Photo courtesy Patch)
🔴 180 cats and dogs were removed from horrendous conditions in Brick on Dec. 3
🔴 Aimee Lonczak & Michele Nycz were ordered to stay away from the house and Lonczak's daughter
🔴 They showed up at an Ocean County animal shelter seeking 7 of their own dogs
---
The two women who were keeping 180 dogs and cats in filthy conditions inside their Brick Township home are headed back behind bars after breaking the terms of their pre-trial release.
Ocean County Prosecutor Bradley Billhimer said Aimee Lonczak, 49, and Michele Nycz, 58, showed up at the county animal shelter in the Manahawkin section of Stafford Township on Thursday demanding the release of their dogs. They were accompanied by Lonczak's 16-year-old daughter.
A judge previously ordered Lonczak and Nycz to have no contact with any of the approximately 129 dogs and 43 cats removed from their home and to stay away from the home on Arrowhead Park Drive. Lonczak was also to have no contact with her daughter.
A judge on Jan. 10 denied Lonczak's request to lift the no-contact order and their joint request to have seven of the dogs they said were theirs returned.
Accused of lying to get their own dogs back
Ocean County Public Health Coordinator Dan Regenye said the staff told him that Lonczak and Nycz told them they were not aggressive and were cordial.
"My understanding is that they mentioned that they were clear to take them but we obviously did not release them. We would not do that unless we had it from the proper authorities with that. But it's unfortunate that they're seeking out these dogs at this point while it's still an open investigation," Regenye said.
One of the seven dogs they are looking to take back has already been adopted, according to Regenye.
Billhimer said that motions have been filed to revoke their pre-trial release and to return to the Ocean County Jail until their trial. The motions are pending a hearing date in Ocean County Superior Court.
Dogs still available for adoption
There are still approximately 30 dogs left to be adopted, which Regenye said is amazing considering the condition they were in when they first arrived on Dec.3.
"Just seeing the progress in just their demeanor and their temperament and just their overall health. They're putting that weight on. They look phenomenal. They really do. And there's still a lot of great dogs that are over there," Regenye said. "If I didn't have three myself, I would adopt another one."
Reunions at the shelter
There have also been several happy reunions between pets thought to be missing and their owners who heard about the animals.
A family from Tennessee drove 11 straight hours to reunite with their bloodhound named Daisy after showing proof of ownership through rabies, vaccine records and licensing and vet records
Rocky, a 2-year-old collie, was returned to his family just before Christmas. He had run away from the family's new home in Middlesex County when he became skittish and wound up at the house in Brick where Lonczak and Nycz ran a shelter they called the "Crazy Rescue Ladies."
Dan Alexander is a reporter for New Jersey 101.5. You can reach him at dan.alexander@townsquaremedia.com
Click here to contact an editor about feedback or a correction for this story.
Big companies that survived, and thrived, after bankruptcy
There have been some big name brands that declared bankruptcy and built back, stronger — some with New Jersey ties.
From an automaker to theme park company and mall food court staple, here's at least six successful restructuring stories.
50 Most Popular Chain Restaurants in America
YouGov investigated the most popular dining brands in the country, and Stacker compiled the list to give readers context on the findings. Read on to look through America's vast and divergent variety of restaurants—maybe you'll even find a favorite or two.
Bands That Broke Up in 2022
Sadly, these bands either announced a breakup, went on indefinite hiatus or broke up entirely in 2022.
More From New Jersey 101.5 FM