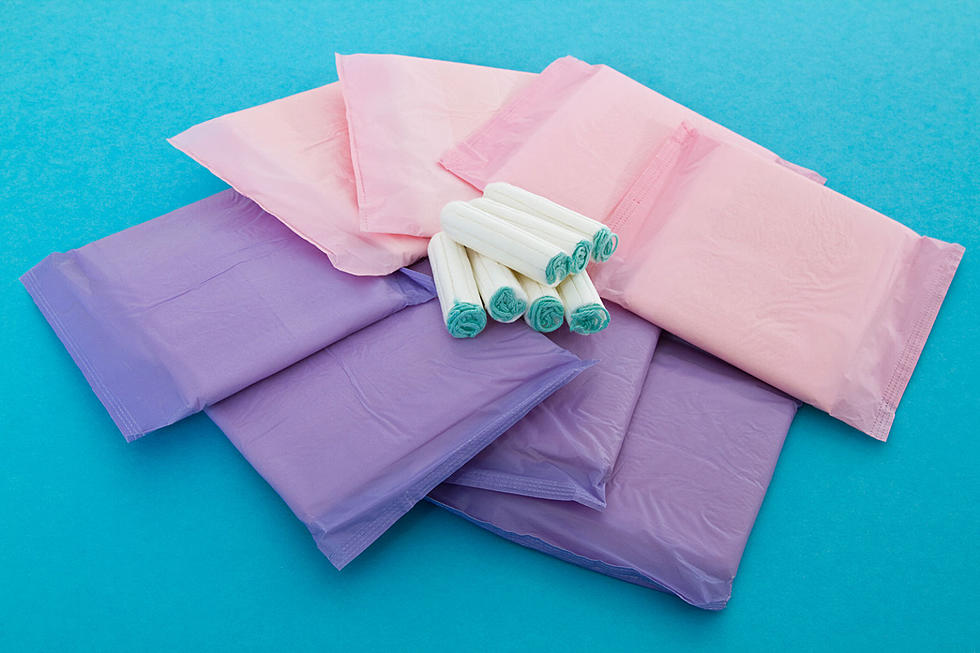 New NJ coalition: Let's use state funds to give out free tampons (Opinion)
Adobe Express
An off-the-wall lefty named Anjali Mehrotra founded an organization called Equality, Period NJ. It's a pun, as you'll discover further down in this screed.
The goal of the organization is to end something called "Period Stigma." This is at least what I can glean from what I'm reading in NJ Spotlight News.
Spuriously described as some sort of initiative to make girls feel better about themselves if they can't purchase their own feminine hygiene for whatever reason.
From the beginning of time, before there was such a thing as feminine hygiene, women used leaves, cotton, various plants, newspaper and rags to deal with their monthly flow. It was never anybody else's problem (or business) but their own to either supply themselves with these items or to wing it.
Today, we apparently owe people tampons. And I do, of course, say "people," not "girls" or "women," because I would never want to imply that only girls get periods. And that's what this whole menstrual equity thing is really about.
Also, I don't like that there's a feminine hygiene aisle in your local CVS. They'd obviously prefer for it to be called the "menstrual product" aisle because after all, in this day and age, as we know by having it lovingly shoved down our throats, there's nothing feminine about menstruating. But I digress.
Senate Majority Leader Teresa Ruiz, D-Essex, and Sen. Vin Gopal, D-Monmouth, are all ABOUT IT!!!!
The bill they're giddily sponsoring, which recently passed in the State Senate, would establish a state-funded program in the Department of Education to reimburse school districts for providing these products in public schools.
No, Dorothy, we are not in Kansas anymore. We are using taxpayer money to buy tampons.
As mentioned, the desire for the aforementioned "menstrual equality" engenders Mehrotra and her coalition's resentment of the term "feminine hygiene" products — the idea being that boys can also get their periods, natch.
Just because you were assigned "female" at birth does not actually mean you are a girl. And assuming that no boy in the school bathroom would need a tampon is offensive. You do understand that, right?
This is just another way the left tries to push this most basic tenet of their ideology — that there is no difference between boys and girls.
First, we'll get used to the idea of providing tampons on the public dole and then we'll eventually put tampons in boys bathrooms until we all just acquiesce out of sheer exhaustion that we're all one big happy genderless glob of homogeneity.
And I say good luck to all! If you want to see all kids as having one gender or each of us having six or being able to choose one on odd days and another on even, God bless you.
Any mom or dad who cares about this issue and who believes in the idea of menstrual equality should contribute to a fund to buy everyone sanitary pads and do good works galore by providing charity to support this social injustice you so dearly care about.
Just please don't take any more of my money to push the agenda.
If you would like to read more of the hilarious-if-it-weren't-so-pathetic interview with Mehrotra to learn more about menstrual equity, click here.
Opinions expressed in the post above are those of New Jersey 101.5 talk show host Judi Franco only.
You can now listen to Dennis & Judi — On Demand! Hear New Jersey's favorite best friends anytime, anywhere and any day of the week. Download the Dennis & Judi show wherever you get podcasts, on our free app, or listen right now.
Click here to contact an editor about feedback or a correction for this story.
Weird things NJ taxes - and some they don't
In general, New Jersey assesses a 6.625% Sales Tax on sales of most tangible personal property, specified digital products, and certain services unless specifically exempt under New Jersey law.
However, the way the sales tax is applied in New Jersey sometimes just doesn't make sense.
New Jersey puts out an itemized list for retailers that spells out what is, and what is not, taxed.
Perhaps because this is New Jersey, there are some bizarre and seemingly contradictory listings.
Every NJ celebrity with a star on the Hollywood Walk of Fame
More From New Jersey 101.5 FM